Ali Fazal goes from Bollywood to Hollywood with 'Victoria & Abdul'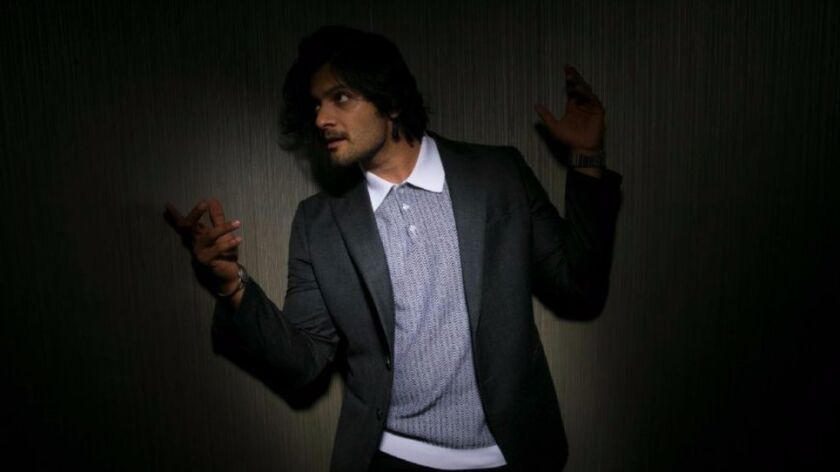 In India, it's rare for Ali Fazal to get through a meal at a restaurant without being approached by a fan. Though he's had a girlfriend for years, he's kept his relationship private, lest his many female admirers revolt. In other words: He's kind of a big deal.
But while the 30-year-old is a household name in Bollywood, he has only recently been introduced to U.S. moviegoers as he stars opposite Judi Dench in "Victoria & Abdul." Based on a true story, the film follows the unlikely 19th century friendship between Queen Victoria and Abdul Karim, a Muslim servant from India. After the lowly Karim travels to the U.K. to deliver a ceremonial coin to her majesty, she takes a liking to him and asks him to stay at her side to teach her about the Koran and how to read Urdu. As you might expect, their relationship doesn't exactly go over smoothly with the bigoted British palace.
Directed by Stephen Frears, who previously helmed the Dench vehicles "Mrs. Henderson Presents" and "Philomena," "Victoria & Abdul" had a strong opening in limited release last weekend and expands nationwide on Friday.
In August, Fazal traveled from his home in Bombay to L.A., where he spent a week meeting with agents and doing press to help raise his profile before the release of the film. We met with him over high tea in Beverly Hills, just a few weeks before it was announced he had signed with WME.
---
Did you always aspire to be an actor?
No, my family wanted me to go into a profession that was more financially secure, like engineering or becoming a doctor. I mean, we were a middle-class family. My father was in marketing working with this oil company in the Middle East, and my mom was a painter. Acting just wasn't a thing — it wasn't an option as a career. I wanted to be a pilot, and I got refused. I think that's why the second time I didn't let them make the [career] decision for me — I said, "You'll have to live with it."
Growing up in India, what was your idea of Hollywood?
The first damn story I ever heard in my life — and this when your mother is supposed to tell you fairy tales and Aesop's fables — I'm told this story about this wonderful Italian family in New York gunning people down, and guess what? It's in two parts! This is "The Godfather." Years later, I see the film and I'm, like, "Did you really tell me that as a bedtime story?" And she's, like, "It was a nice story. You were always on about stories." But, yes, I was obsessed with a lot of Brando and De Niro, "Gone With the Wind," "Ten Commandments," all the classics. Once, I had a layover in New Jersey for eight hours, so I took the train to Penn Station just to see it. I knew everything — the Empire State Building — all the tourist spots, because I had a visual memory from the movies.
How competitive is the film industry in India?
It's a very close-knit industry. They are a fraternity — they call it "The family, the B-Town." There are these legendary families that have been there for generations, so we've been sort of seeing those people flourish for the last so many decades. I think it's opening up now. I think a lot of good scripts are coming up. Cinema is changing. You have to have talent from outside coming in, because there's just so many of us. I had to work on my own; I didn't know anybody there. I wasn't sitting back and saying, "Daddy, I want a lunch Monday afternoon."
Were there Indian actors whose careers you aspired to?
Unfortunately, no, because we've never had ultimate breakouts from India. I know that Shashi Kapoor was the first Indian to actually do a leading part, and that was back in the '60s with Merchant Ivory. And six decades later, there is me. There was no reference. We've had some actors do great parts, like Om Puri, but India never hailed them, and I thought that was wrong on our part. We were celebrating our commercial cinema. They were just wiped out, you know? I mean, it took "The Hundred-Foot Journey" for Om Puri to again come back to the big screen with Helen Mirren, but he's done so much before that.
What was your audition with Stephen Frears like for this movie?
It was horrible. He was sprawled across the couch and groaning. He had a Delhi Belly, so I don't blame him. I thought, "It's gone, I've blown it." Stephen has this look and you think, "Oh, my God, he's just not interested in me." He has a grumpy persona, but you have to know that he's a softie inside.
At what point did you meet Judi Dench?
I was cast before I'd even read with Judi, and then there was no formal rehearsal from Stephen Frears. Just come on set and act. But me and Judi met for lunch. We chilled.
You chilled?
Oh, God, she's chill. She is so cool. She is a child inside. I think she's like a 16-year-old kid having fun. She broke the ice. She just came and hugged me, and I was having this sort of fan moment. I said something in Hindi for some reason, it just kind of came out. She just smiled through it. She's in love with India — they shot the "Exotic Marigold Hotel" films there, so she loves it. She was so nice and accepting that it was never intimidating. We still have these small exchanges here and there. She sends voice notes on WhatsApp.
What's your life in Bombay like?
I live in the suburbs, but it's, like, bang in the center of Bombay. I don't know, kind of like West Hollywood. Actually, I would be totally wrong. I don't know what to compare it to. It's fast, but that is Bombay for you. It's very much like New York. I've been there about 10 years now, because I came there for college.
Do you think it will remain your home base?
I don't think I need to live in India now. It's a great market; they've been very accepting, and there's some great stuff happening there. But I can always shoot a movie and come back. I think somewhere in my mind I've had the shift that I'm going to move to London or L.A. I'm really excited to work here.
Do the industry folks you've met with in L.A. understand how much you've accomplished in Bollywood?
I don't want to throw it in their face, like, "Hey, man, you've gotta treat me right because I've done so many films." I have to understand that I'm new here; they don't have to give a ... about me or who I am back there or if I'm a star or not. I think "Victoria & Abdul" has done that for me — kind of given me a good pedestal. The people in it are so respected that it acts as a little bit of a catalyst. I hope it works in getting me more work. I want to try more stuff and not use that set thing of "OK, he's the Indian you can use with a turban."
Follow me on Twitter @AmyKinLA
ALSO
Lady Gaga wants you to feel her pain in the Netflix documentary 'Five Foot Two'
Perspective: Who loves animals more, a big-game hunter or a big-city dog lover? Inside 'Trophy' and its complex ideas
Jake Gyllenhaal, Tatiana Maslany and David Gordon Green talk about crafting a 'Stronger' relationship for the big screen
---
From the Emmys to the Oscars.
Get our revamped Envelope newsletter, sent twice a week, for exclusive awards season coverage, behind-the-scenes insights and columnist Glenn Whipp's commentary.
You may occasionally receive promotional content from the Los Angeles Times.