For more than 40 years, André Leon Talley has influenced fashion and culture. But it wasn't easy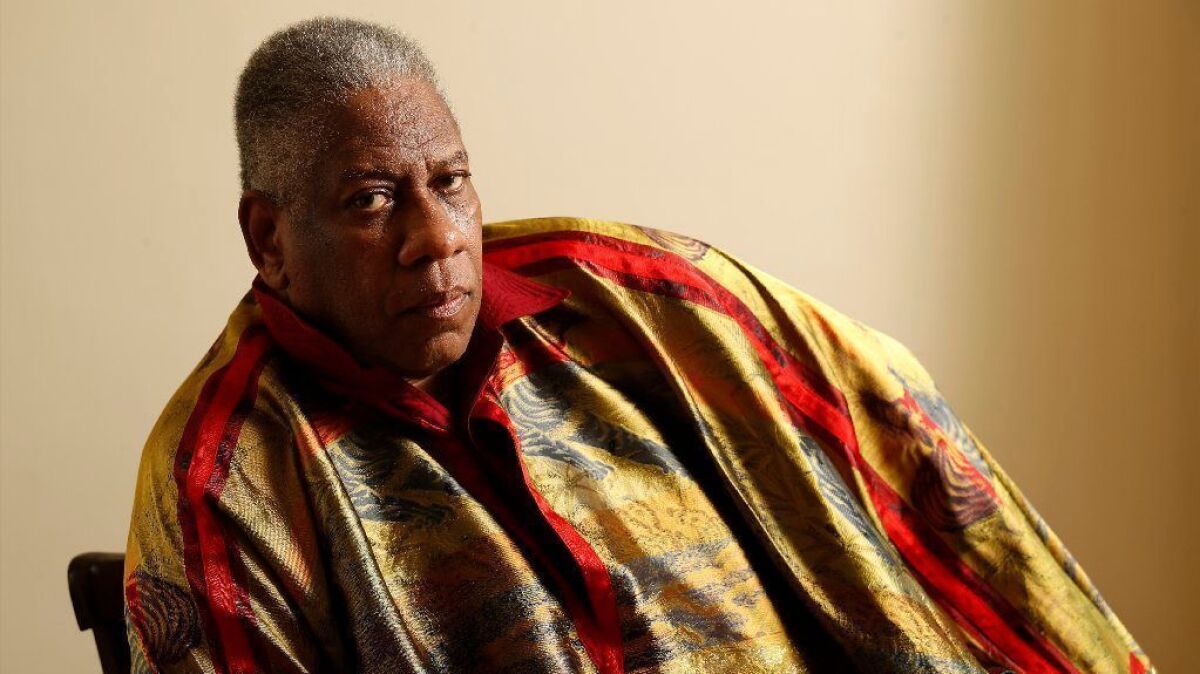 Early the morning Edward Enninful was announced as the new editor in chief of British Vogue last April, he received an email applauding his historic appointment as the first black man to lead such a prestigious fashion imprint.
"Congratulations! You deserve it," it read, written by industry icon André Leon Talley.
Enninful replied: "You paved the way."
Those four words are what Talley calls his "proudest moment" in a career spanning nearly 45 years of reporting, editorializing and otherwise influencing the sartorial zeitgeist of generations past, present and still to come. After all, for so long he's been one of the only black voices in fashion with the kind of pull and sway that demands front row seats at the hottest fashion shows worldwide.
"It took all these years to get here, for a black man, not a black woman, [to achieve this]," he said about Enninful's appointment. "This is a breakthrough. This is seismic. This is defining fashion. He will go down in history. A legacy."
"I will be 70 in October and I am proud to say I have lived to see the first black man named an editor in chief of Vogue."
Quoting Truman Capote, "Style helps you get upstairs and down," fashion icon and former "Vogue" editor André Leon Talley discusses his documentary "The Gospel According to André." Joined by director Kate Novack and producer Andrew Rossi, the trio di
It's a similar role, he admits, he once thought might have come his way, "the job of an editorship somewhere in Condé Nast." That glass ceiling however, was not his to break. Though he surely put some cracks in it.
Perhaps this is the greatest takeaway from Kate Novack's documentary on Talley, titled "The Gospel According to André," in theaters Friday — for all of fashion's newly found interest in black and brown bodies and aesthetics on runways and in campaigns, André Leon Talley was fighting the good fight long before.
"I have fought quietly, not with placards," he said. "I fight quietly to influence the culture. This [film] is a blessing that [Novack] had the vision to create this which is, for me, a summation of who I am after all these decades out there fighting."
A long overdue meditation on the man behind the custom caftans and capes, the film charts his rise from modest beginnings in Durham, N.C., where he first discovered fashion through the pages of Vogue to being a receptionist-turned-writer for Andy Warhol's recently shuttered Interview Magazine to, now, a former editor at large of Vogue who sits atop the steps at the Met Gala commenting on its attendees' garb.
Featuring interviews from the likes of Vogue head honcho Anna Wintour, fashion designers Tom Ford, Diane von Furstenberg and Norma Kamali and celebs Whoopi Goldberg and will.i.am, "The Gospel According to André" pulls back the curtain on a cultural icon who often doesn't get his due.
How did I overcome that kind of racism? I internalized and struggled with it...
— André Leon Talley
Such was Novack's intention, she said, highlighting that Talley has been in countless fashion documentaries about other people, brands and industry ongoings.
"He always steals the show, but always talking about everyone else as the supporting character," she said. "And we know the fashion part of him, but I wanted to tell the story that we haven't seen a million times — [about the] other part of him that is an enigma."
Going into her first meeting with Talley, Novack, who has also produced documentaries including "Page One: Inside the New York Times," said she was "nervous because he's this big character and because he's this big persona." But after reading his autobiography, "A.L.T.: A Memoir," she discovered his favorite church hymn was "Precious Memories." That prompted her to think of "memory as a sustaining force" that she wished to bring to the picture. Talley was very interested from the beginning, she said.
"He wanted to go behind his childhood church and show me where he was baptized and he talked about how his life was very much like Truman Capote's 'A Christmas Memory,'" she said. "It wasn't about 'Let me show you my closet of 350 Hermès boxes' — which he does also have and is totally fabulous."
The result, of following Talley for over a year as the 2016 election was taking place, is a picture that earnestly portrays a man — billowing with justified aplomb — who succeeded in spite of the odds against him as someone black and from the American South whose size is deemed alarming, and gesticulations and mannerisms effeminate.
"I never thought I would have the career and life that I had; I never had that kind of ambition or drive," said Talley during an interview at the Chateau Marmont on the Los Angeles stop of his press tour. "My life has been because people saw something in me. I didn't lobby or stand in line or scheme to get to these places. They all came to me because of my talent and aura and persona and knowledge.
"Everything has come to me, somehow or another, because of who I am. And hopefully I am someone people respond to for a sense of knowledge and knowing the history of fashion, style and culture."
But that road hasn't been a crystal stair. It's had tacks and splinters and torn-up boards of racism that have tried to strip him bare.
Like when a woman who worked at Yves Saint Laurent — not named in the film but revealed in the recently released book "Loulou & Yves: The Untold Story of Loulou de La Falaise and the House of Saint Laurent" — once referred to him as "bitchy, calling me Queen Kong," he said.
Or when a former editor who remains unnamed accused Talley of "being in every designer's bed in Paris," insinuating that the only way a black man could be so successful was by performing sexual favors.
"I have never slept with any designer, living, dead, straight, gay or otherwise," he said. "I got here because I had knowledge. As Judge Judy always says, 'They don't keep me here for my looks.' They keep me here for my power. Because knowledge is power.
It's been through pluck, luck and survival skills.
— André Leon Talley
"How did I overcome that kind of racism? I internalized and struggled with it... I ignored it at the time... I had family and faith and [the late former Vogue editor] Mrs. [Diana] Vreeland and [the late former Women's Wear Daily editor in chief] Mr. [John] Fairchild.
"It's been through pluck, luck and survival skills."
These days, long after climbing, reaching landings and turning corners in the industry, Talley is inspired by the likes of Oscar-winning actress Frances McDormand, Beyoncé, Rihanna and Kim Kardashian West. He adds Jaden and Willow Smith to that list and then pauses when mentioning perhaps the biggest breakout star of the last year, actress and comedian Tiffany Haddish.
"She's going to have an extraordinary career," he said, revealing later that she was his second best dressed at the Met Gala — after Kate Moss, ahead of Rihanna. "She slept in a car but she's going way up high. She has such a great sense of humor and great style and a great personality. Things will come to her."
When asked what he wants his legacy, of which this film is now part, to be when it's all said and done, Talley says simply:
"He helped others to see. He helped others to live."
Get your life! Follow me on Twitter (@TrevellAnderson) or email me: trevell.anderson@latimes.com.
---
Get our L.A. Goes Out newsletter, with the week's best events, to help you explore and experience our city.
You may occasionally receive promotional content from the Los Angeles Times.