'Lean on Pete' director Andrew Haigh explores life of the Portland underclass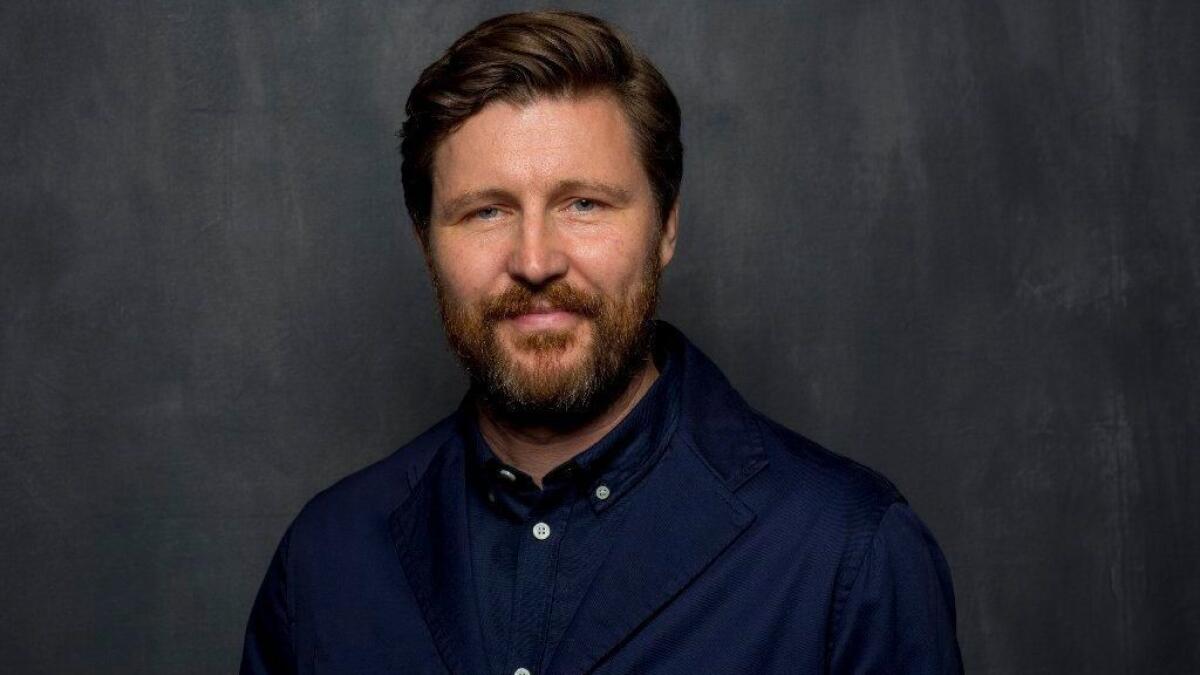 The people in the background of Andrew Haigh's latest film, "Lean on Pete," are the real inhabitants of Portland, Ore.'s suburbs, the ones who actually spend their lives in the world of low-level horseracing.
The British director, who adapted the story from Willy Vlautin's 2010 novel, wanted a grounded sense of reality to pervade the movie's stark, emotionally wrought scenes, which follow a teenage boy named Charley (Charlie Plummer) who befriends a racehorse named Lean on Pete as his family life begins to unravel.
"It's always important to try and get a real sense of the world around my characters," Haigh said. "I especially think it helps actors. It may make things challenging in certain circumstances because it's non-professional people on the edges of the scenes, but I think it helps [the actors] feel that sense of reality. I love what it does to performances."
Authenticity was essential to the story, which Vlautin originally wrote while hanging out at the tracks around Portland. Haigh came across the novel while doing press for his debut feature, "Weekend," in 2011 and instantly responded to Charley's journey, which takes the teenager from Portland across the Western U.S. in search of family after his father dies.
Haigh quickly reached out to Vlautin to secure the rights and traveled to Portland in 2012 to spend time with the author and learn more about the environment. The director wrote the first draft of the screenplay over the course of several months while road-tripping around the States, penning scenes in diners and motel rooms.
"When you're looking for material there are things that just hit you on a very gut level," Haigh said. "It was almost like I wanted to reach through the pages of that novel and help Charlie and hug him and look after him. It broke my heart, in a really profound way. You know when something hits you like that there's a reason why it hits you so deeply.
"It isn't the traditional story of a boy and a horse that goes down slightly icky and sentimental territory. It's a pretty harsh, realistic, often bleak story. But at the same time you desperately want to help this kid."
It took several years to get the film off the ground, and in the meantime Haigh wrote and directed "45 Years," which earned Charlotte Rampling an Oscar nomination, and completed "Looking: The Movie" for HBO, which gave the short-lived series about gay men in San Francisco a fitting finale.
"Lean on Pete" was shot in sequence over eight weeks in fall 2016, using real locations from the novel around Portland and Oregon. The film uncovers a new aspect of Portland, one not often seen in film and TV.
The inhabitants of this story are barely scraping by and often struggling to put food on the table. Charley, who lives in a rundown house with his father (Travis Fimmel), gets a job working for Del (Steve Buscemi), a low-rent horse racer who cares more about the bottom line than the animals themselves. Charley joins Del as he travels the local fairgrounds and sleeps in the back of a pickup truck while on the road.
"In film and on TV, that part of the world is not really looked at," Haigh said of the setting. "Or if it's looked at, it's looked down on or made fun of. ... That is a shame. These lives are important to tell stories about. For me, it's all about trying to understand other people's lives on a real level. If you don't open your eyes to other people's lives, you can't even begin to understand how the world works at all."
He adds, "What is very interesting to me is that you can't escape the fact that certain characters, if they existed in real life, would have perhaps voted for Trump. We made this film before Trump had come in, but you can't escape that notion. But it's very important to me that you don't condemn people outright just for being a certain way or having a certain belief system.
"I would certainly not support Trump in any way shape or form, but I want to have sympathy. In traveling around America [I realized that] life is very difficult for a lot of people."
Haigh used real racehorses and shot on working racetracks, often forced to do the racing scenes in only one shot due to budget constraints. In one particular scene, which required a long, complex Steadicam shot that follows Charley as he runs onto the track when Pete loses a race, there was only one chance to get it right because the production could only afford to run the horses once.
"I sort of love that tension that creates on a set," Haigh noted. "It's a kind of excitement, with the whole crew willing it to work. It is a lot of pressure, but when it works and it comes together it's a huge emotional release."
Although the film features a strong ensemble cast including Steve Zahn and Chloë Sevigny, Charley is the heart of this film. It's his experiences that drive every moment, carrying the audience on the physically and emotionally tumultuous trek. Haigh looked at over a hundred actors during the casting process and was struck instantly by Plummer's taped audition, which was accompanied by a letter the actor had written about his connection to the character.
"I had such a gut instinct about it," Plummer said. "Right after I finished reading it I remember I called my dad immediately and said, 'I have to be a part of this movie in some way.' I hadn't read a script that I felt so honestly portrayed a young person's life and how people come in and out of it."
For Haigh, this is the sort of story that — hopefully — generates compassion in a viewer. Charley's journey, which is often brutal and sad, offers a glimpse at what it could mean to be entirely alone in the world, afraid of never finding safety and home again. Although the story is not always hopeful, Charley himself does retain a sense of hope, and the film never wallows in its sadness.
"It's very hard to have complete empathy, but what's really important is that you can have sympathy and compassion for people," the director said. "I didn't want the audience to feel exactly what Charlie was feeling. I wanted you to feel more objective about the film and think, 'Oh my God, this is awful that this could happen to someone like Charley. I want to be able to help someone like Charley.'
"I hope that in some small way that helps create this idea of kindness and compassion for people you may pass in the street that you wouldn't necessarily look at. The people you ignore and the people who do get forgotten and left behind."
The feelings have lingered with Plummer, who found himself deeply immersed in the role. "Charley still is there," the actor said. "It took me a few months to really come down off of it. And because I connected with it so deeply at the beginning it was going to hit hard for me no matter what, but it happened to hit particularly hard."
"Lean on Pete," in many ways, has helped Haigh clarify what sort of filmmaker he is. He knows he prefers stories that follow one character through a kind of voyage, and that he wants to create films that express something real about that character. He's currently adapting and directing "The North Water," a five-part miniseries set in 1850s England, for the BBC and has a few film projects that are "bubbling under."
"I'm becoming more confident in realizing the type of filmmaker I am and that that's not going to be for everybody," the director said. "You can't expect to connect with everybody and that's all right. The more I make films I'm learning that you don't have to make films for everybody. A film can be made for a smaller group of people than that and it still warrants an existence."
Get the Indie Focus newsletter, Mark Olsen's weekly guide to the world of cinema.
You may occasionally receive promotional content from the Los Angeles Times.