The stars come out for 'Avengers: Infinity War' press conference — but they're not talking
Earth's mightiest heroes (with the exception of a notably absent Chris Evans) assembled Sunday afternoon for a press conference in advance of Monday night's "Avengers: Infinity War" world premiere.
"Infinity War," a culmination of 10 years and three phases of Marvel Studios' intricately realized cinematic universe, is already anticipated to do big numbers at the box office and is expected to be among the highest-grossing films of all time.
Held Sunday afternoon in a ballroom at Beverly Hills' Montage hotel, the conference was outfitted with red lights and ornate, dimmed chandeliers more befitting of Disney's other box office smash "Beauty and the Beast" than the increasingly high-tech, modern "Avengers" films.
A black curtain bearing a projection of the white Avengers "A" sigil (ironically reminiscent of DC Comics hero Batman's projected bat signal) partitioned off a fraction of the room, only to be dropped in dramatic fashion to reveal a nearly complete panel of Marvel heroes: Robert Downey Jr., Chris Hemsworth, Scarlett Johansson, Mark Ruffalo, Chadwick Boseman, Benedict Cumberbatch, Tom Holland, Elizabeth Olsen, Sebastian Stan, Paul Bettany, Anthony Mackie, Don Cheadle, Tom Hiddleston, Chris Pratt, Danai Gurira, Letitia Wright, Winston Duke, Zoe Saldana, Dave Bautista, Pom Klementieff and the big bad, Josh Brolin. Directors Joe and Anthony Russo were also on hand, along with producer Kevin Feige.
Hosted by the Grandmaster himself, Jeff Goldblum (whom Downey called "a ... national treasure"), the hour-long conference failed to reveal any major plot points or even minor spoilers for the highly anticipated film, which will be revealed to the world for the first time Monday night and then to the public later this week.
Rather, the press conference evolved into a masterclass in indirect answers (politicians, take note).
When asked what Star-Lord's reaction is to seeing Earthlings for the first time in 30 years (and after being handed three microphones by fellow panelists eager to hear his answer), Pratt avoided answering altogether.
"It might be best for you to see it, so I'm going to talk about bass fishing. OK?" Which he comically proceed to do for a full minute.
"Snitches end up in ditches," admonished Bettany.
Johansson, long the sole female member of the team, rankled at being asked about the "fashion elements" of the films.
"I got the fashion question?" she said to laughter from the crowd. Olsen covered her face as she giggled along with the crowd.
"The fashion elements you see here..." she began, standing to showcase her outfit à la a QVC host. "I honestly don't know how to answer that question. I wear a leather unitard for most of this film, and I have been for the last 10 years. So if you think of any fashion elements that you would like to include, please let us know."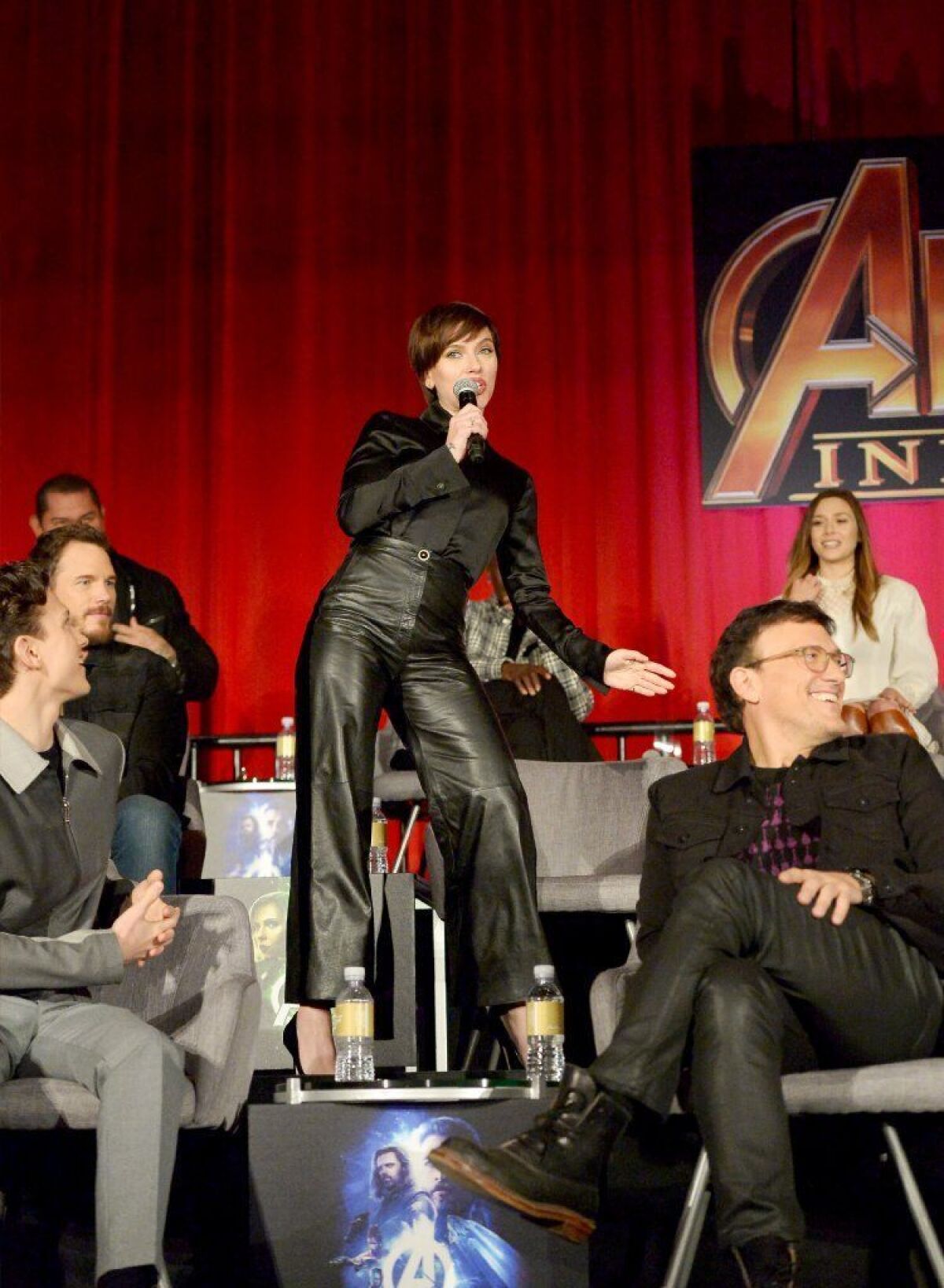 The fashion refrain was echoed throughout the conference with lighthearted digs by fellow cast members Bautista and Duke.
Bautista, asked whether his "Guardians of the Galaxy" character, Drax, ever manages to go toe-to-toe with Thanos, said "Aw, man, ask me about my fashion sense."
To save Duke, who was asked a potentially spoiler-ridden question about the fate of Wakanda after the events of "Infinity War," Johansson quipped, "But tell us who made that fabulous jacket."
And later, when Klementieff was called upon to accept questions, she said, "Fashion question? No?"
There were plenty of other hilarious moments during the panel as well. Holland, who sports a brand new "Iron Spider" suit in the trailer, was asked about the upgrade.
"I didn't actually get to wear the Iron Spider suit because it's too amazing to exist in real life," he began. "So I joined the wonderful Mark Ruffalo in a man-canceling costume and stood amongst these gods wearing pajamas."
Mackie was asked whether it gets intimidating performing among such big names, to which he quipped, "A wise man once said that some men need an hour to make their presence felt. Some men need 30 seconds." Wright shook her head in mock disapproval.
"Strangely enough it only took 25 seconds for me to be impressed by Anthony Mackie," said Brolin.
When asked how much of "Infinity War" can be considered "Black Panther 1.5," Boseman replied, "'Avengers: Infinity War' is 'Avengers: Infinity War.' It's not 'Black Panther 1.5' or 'Black Panther 2' or anything like that. I think we have a strong presence in the movie, and it was great to have some of these people in Wakanda. But it is its own movie."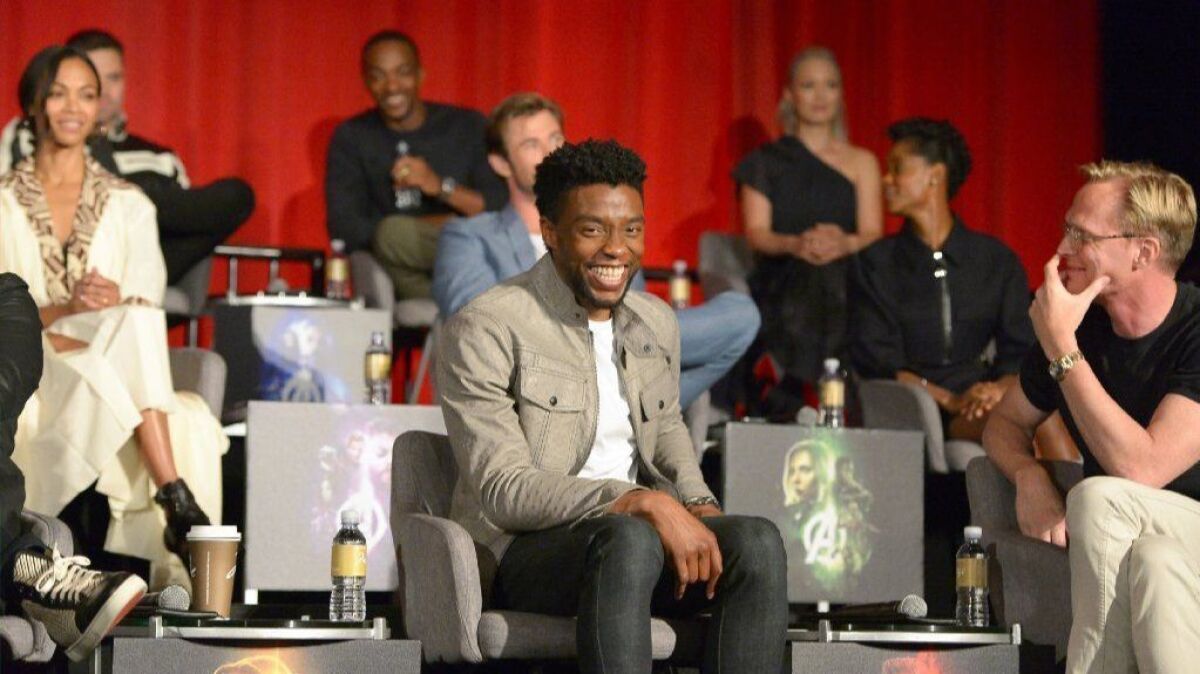 When Downey was called on to accept a press question, he countered with "Wait, me first. Who's better, Black Panther or Iron Man?"
The asker admitted that he preferred the former, to which Downey replied "… damn, me too."
He was then asked whether he will appear in 2019's "Untitled Avengers film" and after briefly consulting with Feige, determined he was allowed to reveal that they'd already filmed it.
"Which means I guess I'm …," he began before course-correcting. "You never know. I've got to see the screening tomorrow night. If I die tomorrow, I'm going to be confused. We'll see."
follow me on twitter @sonaiyak
---
Get the Indie Focus newsletter, Mark Olsen's weekly guide to the world of cinema.
You may occasionally receive promotional content from the Los Angeles Times.