Review: The hit-and-miss 'Bad Moms' tries to offer Mila Kunis and Co. a good night out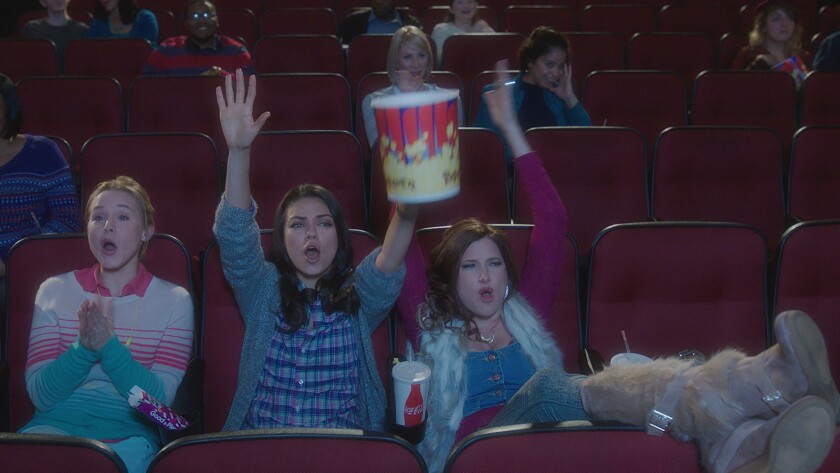 It's a peculiar bit of Hollywood logic, having the two guys who wrote "The Hangover" write and direct a movie called "Bad Moms." As if by some transitive property of film comedy, their having written a smash hit of men being oblivious, immature and reckless somehow makes Jon Lucas and Scott Moore the ideal candidates to explore the difficulties modern mothers face to balance conflicting responsibilities with the need to remain individualized people too.
If only it were that easy. Not surprisingly, "Bad Moms" is an intermittently funny, occasionally raunchy movie that regards its central characters from an essential remove. Like husbands who think that carrying in the groceries is really pitching in, Lucas and Moore have their hearts in the right place, but their efforts have little real insight or impact.
Mila Kunis plays Amy Mitchell, living in the suburbs of Chicago and trying to hold it together as a stressed-out working mother and wife, balancing her kids, her marriage and in her early 30s already feeling aged-out at her office job. After she discovers her husband has been having an online affair, she decides to stop trying so hard.
Mila Kunis, Kristen Bell, Christina Applegate, Jada Pinkett-Smith and more star in "Bad Moms."
She soon enlists meek at-home mom Kiki (Kristen Bell) and bawdy single mother Carla (Kathryn Hahn) to her cause, and the three begin ignoring many of the everyday obligations that have taken up so much of their lives. This sets them afoul of intense PTA leader Gwendolyn (Christina Applegate) and her pair of devoted sidekicks (Jada Pinkett Smith and Annie Mumolo), upsetting the delicate balance of local power.
A number of other recent films have also played the women-behaving-badly comedy card, including "Sisters," "Neighbors 2: Sorority Rising" and "Mike and Dave Need Wedding Dates." "Bad Moms" continually seems confused as to just how to lean in, lurching between outlandish comedy set pieces based on public meltdowns and misbehavior that would likely get one arrested or injured in real life while also wanting to create some semblance of an emotional reality for its characters. "Bad Moms" wants to have it all, but never finds the right balance.
The movie does tap into the tremendous pressures that contemporary mothers feel to both do it all and make doing it all look as easy as a well-curated Pinterest page. (Martha Stewart has a knowing cameo.) It is steeped in the same sort of bourgeois mindfullness skewered by the likes of the Los Feliz Daycare Twitter feed or tackled with a deeper sense of pathos by Jill Soloway's 2013 film "Afternoon Delight," which not coincidentally starred Hahn and featured Mumolo in a supporting role. There's also a "Moms" bit about Kunis not realizing how unsexy her bra is that recalls a similar moment with Bell from earlier this year in "The Boss."
Who doesn't love a good matriarch? From over-protective, loving and caring, to downright psychotic, here are some of the most memorable moms in movies.
()
Joan Crawford stars as the hard-working mother struggling to support herself and her daughter through a divorce in the film "Mildred Pierce."
(TCM)
Donna Reed is the doting and understanding matriarch of the Bailey family in classic Christmas tale "It's a Wonderful Life."
(Associated Press)
Julie Andrews' Maria may not be the mother of the Von Trapp kids by blood in the classic musical "The Sound of Music," but throughout the film she is a huge matriarchal influence on the children. Also she does eventually become their stepmother.
(20th Century Fox )
In her Academy Award-winning role Cicely Tyson stars as Rebecca Morgan, the matriarch of a black sharecropper family who is struggling to hold her family together after her husband is imprisoned for stealing food.
(Paramount Pictures / Getty Images)
Faye Dunaway stars as the iconic real-life actress and abusive mother Joan Crawford in the film adaptation of Crawford's daughter, Christina Crawford's, novel "Mommie Dearest" about life behind closed doors in the Crawford family.
(Paramount Pictures)
Meryl Streep won her second Academy Award for her portrayal of Sophie, a mother faced with an impossible decision -- which of her children will she send to their death at Auschwitz.
(Universal Pictures)
Talk about one heroic mom. Linda Hamilton's Sarah Connor fights her way through cyborg assassins to save not only herself but her son as well.
(TriStar Pictures)
In a movie all about mother-daughter relationships, four sets of Chinese immigrant mothers and their American-born daughters struggle to reconcile the cultural divide that exists between the generations.
(Phil Bray)
Jenifer Lewis stars as Margueritte Coleman, the mother of Whitney Houston's Julia Biggs who cannot help but get involved in her daughter's marriage.
(David Lee / Touchstone Pictures)
Based on a true story, Julia Roberts (who won an Academy Award for her performance) portrays the struggling single mother Erin Brockovich, who works tirelessly to bring down the California power company accused of polluting the city's water supply.
(Bob Marshak / Universal Studios)
Lupe Ontiveros stars as a hardworking mother devoted to her family who struggles with the cultural divide with her daughter, Ana (America Ferrera).
(Nicola Goode / HBO)
Jamie Lee Curtis is a mom gone wild as Tess Coleman, a mother who switches bodies with her rebellious teenage daughter Anna (Lindsay Lohan) in "Freaky Friday."
(Ron Batzdorff / Disney Entertainment)
Amy Poehler's not a regular mom, she's a cool mom as the ultimate mean girl, Regina George's mom, Mrs. George in "Mean Girls."
(Michael Gibson / Paramount Pictures)
Not only is Helen Hunt's Helen Parr/Elastigirl a caring and loving mother of two, she is also a tough-as-nails superhero within the family. I guess one could say she's a double hero.
(Disney / Pixar)
Joan Chen stars as Ma, a Chinese American traditionalist who struggles to accept the lifestyle of her lesbian daughter while living with her in Manhattan and challenging accepted traditions herself.
(Larry Riley / Sony Pictures Classics)
Mamma mia, here we go again: Meryl Streep plays yet another memorable mom, who is reunited with three long-lost loves in her daughter's quest to find her father, in the ABBA jukebox movie musical "Mamma Mia!"
(Peter Mountain / Universal Pictures)
In her Academy Award-winning performance Sandra Bullock stars as Leigh Anne Tuohy, the loving and no-nonsense Tennessee mother of two who takes in homeless teen Michael Oher.
(Ralph Nelson / Associated Press)
Mo'Nique won an Academy Award for supporting actress for her portrayal of Mary, the dysfunctional and abusive mother of Precious in "Precious."
(Anne Marie Fox / Lionsgate)
After her son is accused of murder, Hye-ja Kim's Mother will stop at nothing to prove his innocence and find the truth, no matter what it reveals.
(Magnolia Pictures)
As Margaret White in "Carrie," Julianne Moore portrays the religious and abusive mother to telekinetic teen Carrie White.
(Michael Gibson / Screen Gems)
Meryl Streep, center, portrays yet another memorable mother as the overbearing and verbally abusive Violet Weston in "August: Osage County."
(Claire Folger / The Weinstein Co.)
Brie Larson won an Academy Award for her brave and honest portrayal of a young woman thrust into motherhood as a result of a terrible situation.
(George Kraychyk / A24)
The central trio of Kunis, Bell and Hahn and their manic commitment are essential to what does work in the film. After an opening section that feels like introductory throat clearing, the movie kicks into gear once it gets the three together. The first major comedy moment, as they drunkenly converge on the local supermarket, has a welcome rowdiness. But then the sequence's use of slow-motion to ramp up the ridiculousness is something that Lucas and Moore return to again and again as their only sign of visual thinking or invention.
The picture's best and most outrageous moment comes when Hahn attempts to explain to Kunis how to handle an uncircumcised penis by using Bell in a zip-up hoodie as a visual aid. It's unexpected and raunchy and funny but also rooted in friendship and a practicality that unites the dueling agendas of the film like few other scenes.
The male characters are reduced to the sort of functionary sketches that are more typically the women's roles in dude-centric movies like, for example, "The Hangover." Bell's husband is overbearing, Kunis' believes his participation ends when he brings home a paycheck and Hahn has an unseen ex. That idea might feel fresher and have more bite if the female characters were in turn more fully realized.
It's unexpected and raunchy and funny but also rooted in friendship and a practicality.
None of the three main characters has a significant personality trait beyond her single defining point. Pinkett Smith and Mumolo are left just standing around next to Applegate's full-grown mean girl. (Mumolo, an Oscar nominee for co-writing "Bridesmaids," seems particularly sidelined, as one can't help but imagine how her take on this story might have played out.)
Hollywood will always make some movies that are just OK; pleasant, make-work entertainments that aren't aiming for much more than a light diversion. And so there is something refreshing even within "Bad Moms" for its attempt to turn an eye toward stories that have often been overlooked and flipping the focus to a female point-of-view. It feels like a start, maybe, but would have been so much better served as a story told from a perspective other than that of male outsiders like Lucas and Moore, who turn their heroines into unconvincing femme-bros. Next time, let the ladies fully take the wheel.
Follow on Twitter: @IndieFocus
'Bad Moms'
Running time: 1 hour and 41 minutes
Rating: R for sexual material, full frontal nudity, language throughout and drug and alcohol content
In wide release
---
Inside the business of entertainment
The Wide Shot brings you news, analysis and insights on everything from streaming wars to production — and what it all means for the future.
You may occasionally receive promotional content from the Los Angeles Times.