Review: 'Best of Me' is ridden by romantic clichés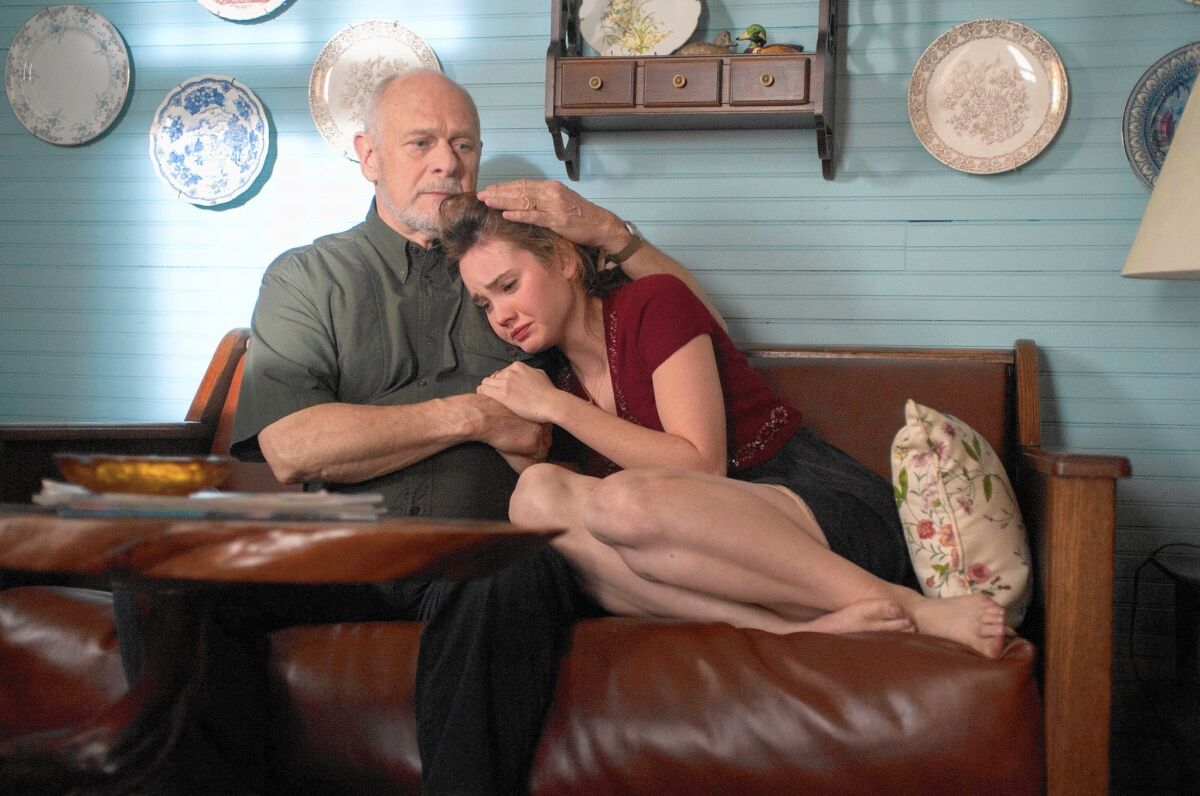 Author Nicholas Sparks ("The Notebook," "Dear John") never met a romantic cliché he didn't gently lay down atop a bed of roses in front of an orange-glow fireplace, and Hollywood has always been there to film it.
This 15-year affair — going back to "Message in a Bottle" (and we got the message) — continues with "The Best of Me," an opposites-in-love-then-apart-then-back-and-maybe-but-no! weepie seesaw that could test even the most amenable to Sparks-ian heart-tugging.
Painted to numerical specifications by director Michael Hoffman, this one stars James Marsden as Dawson, a heroic (check), hunky (check) Louisianan oil rigger of poor stock (check) who — upon hearing of the death of an irascible-but-sweet surrogate father (check) — is reunited with Amanda, the rich-girl flame he left behind 20 years ago (check), played by Michelle Monaghan. She's now married (check), but unhappy (check).
Flashbacks to their unlikely romance (check) — played by actors who look nothing like Marsden or Monaghan, and in younger Dawson's case, strangely older — reveal golden times (check) cut short by awful circumstances (check) and regretted choices (check check check).
And yet, somehow, that still isn't enough. He's got an abusive criminal dad and is a secret smartie, reading physics books on the water tower, later Stephen Hawking on the oil rig. She's got a father who tries to buy Dawson off, then a drunk for a husband, an abandoned calling and a child lost to leukemia. Dawson's surrogate father (Gerald McRaney) is a shotgun-toting widower who grows flowers. Everyone talks about destiny. They look at the stars. They dance to old records. They jump into the lake. Twice.
Marsden and Monaghan are fine actors, but you'd swear: The umpteenth time Monaghan has to look frozen in love/disappointment/heartsickness/wonder, she's adding a frisson of "Again, really?" And when this swollen case of meant-to-be-itis crams in prison and a heart transplant, you might be staring, too, wondering if the title "The Best of Me" more accurately indicates a K-Tel package of every tear-jerker trope in existence. Check. Please.
"The Best of Me."
MPAA rating: PG-13 for sexuality, violence, drug content, brief strong language.
Running time: 1 hour, 58 minutes.
Playing: In general release.
Get our L.A. Goes Out newsletter, with the week's best events, to help you explore and experience our city.
You may occasionally receive promotional content from the Los Angeles Times.