Review: Stars go through the motions in the lethargic 'Blackway'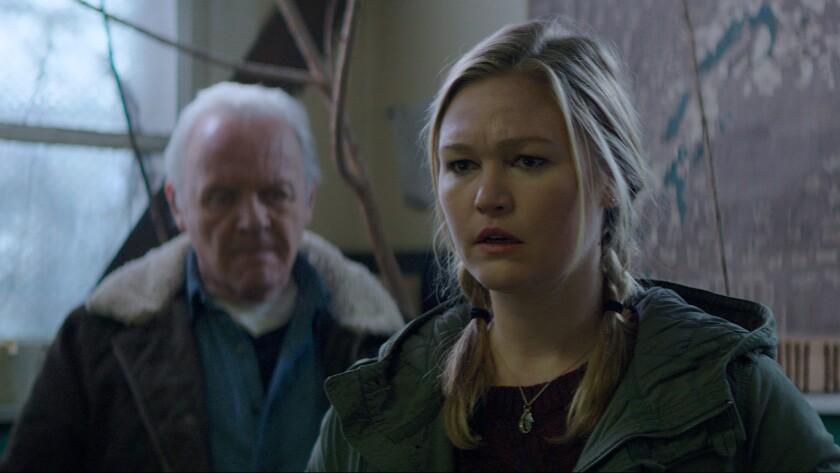 Gray and listless, the Anthony Hopkins/Ray Liotta-starrer "Blackway" is a vengeance tale set in a cold, foggy Pacific Northwest logging town where clichés are as prevalent as trees. Hopkins plays Lester, an old, stoic logger who accepts Julia Stiles' request for help deterring an abusive stalker (Liotta), with all the urgency of a veteran star's appearance fee being met.
Liotta's titular character is an ex-deputy turned meth dealer and motel pimp who once called Lester, grieving over his daughter's death, a "bad dad." His name is whispered by skittish townsfolk, but Liotta texted in this performance — he's been scarier playing good guys.
Hopkins, Stiles and a kind-eyed, stammering hunk (Alexander Ludwig) make the rounds looking for Liotta in a tan truck. But they may as well be on an errand to buy milk for all the excitement director Daniel Alfredson brings to this pedestrian present-day western, in which nobody is entirely comfortable saying the word "ain't" with any conviction. Every time Stiles blinks slowly, you'd swear she was about to nod off.
The climax's attempt to make a remote, abandoned mining camp in the woods feel determinedly gothic is a style choice too late. Sitting around the fire while our protagonists wait for the showdown, you wish one of them told a story infinitely more gripping than the one told in "Blackway."
------------
'Blackway'
Running time: 1 hour, 30 minutes
MPAA rating: R for violence, menace, language and brief nudity
Playing: Laemmle Monica Film Center, Santa Monica
---
Inside the business of entertainment
The Wide Shot brings you news, analysis and insights on everything from streaming wars to production — and what it all means for the future.
You may occasionally receive promotional content from the Los Angeles Times.