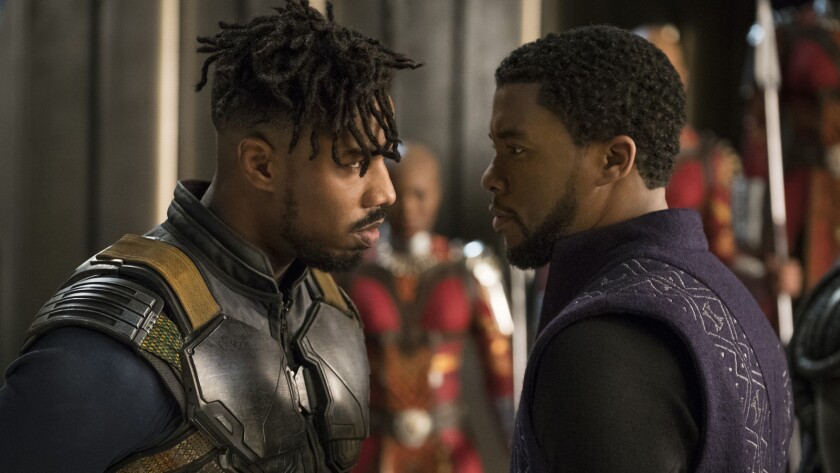 The cultural, critical and commercial phenomenon that is "Black Panther" boldly marched through its third weekend, hauling in an estimated $65.7 million over the three days, more than triple the debuts of "Red Sparrow and "Death Wish," according to data from measurement and analytics firm ComScore.
That's the third-largest third weekend of all-time after "Star Wars: The Force Awakens" ($90.2 million) and "Avatar" ($68.5 million).
"Black Panther," Marvel Studios' latest superhero offering, directed by Ryan Coogler and starring Chadwick Boseman, Michael B. Jordan and Lupita Nyong'o, now stands at $501.1 million domestically. It also was robust internationally, racking up $56.2 million over the weekend to bring its global total to $897.7 million.
The Jennifer Lawrence-starring "Red Sparrow," which Times critic Kenneth Turan called a "perfectly serviceable spy thriller," was the week's runner-up with $17 million. It earned a B from audiences polled by Cinemascore and a mediocre 51% positive rating from review aggregator Rotten Tomatoes.
The film re-teams Lawrence with "Hunger Games" director Francis Lawrence (no relation), and it marks a sizable drop from the $100-million-plus openings of that trilogy. In "Red Sparrow," the star plays a former ballerina recruited to be a Russian agent. The film is Lawrence's her follow-up to the divisive 2017 film "mother!" That movie grossed $17 million domestically.
Director Eli Roth's remake of "Death Wish," starring Bruce Willis as a surgeon-turned-vigilante, finished third with $13 million. Times critic Justin Chang characterized the film as "imbecilic," and it has a brutal Rotten Tomatoes score of 15%. Audiences were kinder, grading it a B-plus on Cinemascore. It is Willis' biggest opening since "Red 2" in 2013.
Falling to fourth in its second weekend was the action-comedy "Game Night," starring Jason Bateman and Rachel McAdams, with $10.7 million, bringing its North American total to $33.5 million.
Sony continued to hold the family audience with "Peter Rabbit" and "Jumanji: Welcome to the Jungle" registering drops of only 21.6% and 20.4%, respectively, to land in fifth and seventh places. The live-action/animation hybrid "Peter Rabbit" pulled in $10 million in its fourth weekend, for a total of $84 million. In its eleventh weekend, "Jumanji" grossed $4.5 million for a total of $393.2 million ($928.9 worldwide).
British filmmaker Alex Garland's sci-fi thriller "Annihilation," starring Natalie Portman, was sixth in its second weekend with $5.7 million and $20.6 million overall; the erotic romance "Fifty Shades Freed" was eighth with $3.3 million and a total of $95.6 million.
Rounding out the top 10 were "The Greatest Showman," grossing $2.7 million, good for ninth place and $164.6 million in its 11th weekend, and "Every Day" hanging on in 10th place, with $1.6 million and a total of $5.3 million through two weekends.
The second 10 were dominated by Oscar contenders, many adding theaters, led by "The Shape of Water" ($1.4 million) and "Three Billboards Outside Ebbing, Missouri" ($1.2 million) in 12th and 13th places, respectively.
The successful run of "Black Panther" sets up an interesting matchup next week with another Disney release, Ava DuVernay's "A Wrinkle in Time," starring Oprah Winfrey, Reese Witherspoon and Mindy Kaling.
See the most-read stories in Entertainment this hour »
---