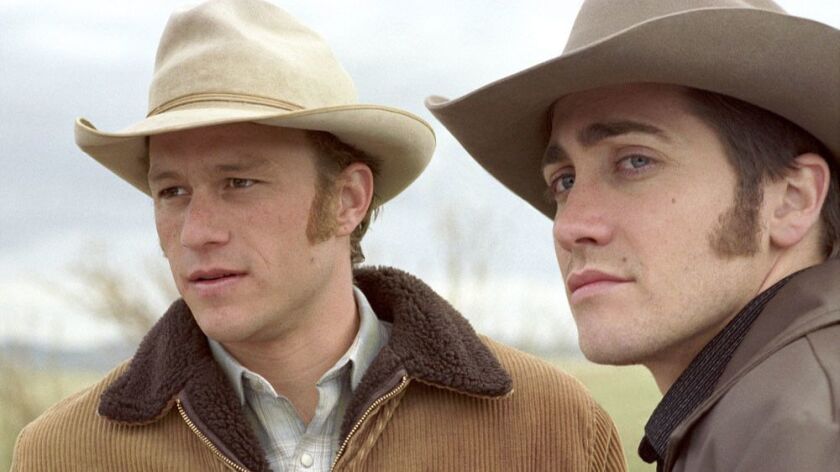 When director Ang Lee set out to make "Brokeback Mountain" in 2005, he couldn't have anticipated the enduring hold the film would have on the American consciousness.
"I didn't intend to make a statement," he said in an announcement of the 25 titles selected this year for the Library of Congress' National Film Registry. "I simply wanted to tell a purely Western love story between two cowboys. To my great surprise, the film ended up striking a deep chord with audiences."
The film — which stars Jake Gyllenhaal and the late Heath Ledger as a rodeo cowboy and a ranch hand caught in a tortured, 20-year-long affair — was inducted today along with milestone titles ranging from Disney's animation classic "Cinderella" to Stanley Kubrick's horror perennial "The Shining."
Films selected for preservation must be at least 10 years old, which makes the 13-year-old "Brokeback Mountain" the newest to be included in the registry.
"The main priority is to show the diversity of motion pictures," said Librarian of Congress Carla Hayden. "We want people to have an appreciation of recorded images and their impact on our culture and our history."
Each year, the National Film Registry chooses 25 of America's most influential films that speak to the "cultural, historic and aesthetic importance" of the nation's film heritage. The 2018 class of films span 107 years and multiple genres and brings the number of films in the registry — now in its 30th year — to 750.
Steven Spielberg's blockbuster classic "Jurassic Park" (1993), James L. Brooks' newsroom dramedy "Broadcast News" (1987) and Kasi Lemmons' "Eve's Bayou" (1997) were also among the more contemporary films included in the 2018 class.
"It's such an honor to return from production on my fifth film, 'Harriet,' to find that my first, 'Eve's Bayou,' is being included in the National Film Registry," Lemmons told the NFR. "As a black woman filmmaker it is particularly meaningful to me and to future generations of filmmakers that the Library of Congress values diversity of culture, perspective and expression in American cinema and recognizes 'Eve's Bayou' as worthy of preservation."
"It shows a segment of American culture that hadn't been portrayed in the motion picture medium that much," said Hayden of her decision to include the film. "And it had critical acclaim as well as was popular."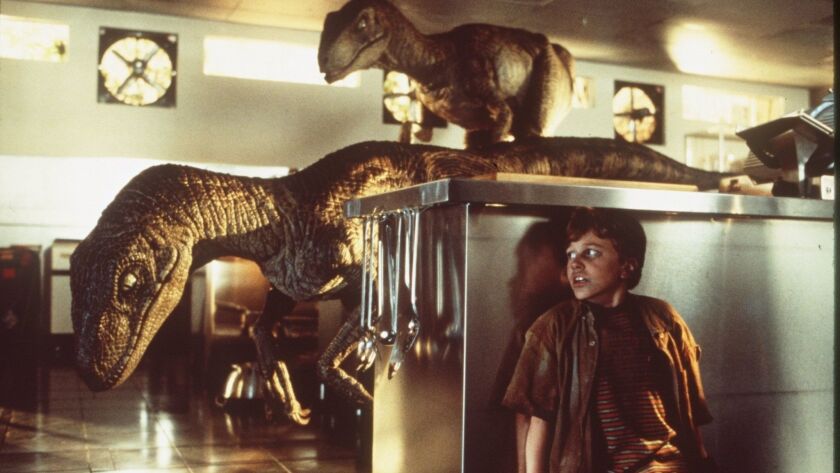 This year's class of films is notable for its diversity. In addition to "Eve's Bayou," a 29-second silent film depicting black people kissing was inducted. The 1898 short titled "Something Good — Negro Kiss" is the earliest known footage of black intimacy depicted onscreen.
"Smoke Signals" (1998) — a rare title from a Native American filmmaker, Chris Eyre, which was a sleeper success on the indie film circuit — and animator Ayoka Chenzira's "Hair Piece: A Film for Nappy-Headed People" (1984) were also included in the 2018 class.
"For my independently produced animated experimental film to be included in the National Film Registry is quite an honor," Chenzira told the NFR. "I never imagined that 'Hair Piece' would be considered to have cultural significance outside of its original intent, which was a conversation and a love letter to black women (and some men) about identity, beauty and self-acceptance in the face of tremendous odds."
"There are very few animated films on the registry," said Hayden. "There are only about two dozen out of 750. Most have come from mainstream companies like Disney and so this is one of the few experimental animation works and critics found the film to be 'refreshing, unusual and fun.' "
Other notable films included in this year's crop of films include Paul Newman's "Hud" (1963), the musical "My Fair Lady" (1964), Alfred Hitchcock's 1940 thriller "Rebecca," film noir classics "Leave Her to Heaven" (1945) and "The Lady From Shanghai" (1947), Blake Edwards' "Days of Wine and Roses" (1962) and Marlon Brando's "One-Eyed Jacks" (1961). The inclusion of John Ford's "The Informer" (1935) makes him the most represented director in the registry with 11 titles.
Hayden makes the annual selections after conferring with members of the National Film Preservation Board and library specialists. Their selections take into consideration the more than 6,300 titles nominated by the public.
Wednesday at 5 p.m. Pacific time, Turner Classic Movies will show a selection of the films named to the registry this year, accompanied by discussion from Hayden and film critic Leonard Maltin. Select titles from all 30 years are freely available online in the National Screening Room.
See the full list of 2018 selections below:
"Bad Day at Black Rock" (1955)
"Broadcast News" (1987)
"Brokeback Mountain" (2005)
"Cinderella" (1950)
"Days of Wine and Roses" (1962)
"Dixon-Wanamaker Expedition to Crow Agency" (1908)
"Eve's Bayou" (1997)
"The Girl Without a Soul" (1917)
"Hair Piece: A Film for Nappy-Headed People" (1984)
"Hearts and Minds" (1974)
"Hud" (1963)
"The Informer" (1935)
"Jurassic Park" (1993)
"The Lady From Shanghai" (1947)
"Leave Her to Heaven" (1945)
"Monterey Pop" (1968)
"My Fair Lady" (1964)
"The Navigator" (1924)
"On the Town" (1949)
"One-Eyed Jacks" (1961)
"Pickup on South Street" (1953)
"Rebecca" (1940)
"The Shining" (1980)
"Smoke Signals" (1998)
"Something Good — Negro Kiss" (1898)
follow me on twitter @sonaiyak
---