'The Last Movie Star's' Burt Reynolds is still charming — and busy — after all these years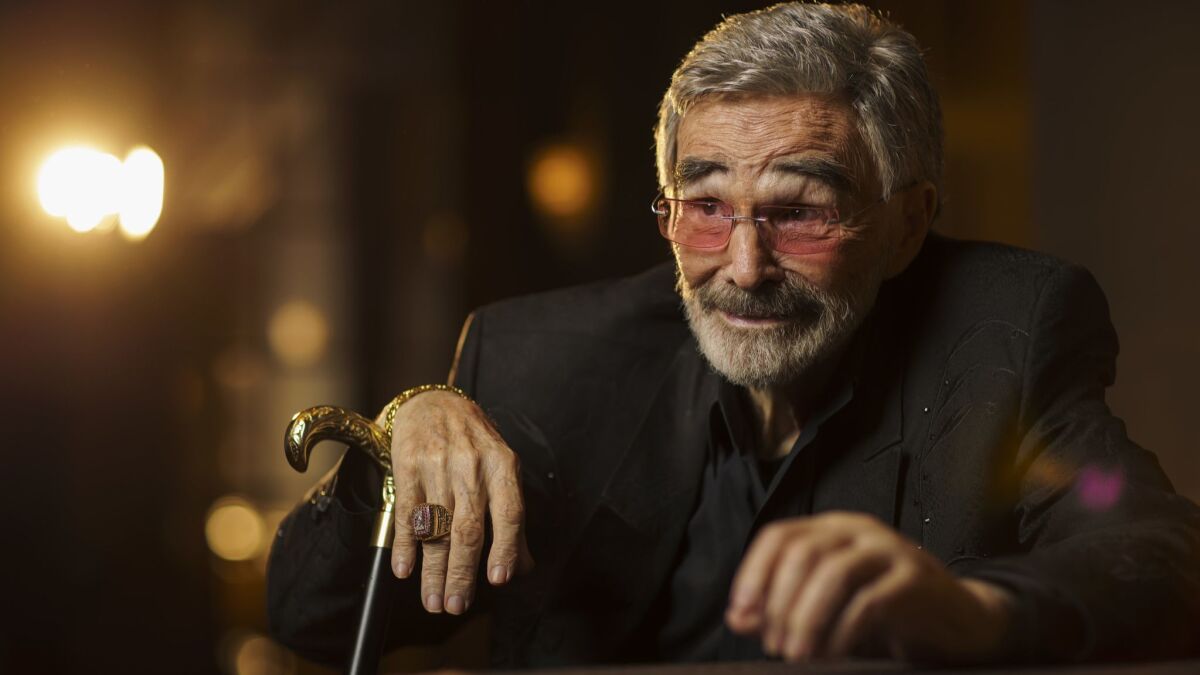 Burt Reynolds still knows how to lay on the charm.
At the American Cinematheque's Egyptian Theatre last week for a Q&A after the premiere of his new film "The Last Movie Star," Reynolds regaled the audience with tales of Hollywood past such as the time he asked his old pal Fred Astaire to dance with him at a party.
"He led," Reynolds deadpanned.
Did it really happen? Who knows? The crowd certainly didn't care — and anyway it's a great story. After all this is what they came for, to hear the man who for the better part of a decade was the No. 1 box-office attraction in the world, talking about his legendary life and career and about a world in which movie stars really mattered.
Burt Reynolds turned 82 this year. He's not as spry as he once was; because of his old football knee injury and insistence on doing his own stunts Reynolds walks rather gingerly with the help of a cane.
But he has no interest in going under the knife. "I don't like hips and knee [surgery]," Reynolds declared in a recent interview. "I've had four operations on my knees. I'm moving along. I got my gold cane here."
He laughs, but the trademark guffaw his fans waited for — his late good friend Johnny Carson once described it as an "insane giggle" when he made his 61 appearances with Carson on "The Tonight Show" — has given away to a quiet chuckle.
Director Adam Rifkin ("The Dark Backward") wrote "Last Movie Star" for Reynolds, who starred in such hits as 1972's "Deliverance," 1975's "W.W. and the Dixie Dancekings" and "Hustle," 1977's blockbuster "Smokey and the Bandit," 1978's "Hooper" and "The End," which he also directed, 1979's "Starting Over," 1981's "The Cannonball Run" and 1997's "Boogie Nights," for which he received a supporting actor Oscar nomination.
Rifkin admitted he's been a Reynolds fan boy since he was 12, when he first saw "Smokey and the Bandit."
"Burt Reynolds was the biggest movie star in the world," said Rifkin. "In addition to being the biggest movie star, the best-looking guy, the most charming, the funniest, I thought he was the coolest guy. I wanted to know him. I wanted him to be my friend. He was my hero.
"I always felt he was an excellent actor, but he never got his due. His contemporaries got the accolades for their performances, but Burt was always seen as a movie star."
Even 40 years later, Reynolds is still his hero. "[When] I started making movies of my own I thought to myself 'you know, I want to give something back to Burt Reynolds for all of the years of joy he's given me and so many others."
Reynolds read the script and quickly came onboard, but it took several years to get the funding for "The Last Movie Star," which opens Friday in Los Angeles. The actor said if it had come his way any earlier, he may not have been ready to do it.
"It's kind of my farewell," he said between sips of his orange juice. "I don't know what that means, but what the picture is about is an actor. [His career] is over and he realizes it. Actors feel like when they're not working, they're dying."
In the film he plays the Reynolds-esque Vic Edwards, an aging movie star who lives alone in a mansion that desperately needs updating from the Property Brothers. Married and divorced five times, he shops for himself at Ralph's and is mourning the death of his dog.
When he gets word that he has received a lifetime achievement award at a film festival in Nashville, his good friend (Chevy Chase) insists he go pick it up. When he does, Vic discovers it's a rather cut-rate affair. But thanks to the festival fans, his troubled young driver (Ariel Winter) and the characters he revisits from his movies, Vic comes to terms with the past, present and future.
Directing Reynolds was everything Rifkin hoped it would be and more. He's writing a buddy move for Reynolds and Chase, who hit it off in their two scenes.
"I was kind of pinching myself if this is real," said Rifkin. "But ultimately, I mean, working with Burt was a joy because he makes it so effortless and easy because he's so generous and so sweet to work with. He said from the start, 'We're making this movie together. You need me and I need you and together we can make this movie good.' We were true collaborators from day one."
Reynolds said he has several jobs in the offing including two network projects and a feature film. "Word gets out — they know before you do — that you're hot again," he explained with a smile.
Reynolds is quick to point out that "Last Movie Star" is Vic's farewell, not his. He has a much more vital life.
"My blood pressure drops about four points the minute I land in Florida," said the actor, who lives in Tequesta in Palm Beach County. "My best friend is a guy I've known since seventh grade. We go out on the weekends and carouse around like we're 18. He's retired. He was an electrician and then he got his own company. He has lots of money and lots of women chase him because he's a bachelor."
He also teaches acting Friday evenings at his Burt Reynolds Institute for Film & Television in North Palm Beach. Reynolds said he got the best acting advice from Spencer Tracy, who became his friends in the 1960s. Tracy told him the audience should never catch him acting.
"I have a little plaque in the room where I teach and it says, 'Don't act, behave.'" And that's what he tells his students.
"I say, 'Don't act. I don't want you to act. I want you to make me believe I'm watching 'Candid Camera.' I want you to make me believe you're not here, you're wherever you're supposed to be in the scene. But don't act."
Reynolds noted he's "very content with my life. I'm very happy with what I have."
Still, the actor acknowledged it was a mistake to do his famous nude centerfold for Cosmopolitan in 1972. "You just can't think of the actors you respect and like and think that they would do it," he said. "Thinking about it later, I thought, 'What in the hell was I thinking?' Except I thought it would be funny. But I've lived my whole life that way. Jumping off the building would be fun, so I jump off the building."
---
Get our L.A. Goes Out newsletter, with the week's best events, to help you explore and experience our city.
You may occasionally receive promotional content from the Los Angeles Times.