Cannes 2017: Al Gore, undaunted by Trump, talks red-state victories and 'An Inconvenient Sequel'
Film Critic
Reporting from Cannes, France —
It has not been a very good year for those concerned with climate change. The U.S. is considering leaving the landmark Paris climate pact, a hostile appointee leads the Environmental Protection Agency and right-wing websites chortle, "Trump's Latest Move Will Make Al Gore Fry."
But is Al Gore himself despondent or depressed about it all? Not in the slightest.
"I've been inoculated in the year 2000," he says, combining a burst of genial good humor with a reference to his presidential election loss to George W. Bush. "I now have a resistance to being disheartened, the antibodies are still thriving in my bloodstream.
"As we all learn, one of the hidden secrets of the human condition is we learn the most from our most painful experiences."
To spend time with Al Gore is to meet a man enough at ease with himself to dress as if for a Senate hearing in white shirt, suit and tie even though he's in the south of France; a warm, engaged, surprisingly funny individual whose innate courtesy has him personally hang a reporter's sports coat on a nearby hotel room hanger.
Yes, he does tend to stay on message when he talks (how could he not) and he likes to draw graphs in the air with his hands ("I'm going to get a little geeky for a moment," he apologizes with a smile, "I'm sorry, it's a failing").
But he combines this with good humored self-awareness and a fiercely committed intelligence.
"If you think I'm earnest now, you should have seen me earlier," he says. "You can't change who you are. At times I've tried, but I'm old enough to stop worrying."
Gore is in Cannes to promote the worldwide release of an impassioned and involving new documentary, "An Inconvenient Sequel." Due in U.S. theaters on July 28, it brings us up to speed on where the battle against climate change stands more than a decade after the Oscar-winning documentary "An Inconvenient Truth."
It's a privilege to have a task that justifies pouring every ounce of energy into it, that creates a sense of joy, that gives energy back.
Al Gore
"I'm here for a lot of to-ing and fro-ing," is how Gore puts it. "I think I've done 75 seven-minute interviews — Japan, Russia, Brazil, everywhere.
"The day before yesterday I was live on [the French cable channel] Canal Plus when the interpreter talking in my earpiece was evacuated from his building because of a bomb scare. The questioner was going a mile a minute in French, but because of those 75 seven-minute interviews, I picked up enough key words to fight my way through it."
Gore has been concerned with climate change since he took a class with pioneering global warming theorist Roger Revelle as a college student in the 1960s. Not only did Gore "never imagine when I was a young man that this would become an all-consuming body of work for me," he also never anticipated that the work would involve the movies.
More than that, he was frankly dubious about both of his films.
"I was quite reluctant to do the first film for a foolish reason, honestly, this will sound silly to you," he says. "When I was a student, trying to take a shortcut in a Shakespeare class, I would pop in videotapes of plays that had been filmed and found it didn't work. I was afraid translating my climate change slide show to a movie might produce a similar result."
Gore was skeptical about doing "An Inconvenient Sequel" for a different reason.
"I had doubts you could tell essentially the same story again with any hope of success," he explains. "Once again I was dead wrong."
A pair of factors, Gore explains, made the difference with the new film, co-directed by Bonni Cohen and Jon Shenk. First was the fly-on-the wall / cinema verite philosophy of the filmmakers (responsible for the excellent "The Island President"), who for two years shadowed their protagonist everywhere, even watching as he changed soaking-wet socks.
"You forget they're there," he says, "to the point where when I saw the movie there were a lot of scenes where I had no idea or no memory of them having filmed it, which was a little uncomfortable."
The other factor was Gore's belief that "though the crisis is worse, we now have the solutions we need" in wind and solar power, whose costs are dropping dramatically as use increases.
One of the film's high points, in fact, is Gore's visit to Georgetown, Texas, "the reddest city in the reddest county" in that notoriously red state, a place that for strictly economic reasons now gets all its energy from wind and solar.
"I love that scene," he says. "So many people who would never ever want to use the phrase 'global warming' are now looking at the economic practicalities, at the hard-nosed economic rationale for the change. It's being fought, but the buggy whip makers made a similar effort a century ago."
Though Gore doesn't like to dwell on it, he admits he is not tireless, that there's an exhaustion factor to all the work and travel he does.
And, as you might suspect, friends and family do tell him not to work so hard, to take some time off.
His response: "I will do that soon. We're almost there."
Do they roll their eyes?
"Yes, and maybe mutter, 'I've heard that before.' "
If you think I'm earnest now, you should have seen me earlier.
Al Gore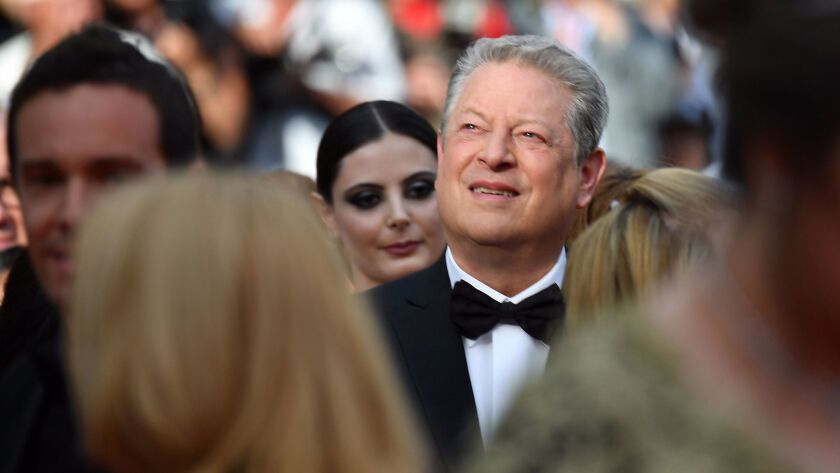 Gore perseveres because of "the sense of mission, if you'll forgive an overly lofty word," he says. "It's a privilege to have a task that justifies pouring every ounce of energy into it, that creates a sense of joy, that gives energy back. This may come off wrong, but it's like the line one of the runners says in 'Chariots of Fire.' 'When I run I feel God's pleasure.' "
Not that it always makes the battle easier. Given that "it can be difficult for people to wrap their minds around the existential threat we're facing," he says, the result is "those of us who work on climate crisis have an internal struggle between hope and despair.
"But the German economist Rudi Dornbusch said, 'Things take longer to happen than you think they will and then they happen faster than you thought they could.'
"We still have the ability to avoid catastrophic consequences," Gore insists. "The task is to summon political will."
See the most-read stories in Entertainment this hour »
ALSO
Todd Haynes reveals at Cannes how he found the deaf actress so good in his new film it gave him chills
Cannes 2017: Noah Baumbach tells why he cast Adam Sandler, who rewarded director's faith
70 years of Cannes in 17 seconds: the year the Palme d'Or was a split decision
---
Inside the business of entertainment
The Wide Shot brings you news, analysis and insights on everything from streaming wars to production — and what it all means for the future.
You may occasionally receive promotional content from the Los Angeles Times.