Claire Denis' 'Let the Sunshine In' lights up Cannes, but once again, she was not asked to compete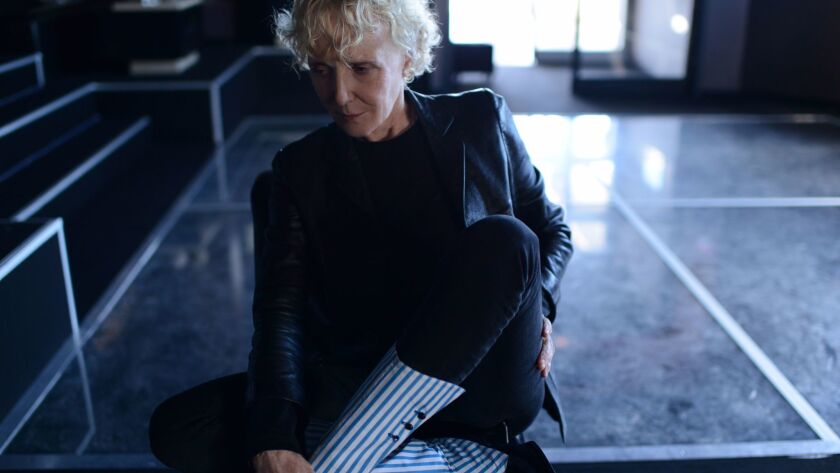 Film Critic
Cannes, France —
What does one of the world's most highly regarded filmmakers have to do to earn a competition slot at the Festival de Cannes?
That was a question many were asking in regard to Claire Denis — and not for the first time — following last week's Cannes premiere of her exquisite and bittersweet love comedy, "Let the Sunshine In" ("Un Beau Soleil Intérieur").
Starring Juliette Binoche as Isabelle, a middle-aged Parisian artist, mother and divorcee searching for romantic fulfillment, the film screened on Thursday as the opening-night attraction of the Directors' Fortnight, a parallel program to the festival's official selection. It was acquired shortly afterward by Sundance Selects for North American distribution.
Denis landed in the Cannes competition with her 1988 debut film, "Chocolat." Since then, several of her rigorously intelligent and intensely atmospheric movies, including "Beau Travail," "The Intruder," "White Material" and "35 Shots of Rum," have competed for prizes at other festivals like Berlin and Venice, and her harrowing 2013 thriller, "Bastards," played in Cannes' out-of-competition Un Certain Regard sidebar.
But subsequent chances for the Palme d'Or? Rien.
Sitting down to talk about her latest at the J.W. Marriott Hotel overlooking the Croisette, the 71-year-old Denis gently waves away this critic's indignation on her behalf.
"To make a film is such a challenge, that to complain is a little bit difficult. I cannot complain," she says. "You cannot make films and be sad because you're not in competition at Cannes."
For her, the satisfaction of making "Let the Sunshine In," a process that she describes as "a joy," came from her close collaboration with her co-writer, the novelist Christine Angot. The two had originally played with the idea of adapting "Fragments: A Lover's Discourse," a 1977 essay by the French semiologist Roland Barthes, but quickly scrapped that idea in favor of telling their own story — what she describes as "our own love agonies" — focused on a woman who would combine elements of their own experience.
"Christine and I were like two women sharing a story, and two women not with the same experience, obviously, but who were interested by each other," she says. "This was very different for me, this frankness between two women."
The film follows Isabelle through a series of alternately delightful and exasperating romantic encounters with men of varying ages, backgrounds and body types, played by actors including Xavier Beauvois, Bruno Podalydès and two of Denis' regular collaborators, Nicolas Duvauchelle and Alex Descas. In one particularly amusing scene, Isabelle visits a clairvoyant played by Gérard Depardieu, a sly wink to an incident years ago when the veteran French actor insulted Binoche in an interview. (They've long since patched things up.)
Denis says she has long wanted to work with the Oscar-winning Binoche, who has acted for directors such as Leos Carax ("Mauvais Sang") and Olivier Assayas ("Summer Hours," "Clouds of Sils Maria") whom Denis is friendly with. But they both had to wait for the right project to come along.
"Juliette first tried to adapt herself, to learn those long dialogues, and then when she had done that work, she felt free to be that woman," Denis says.
The film is in many ways a comic essay on the difficulties of language, particularly between two potential lovers trying to connect. The screenplay is filled with repetitions and hesitations that sound almost improvised on-screen but were in fact meticulously written on the page, with nary a single deviation in the shooting process.
Despite these strictures, a low budget and an intense five-week shooting schedule, Binoche says that acting for Denis gave her an extraordinary sense of freedom.
"She's so true and sensitive that I could feel her next to me, directing me," Binoche says. "And that frees me in a way, so that I don't have to defend anything or prove anything, because she's allowing whatever is coming."
Denis notes that for all their preparation, the character was really brought to life by her striking wardrobe and makeup choices -- heavy black eyeliner, short skirts, leather jackets and high-heeled boots.
"Often with wardrobe you can say things that, if you had to say them in psychological terms — you are a woman like this or like that — would be a little bit hard," she says.
Tonally, the result is on the gentler end of the Denis spectrum, closer to the wistful sense of possibility in "Friday Night," her 2002 movie about a brief encounter abroad, than, say, the outré erotic horror of her 2000 cannibal thriller, "Trouble Every Day." But while "Let the Sunshine In" is almost certainly the funniest film Denis has ever made, it possesses the same patient, rigorous intelligence as her earlier work.
With its smoothly choreographed long takes (framed by Denis' usual cinematographer, Agnès Godard) and elegant, flowing story structure, the movie at times suggests a French art-house corrective to the glossy pandering of female-centric Hollywood fantasies like Nancy Meyers' "It's Complicated." For Denis, however, the movie feels more informed by the Italian comedies she used to watch as a teenager, in which "life was a tragedy, but told with a lot of humor."
Even amid the festivities in Cannes, Denis' mind already seems beyond the festival, looking ahead to her next project.
"To make film is a very strange thing. It's very addictive in a strange way," she says. "A film is never an achievement. It's not the last one. There must be another, better one."
---
The complete guide to home viewing
Get Screen Gab for weekly recommendations, analysis, interviews and irreverent discussion of the TV and streaming movies everyone's talking about.
You may occasionally receive promotional content from the Los Angeles Times.