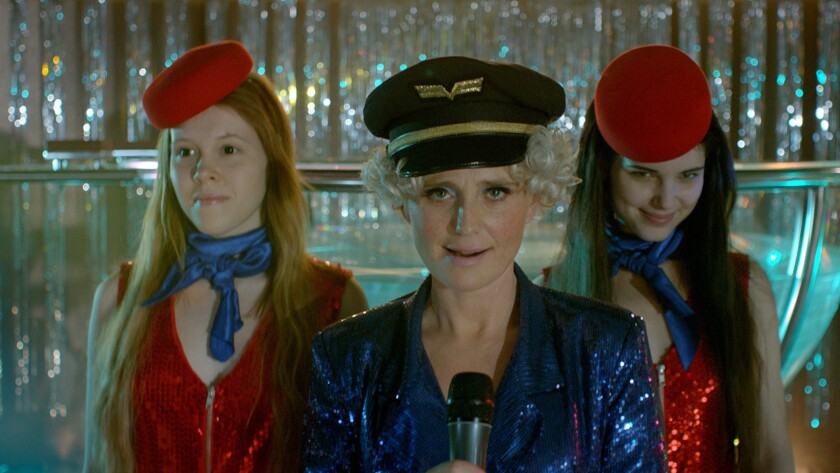 Like a retro-disco nightmare after eating too much seafood and watching "The Little Mermaid," the Polish whatchamacallit "The Lure" is a woozily entrancing mash-up, shimmying by itself in the corner of the horror-musical canon and sure to earn quizzically appreciative stares from genre enthusiasts.
Director Agnieszka Smoczyńska's and screenwriter Robert Bolesto's story of beautiful waterborne sisters with impressive tails and sharp teeth who succumb to fleshy temptations in a sordid nightclub/restaurant openly borrows Hans Christian Andersen's timeless metaphor for what's gained and lost with womanhood. But "The Lure" is its own scaly, slinky thing, a Cronenbergian body-horror fable informed by vampiric desires, '80s-era Europop stylings and a belief in the narrative blend of myth and earthiness that gives all fairy tales their strange power.
A moonlit opening sees Gold (Michalina Olszańska) and Silver (Marta Mazurek) emerge from the deep to the sound of a pop trio in mid-frolic on the beach, after which the sisters "audition" their transformative powers for a skeevy dance hall owner (Zygmunt Malanowicz) who sees a hot novelty addition — they sing! they strip! they grow tails! — to the band. While the lead singer (Kinga Preis) takes to them in a motherly way, the young, blond male bassist (Jakub Gierszal) and Silver form a romantic attachment that her sea sibling sees as existentially threatening. Gold's designs on the humans in their orbit are more carnivorous, which, naturally, creates its own fitting-in problems.
There's little else like "The Lure," pitched as it is between fantasy and reality, mixing choreographed numbers and kitschy Eastern-European-does-Western nostalgia with pointed affection, if not always coherence. Its actors are committed too, with Mazurek especially turning her nubile, pitiable awkwardness into the movie's most reliably beating heart, while Olszańska embodies its freakier sexual spirit. The ending is even surprisingly affecting, given how often Smoczyńska prefers tart, trippy flashiness to story beats and easy warmth. (The human characters don't get names, for instance.) "The Lure" may not be everybody's siren song, but as debut features go, it counts as a splash.
-------------
'The Lure'
In Polish with English subtitles
Running time: 1 hour, 32 minutes
Not rated
Playing: Laemmle NoHo 7, North Hollywood
See the most-read stories in Entertainment this hour »
---