Reviews: Noah Centineo in 'The Perfect Date'; plus, three more Netflix movies
'The Perfect Date'
This predictable rom-com mashes up "Loverboy" and "Can't Buy Me Love" for a generation that only knows Patrick Dempsey as McDreamy from that show they watch on Netflix. After playing a love interest in "To All the Boys I've Loved Before" and "Sierra Burgess Is a Loser," Noah Centineo takes the lead in "The Perfect Date" as Brooks Rattigan, a high school senior desperate to go to Yale.
While his father (Matt Walsh) stresses over paying the Ivy League tuition, Brooks' moneymaking scheme involves getting paid to be a date: a partner for a tennis match, an art expert for a gallery opening or a cowboy for a rodeo. As the dates pile up and the money rolls in, he begins to lose sight of who he really is, what he likes and why he wanted to go to the university in the first place. Meanwhile, his friendship with his combat-boot-clad first customer, Celia (Laura Marano), deepens, and he pines after her more conventional classmate Shelby (Camila Mendes).
From the casting of Centineo to the climax at a school dance, "The Perfect Date" feels engineered by Netflix algorithms. The resulting film, directed by Chris Nelson, feels as inauthentic and unsure of its identity as its hero. Even Centineo, so charming previously, is saddled with an unlikable role. The script from Steve Bloom and Randall Green isn't concerned with the teen women it features, though they're the likely demo for the film.
— Kimber Myers
'The Perfect Date'
Not rated
Running time: 1 hour, 29 minutes
Playing: Netflix
-------------
'The Accused'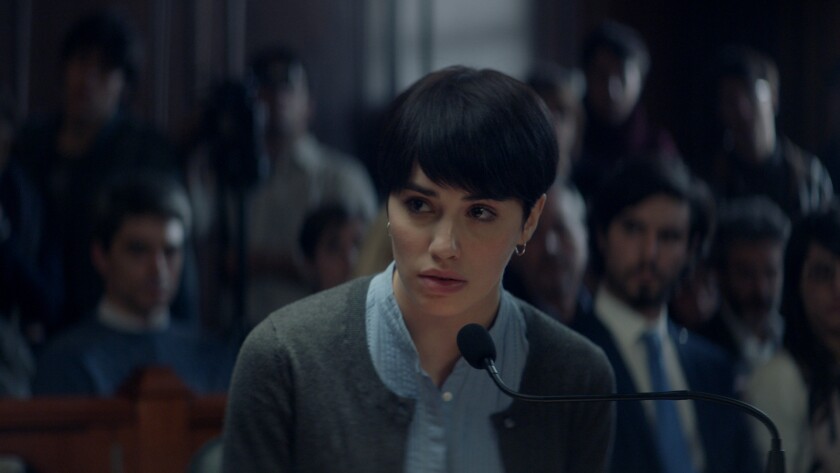 In this penetrating Argentine drama, "The Accused" in question is Dolores "Dolo" Dreier, a young woman who's implicated in the murder of her best friend.
Some two years after her friend Cami was found stabbed to death the morning after a party, 21-year-old Dolores (an effective Lali Espósito) is about to stand trial for the crime, steadfastly maintaining her innocence despite being named the sole suspect.
While her hyper-protective parents (Leonardo Sbaraglia and Inés Estévez) have sacrificed everything to clear their daughter's name, they're fighting a losing battle with public opinion as the tabloids have continued to weigh in on her status as either victim of circumstance or manipulative murderess.
As directed by the film's co-writer, Gonzalo Tobal, the tautly executed proceedings are clearly more concerned with what goes on outside the courtroom before and during the actual trial, as if to suggest that society and the media (as personified by Gael García Bernal as a TV personality with a clear agenda) has long ago reached its verdict.
Although the role requires Espósito to be a necessary enigma in order for the "did she or didn't she?" conceit to work, the actress-singer gives a compellingly spare, tight-lipped performance that handily carries this incisively observed character study — one in which the notion of guilt is collectively split among many a bloodstained hand.
— Michael Rechtshaffen
'The Accused'
In Spanish with English subtitles
Not rated
Running time: 1 hour, 53 minutes
Playing: Netflix
------------
'A Land Imagined'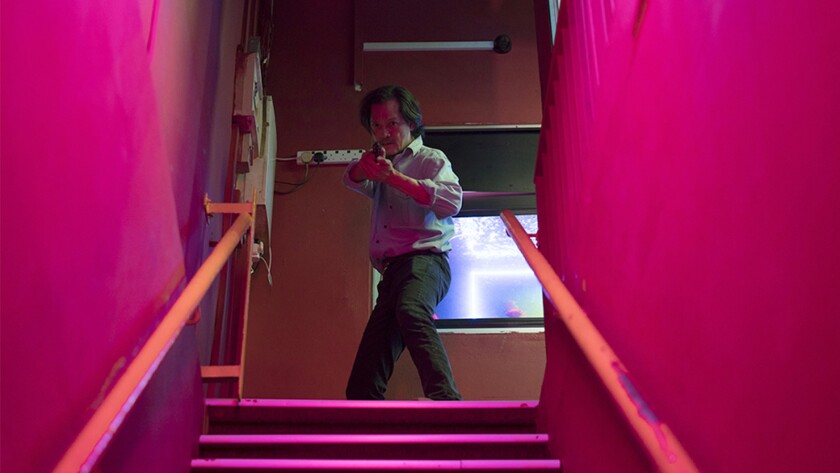 Whatever writer-director Yeo Siew Hua was going for in his noirish mystery "A Land Imagined" never congeals into anything intriguing or compelling enough to earn our required patience.
This head-scratcher's time-jumping narrative runs on two seemingly analogous tracks. Initially, we follow weary Singapore detective Lok (Peter Yu), who's investigating the disappearance of Wang (Liu Xiaoyi), a worker from mainland China employed on a land reclamation site. (Much is made here, to murky effect, of efforts to extend Singapore's borders with sand from nearby countries.)
That Lok has sleep issues and yet dreams up people and places, which may then appear in real life (huh?), switches us into Wang's story and POV: his workplace accident, befriending of Bangladeshi co-worker Ajit (Ishtiaque Zico) and the immigrant laborers' quasi-captive state under their shady bosses that may — or may not — have led to both men to vanish.
Meanwhile, Lok and Wang, who's also an insomniac, each end up spending nights at a luridly-lighted cyber cafe staffed by a punky chick (Luna Kwok) who provides random sexual favors to her male clientele. Like the film's other characters, we learn little about her and don't much care.
There's perhaps a Lynchian or De Palma-esque thread here in the Lok-Wang set-up: Who's imagining whom? But unlike those iconic filmmakers, Yeo eschews wicked thrills for elusive musings.
— Gary Goldstein
'A Land Imagined'
In Mandarin, English and Bengali with English subtitles
Not rated
Running time: 1 hour, 35 minutes
Playing: Netflix
-------------
'Who Would You Take to a Deserted Island?'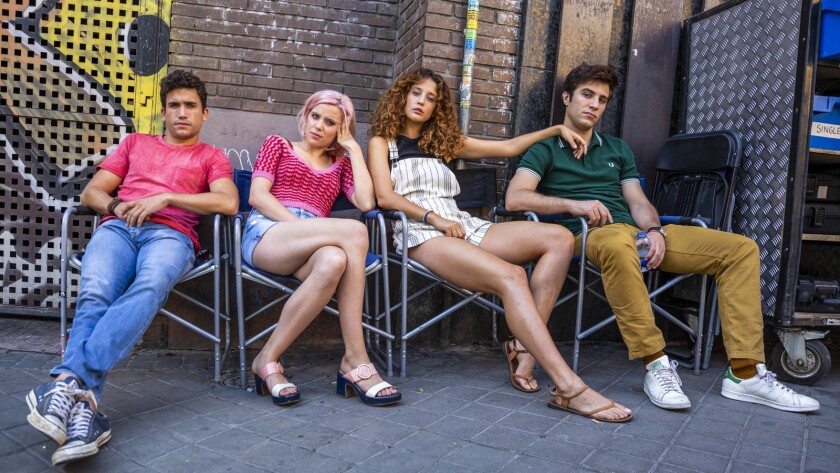 In "Who Would You Take to a Deserted Island?" tensions and the mercury are rising on the hottest day in Madrid. Roommates Eze (Pol Monen), Marcos (Jaime Lorente), Celeste (Andrea Ros) and Marta (María Pedraza) are moving out of their apartment, but their last night of drinking, drugs and shared secrets threatens to push them even further away from each other.
For this Netflix original, Jota Linares directs his own play with an adaptation from Paco Anaya. Its characters drive this Spanish-language drama, but we don't know enough about these four people for the film's revelation to really pack a punch. However, raw performances and Linares' intimate approach make "Who Would You Take to a Deserted Island?" more engaging in its second half than the first.
— Kimber Myers
'Who Would You Take to a Deserted Island?'
In Spanish with English subtitles
Not rated
Running time: 1 hour, 33 minutes
Playing: Netflix
---
The complete guide to home viewing
Get Screen Gab for weekly recommendations, analysis, interviews and irreverent discussion of the TV and streaming movies everyone's talking about.
You may occasionally receive promotional content from the Los Angeles Times.