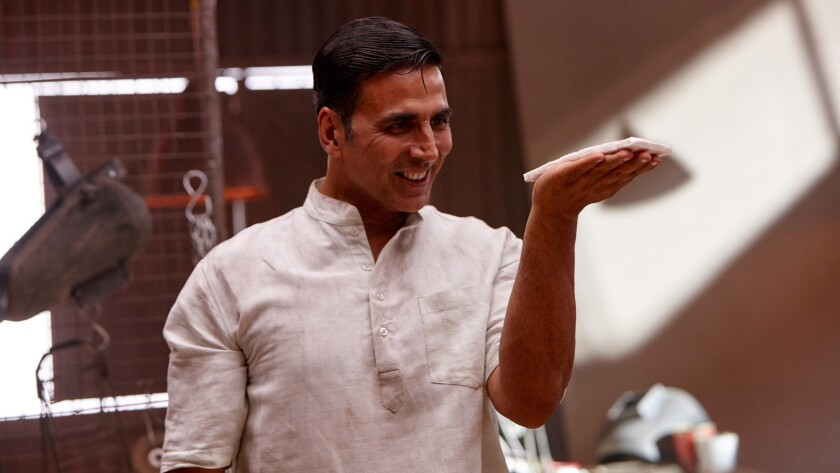 Its subject may seem an unlikely choice for epic movie treatment, but "Padman," inspired by the true story of activist Arunachalam Muruganantham's mission to bring affordable sanitary pads to the female masses of India, proves quite the entertaining, daresay absorbing, movie.
How the title character, a mechanically-inclined everyman renamed here Lakshi Chauhan (the charming Akshay Kumar), bucked a culture that stigmatized menstruation, fought for women's health, surmounted pariah status and emerged as a kind of superhero, is vibrantly tracked by writer-director R. Balki, who, in typical Bollywood fashion, peppers the action with several enjoyable song and dance numbers.

The central conflict involves the relationship between Lakshi and his traditional wife Gayatri (Radhika Apte), who's so mortified by her husband's obsessive interest in the creation and use of sanitary napkins (instead of the rags most Indian women were using) that she chooses to leave him.
Lakshi then takes off in search of the most efficient and economical ways to make and distribute the product he knows will improve and even save women's lives. En route, he meets a business management student (Sonam Kapoor) who aids him on a journey that will culminate in a stirring appearance at the United Nations.
A few plot contrivances aside, "Padman" is a well-told and performed film that compellingly fills its lengthy running time with hope, resolve and exuberance.
-------------
Not rated
In Hindi and English with English subtitles
Running time: 2 hours, 20 minutes
Playing: In limited release
See the most-read stories in Entertainment this hour »
---