Does Captain Marvel just need to smile more? Nope, says the film's creative team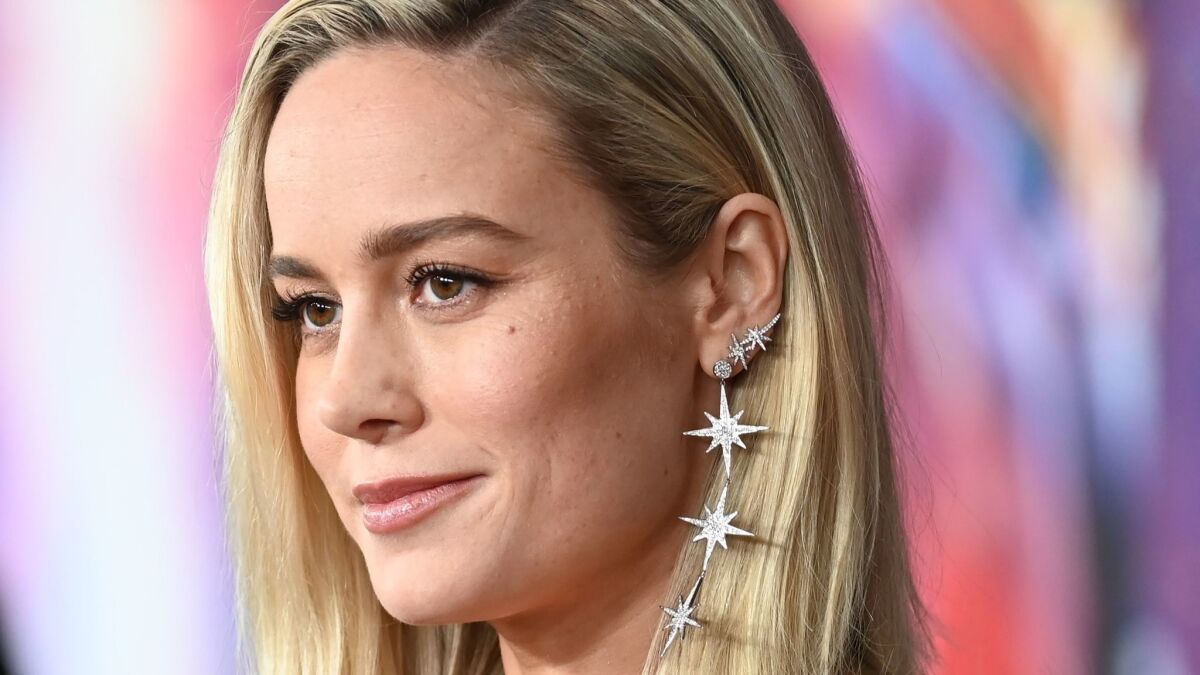 "Lighten up, honey, huh? You got a smile for me?"
Even Captain Marvel, one of the strongest beings in the Marvel Cinematic Universe, is not immune to catcalling. A male motorcycle rider, played by Robert Kazinsky, utters those words to the superhero on the streets of Los Angeles midway through the new film, which opens Friday.
Lead actress Brie Larson faced her own "smile controversy" when the first trailer for "Captain Marvel" dropped. Some fans, or sexist internet trolls, criticized Larson for not smiling more in her portrayal of the fighter pilot turned superhero Carol Danvers.
Larson has since commented on it during her press tour for the film directed by Anna Boden and Ryan Fleck. To her, the reaction is "part of why art that depicts the female experience is so important because on the one hand, for women and girls, it allows us to go, 'Oh, I have that experience too.' And those that aren't in our bodies can look at it and go, 'Wait, that happens to you? We gotta do better.'"
The "smile more" response was still on the minds of attendees at the Los Angeles premiere of "Captain Marvel" on Monday night at the El Capitan Theatre in Hollywood. Following a flyover by the U.S. Air Force Thunderbirds, the directors and other creatives spoke with The Times on the red carpet about the derogatory social media reaction and the scene that unintentionally called it out.
No, that "smile for me" scene was not a part of any reshoots. It was already in the very early draft of the script, said Fleck.
It was something Boden "really fought for and was passionate about," executive producer Jonathan Schwartz said. "It's an experience I think other people in the room, especially men, didn't know or didn't have.
"And then totally separately, a whole controversy sprung up about Brie's countenance and how she wasn't smiling in the marketing materials, so it sort of dovetailed into something like, 'Oh yeah, this is something that women really do encounter and deal with.'"
The directing duo, who also co-wrote the script, were side by side as they made their way down the press line. They told The Times that they included that particular scene after discussing it with other writers and Larson. Shot on the first day of filming, the moment was important for them to show this common, "demeaning" experience, Fleck said.
'Captain Marvel' directors bring feminism, the '90s to the Marvel Cinematic Universe »
"It's just one more person who she comes across who tries to tell her how she ought to be," Boden added. "And her journey of self-realization is about rejecting all those people telling her how or who she ought to be and then embracing who she is."
The movie also boasts a male and female editing team: Debbie Berman and Elliot Graham.
Berman was happy to include the smile scene in the final edit because it's "part of the DNA of what women have to go through. It's important to address it, but also not get preachy. I think that was something that we wanted people to relate to every day but not sort of hit it on their head."
Boden and Fleck co-wrote the screenplay with Geneva Robertson-Dworet. Depicting aspects of the female experience was personal for Robertson-Dworet, particularly the film's message of female friendship.
When we meet Captain Marvel in the 1990s-set movie, she rediscovers a friendship with her former U.S. Air Force colleague Maria Rambeau (Lashana Lynch).
Instead of framing the narrative around a love story, "We wanted to see more representation of strong female friendship," said Robertson-Dworet.
'Captain Marvel': A brief history of Carol Danvers »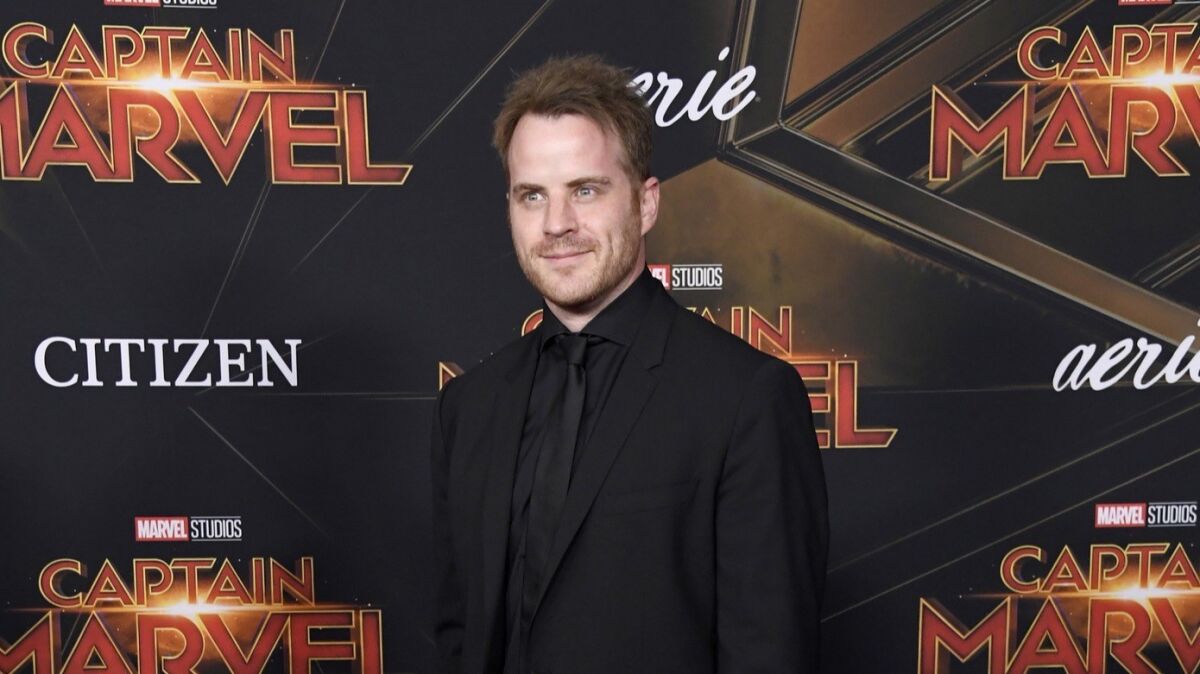 As Air Force pilots, the characters work in a field "that's very male-dominated, and yet they're drawn to each other as friends because there's almost no other women," she explained, standing next to screenwriters Nicole Perlman and Meg LeFauve. "That's kind of how we felt in this male-dominated industry of action writing in Hollywood."
Perlman chimed in, "There's an expectation that women will be competitive with each other, but our experience has been that it helps us lift each other. I feel like the movie is really infused with that spirit."
Lynch was thankful to develop that friendship with Larson. As her costar waved and hugged young girls attending the premiere behind her, Lynch said it was "really nice to go to work every day and not have to forge female friendship [with Larson]. It's literally just me and Brie talking on screen, having a good time and sharing emotional moments."
She continued, "It's important for us to represent women in all facets. We all go through things. We all have moments in life when we need a shoulder to cry on. We need someone to remind us that we're strong, and that's what Maria does with Carol."
Review: Captain Marvel and Brie Larson boost the MCU to even greater heights »
The film, which leads into the highly anticipated "Avengers: Endgame" this summer, also shows the opposite type of relationship between female peers. There's a climactic scene in which Minn-Erva (Gemma Chan) and Danvers, who fought side by side as noble Kree warrior heroes, acknowledge that they do not like each other.
That dynamic was also in the early drafts of the script, and the writing team wanted "to show women in a variety of all types of relationships," said Perlman.
While Robertson-Dworet is thankful for how she infused the female experience into "Captain Marvel," she could not contain her excitement over adding another personal element into the movie. You can thank her for the feline fan favorite Goose. The writer based the movie's orange tabby on her own cat, Bart, whom she almost brought to the premiere.
"But I thought I would forever be remembered as the writer who brought a cat to the premiere," she said with a laugh. "I tried to get them to cast my cat, but they said that was insane."
How to train like Captain Marvel, physically and mentally »
---
Get our L.A. Goes Out newsletter, with the week's best events, to help you explore and experience our city.
You may occasionally receive promotional content from the Los Angeles Times.