SAG Life Achievement honoree Carol Burnett keeps racking up fans, 'from 9 to 90'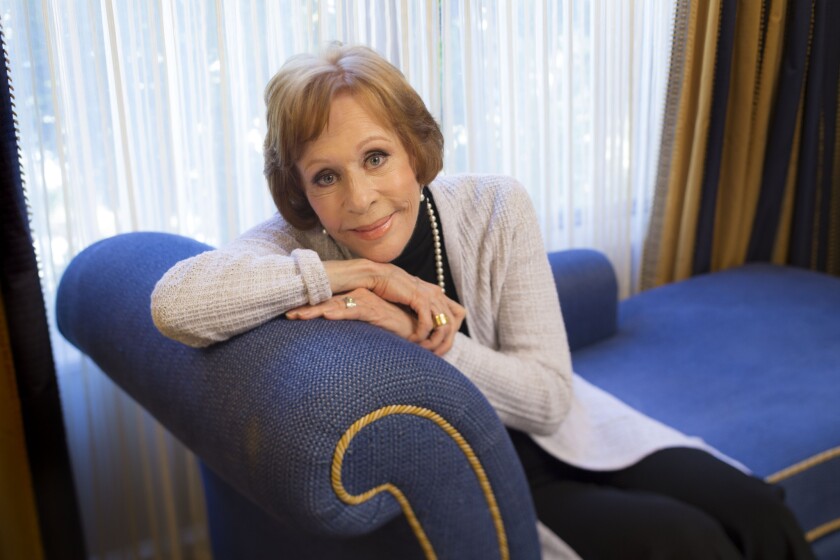 "Gobsmacked."
That's how Carol Burnett said she felt when SAG-AFTRA President Ken Howard called to tell her she was getting the actors guild's Life Achievement Award.
"My chum Julie Andrews taught me that word," Burnett said. "Isn't that a great word? It sounds like what it is. You are gobsmacked."
FULL COVERAGE: SAG AWARDS 2016
Burnett will receive the prize Saturday evening at the Screen Actors Guild Awards, which airs on TBS and TNT. And it's very apropos that two queens of comedy — Tina Fey and Amy Poehler — will be giving the award to the legend who has influenced countless contemporary funny ladies.
------------
For the Record
Jan. 29, 2:52 p.m.: An earlier version of this article and headline incorrectly referred to the Sag Life Achievement Award as Lifetime Achievement. Also, "The Carol Burnett Show" ended in '78, not '79.
------------
Her legions of fans are probably gobsmacked as to why it took so long for Burnett to receive the SAG honor. Her rubber-faced blend of physical humor, musicality, zaniness and sweetness has long made her one of America's best-loved performers.
Leonard Nimoy, left, appeared with Burnett on an episode of "The Carol Burnett Show."
(CBS Photo Archive / Getty Images)
With "The Carol Burnett Show" signing off in 1978, Burnett split her time among stage, TV and the big screen, appearing in 1981's "The Four Seasons" and 1982's "Annie." In 1984 Burnett, left, reunited with Vicki Lawrence on the CBS sitcom "Mama's Family."
(CBS Photo Archive / Getty Images)
Burnett, left, and Vicki Lawrence joke around at a gathering to announce Columbia House's release of "The Carol Burnett Show" in a video library form on Oct. 24, 2000.
(Kim D. Johnson / Associated Press)
Burnett joined pal Joel Grey at the Music Center's 18th Distinguished Artists Awards Gala at the Beverly Hilton Hotel, where Grey received an award.
(Lawrence K. Ho / Los Angeles Times)
Burnett clowns around with fellow voice actors Jim Carrey, left, and Steve Carrell while promoting the 2008 animated film "Horton Hears a Who."
(Karen Tapia Andersen / Los Angeles Times)
The Academy of Television Arts and Sciences honored the star at "An Evening with Carol Burnett" in 2013.
(Richard Shotwell / Invision)
Burnett was awarded the Mark Twain Prize for American Humor at the Kennedy Center in 2013.
(Owen Sweeney / Invision)
Carol Creighton Burnett was born in San Antonio, Texas in 1933, and moved to Los Angeles with her grandmother at a young age. She majored in theater arts at UCLA. She is pictured at the Wal-Mart shareholder meeting in Fayetteville, Ark. on June 5, 2015.
(Danny Johnston / Associated Press)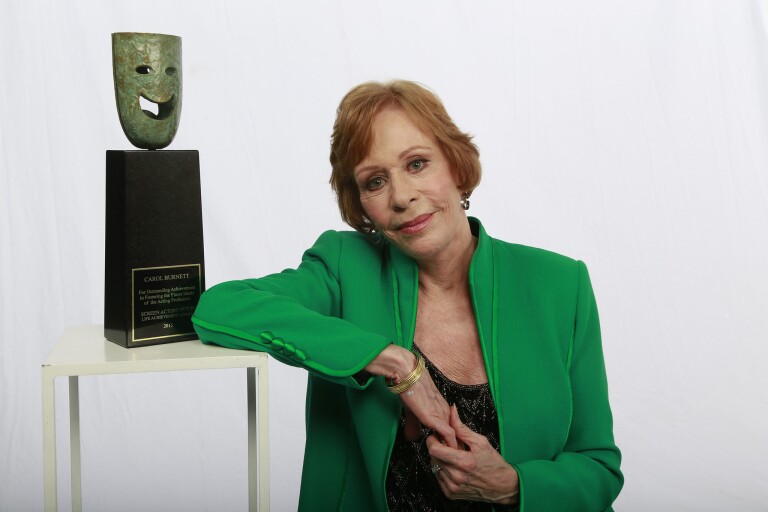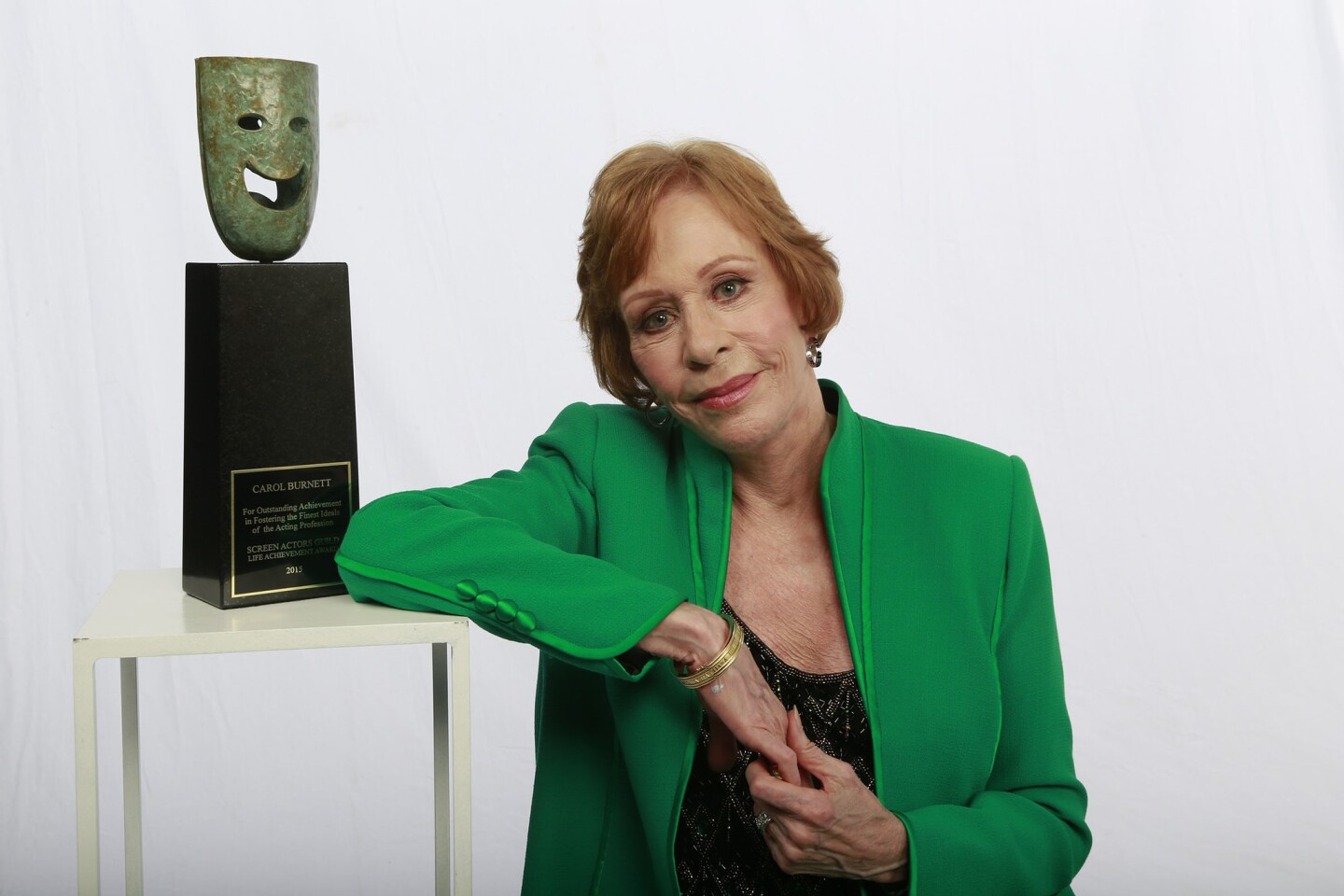 Burnett was honored with the Screen Actors Guild Life Achievement Award at the SAG Awards on Jan. 30, 2016.
(Kirk McKoy / Los Angeles Times)
From left, Julie Andrews, Christine Baranski and Carol Burnett perform onstage during Lincoln Center's American Songbook Gala on Feb. 1, 2017, in New York City.
(Neilson Barnard / Getty Images)
For the last six decades, the 82-year-old Burnett has kept audiences laughing, first on CBS' "The Garry Moore Show" from 1959-62 and her own brilliant, multi-award-winning 1967-78 CBS comedy-variety series "The Carol Burnett Show," which also featured Harvey Korman, Lyle Waggoner, Tim Conway and Vicki Lawrence.
She conquered Broadway ("Once Upon a Mattress," "Moon Over Miami") and starred in several feature films including 1972's "Pete 'n' Tillie," 1978's "A Wedding" and 1982's "Annie."
She became an overnight sensation singing Ken Welch's novelty tune, "I Made a Fool of Myself Over John Foster Dulles" at Blue Angel nightclub in New York in 1957. Burnett was even invited to perform the song on the "The Jack Paar Show" and "The Ed Sullivan Show" in the same week.
Burnett has written three bestsellers including her autobiography, "One More Time," and has just completed a book about her TV series. She's guest starred in countless TV series including "Glee" and "Hawaii Five-0" and demonstrated her dramatic prowess in such TV films as 1979's "Friendly Fire."
Last year, several episodes of "The Carol Burnett Show," which hadn't been seen since their first broadcast, were released on DVD. The series has its own YouTube channel.
In person, Burnett is as warm, funny and gracious as her TV image. She spoke about the origins of her career and her newest fans.
I had no idea you made your TV debut back in New York in 1955 on "The Paul Winchell Show," which starred the famed ventriloquist and his puppets Jerry Mahoney and Knucklehead Smiff.
I was the girlfriend of Jerry Mahoney and Knucklehead Smiff. I remember I called my grandmother out here to tell her I was going to be on television. Nanny said, say hello to me. That's when we came up with pulling my ear. The first song I sang [on TV] was "Over the Rainbow" to Jerry Mahoney.
You go back a long way with Julie Andrews. How did you two meet?
She came with her manager to see me in "Once Upon a Mattress." She was doing "Camelot" at the time. The producer of "The Garry Moore Show," Bob Banner, and Lou Wilson, who was Julie's manager at the time, said to Julie and me, you girls have got to get to know each other. The four of us went for Chinese after the show. These poor men couldn't get a word in because Julie and I just hit it off immediately.
Then she came on the "Garry Moore Show" as a guest. Ken Welch, who wrote special material, asked her if there is something you always wanted to do musically. She said "I always wanted to be a cowboy," so he wrote a treatment of "Big D" and we did it as a finale. So Bob Banner said, you girls have chemistry. That is when the idea of teaming us up [for the special "Julie and Carol at Carnegie Hall"] happened. We did three specials.
Lucille Ball was a mentor and a friend. You appeared on her series and she would guest on "The Carol Burnett Show."
She came to see me in "Mattress" the second night after we opened. I remember I made the mistake of peeking through the curtain, and I saw the red hair in the second row. I was as, if not more, nervous than opening night because Lucy was in the audience. Afterward, she came back and sat and talked to me for about 25 minutes.
SIGN UP for the free Classic Hollywood newsletter >>
She called me Kid. She said, "Kid, if you ever need me for anything you call me." About three years later, I was going to do a special for CBS if I could get a top guest. The producer said "you should call Lucy." I called her and I said, "I know you are busy" — I was stuttering — "I am doing this special" .... She said "when do you want me?"
Is it true you modeled your variety series after Garry Moore's show?
The thing about Garry — and this is what I did with my show because I wanted to emulate him — is that we would be sitting around having a table read on Monday morning for a show on Friday. He might have a punchline or a joke and he would say, "Let Carol do this." He was just that way, and that is the way I wanted my show to be — a true rep company. There were many sketches where I supported. Though I had the title, we were all equal in the sketches.
I've enjoyed watching the DVDs of the so-called "lost" episodes of "The Carol Burnett Show."
Because of all of these [DVDs] and being on YouTube, I am getting fan mail from 10-year-olds on their little lined school paper with the three holes. It's absolutely wonderful.
I go around the country and do Q&As. I have been doing it for like 25 years and I'm starting to get [audiences] from 9 to 90, which is fabulous. A year or so ago I was in Texas. A little boy in the second row raised his hand. I said, "Hi, what's your name?" He said, "Andrew." I said, "How old are you Andrew?" He said, '9.' I said, "You know who I am?" He said, "Surprisingly yes!"
------------
22nd Screen Actors Guild Awards
Where: TBS
When: 5 p.m. TBS and TNT; 7 p.m. TNT, Saturday
---
Get the Indie Focus newsletter, Mark Olsen's weekly guide to the world of cinema.
You may occasionally receive promotional content from the Los Angeles Times.