Dave Bautista on the heartbreak that kept him from celebrating James Gunn's return to 'Guardians of the Galaxy 3'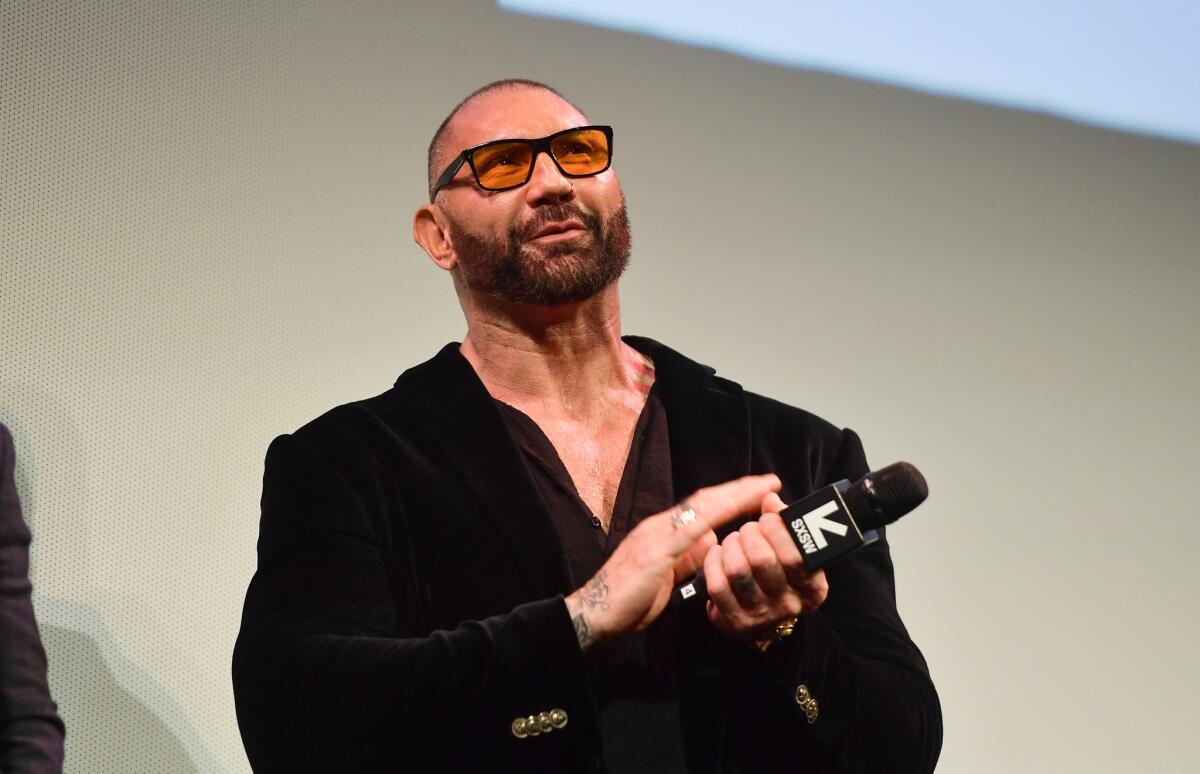 This is a busy time for wrestler-turned-actor Dave Bautista. He's currently training for his much-anticipated return to the ring with a match in WrestleMania 35 on April 7. He's expected to appear in the upcoming "Avengers: Endgame" when it is released on April 26.
And he was recently at the South by Southwest Film Festival in Austin, Texas, for a well-received work-in-progress sneak preview of the action-comedy "Stuber," which opens July 12.
Directed by Michael Dowse, the film stars Bautista as a cop who enlists an Uber driver played by Kumail Nanjiani to shuttle him around Los Angeles as he attempts to crack a big case on the same day he has had corrective eye surgery.
Ever since Bautista's big-screen breakthrough in 2014's "Guardians of the Galaxy," he's amassed an impressive filmography including "Spectre," "Hotel Artemis" and Denis Villeneuve's "Blade Runner 2049." (He'll soon be appearing in Villeneuve's upcoming "Dune.")
He also made headlines when he staunchly defended "Guardians of the Galaxy" filmmaker James Gunn after the writer-director was removed from the third installment when provocative old tweets were resurfaced.
Gunn subsequently signed on to make the next "Suicide Squad" movie for Warner Bros. and DC, and Bautista has been expected to join the ensemble. Earlier this month, following an outpouring of support from the "Guardians" cast, Gunn was reportedly reinstated for "Guardians" duty. (As with much of what's expected from the Marvel Cinematic Universe post-"Endgame," the news has not been officially confirmed by the studio.)
This week Bautista got on the phone for a few minutes from Tampa, Fla., where he lives, to discuss the positive response to "Stuber" and this very hectic time. Even in a brief call, Bautista's candor and emotional openness — he audibly choked up talking about the recent loss of one of his dogs — sets him apart from whatever stereotype one might want to apply.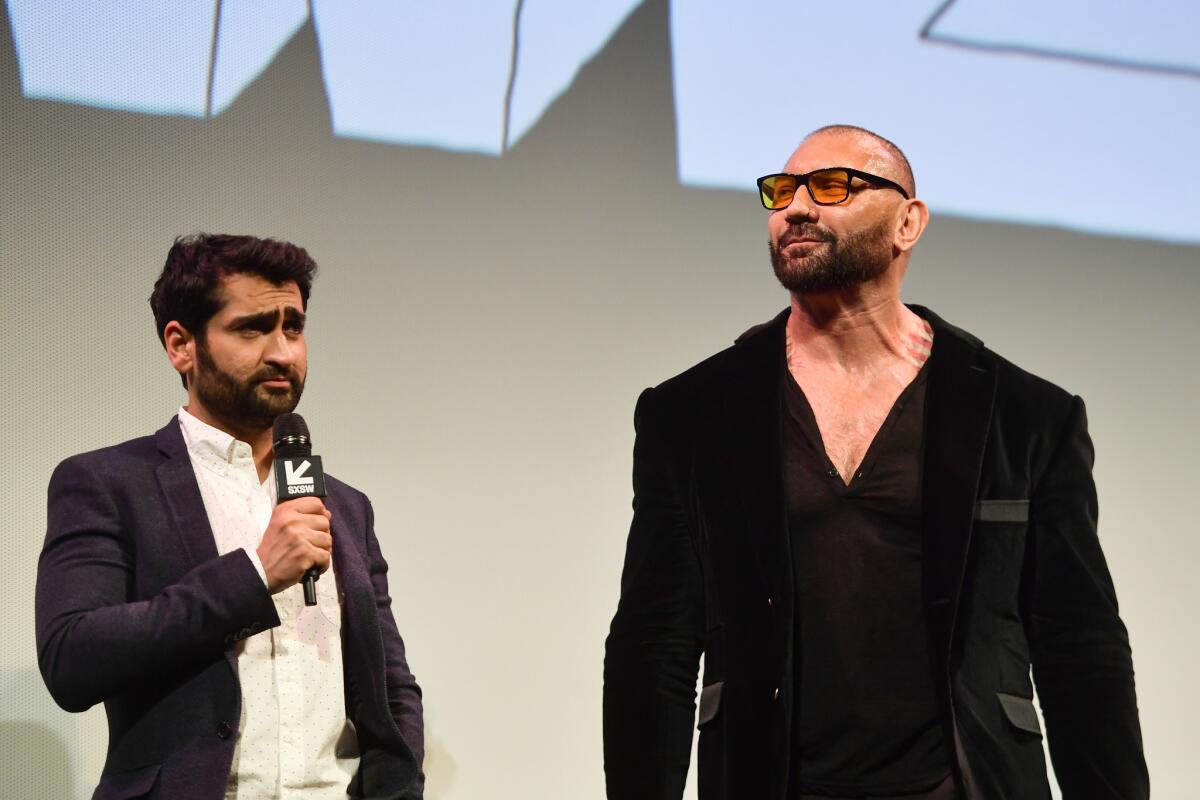 How's everything going with your training? Had you always thought that you might wrestle again?
I did. I've actually been pursuing this for years. I always said that I'd never wanted to be in the ring past 50, I felt like that's just too old to be wrestling. And here I am. And since you asked, I'm a bit beat up. I've been training to not only be in shape but I've been in the wrestling ring as well, so I'm just a little banged up. It's just too old, you know, the wear and tear and everything. I was lucky I got out and was in pretty good shape considering — I had a bunch of injuries, bunch of surgeries, but I wasn't living my life in pain or anything. So this might be pushing it a little bit.
It was really an important thing to me that I wrap up my [wrestling] career the right way. I put a lot into my career, and I was really proud of it.
But it was really an important thing to me that I wrap up my career the right way. I put a lot into my career, and I was really proud of it. I just felt like there was no closure on it. So it was a personal thing for me. It really was a big deal for me to come back.
I was at the "Stuber" premiere in Austin for South by Southwest and I was so struck by how moved you seemed by the movie. You seemed genuinely emotional during the Q&A afterward. What was that night like for you?
Well, what I'm so emotional about as far as that movie, one, I'm really proud of it. The quality of movies that I do is extremely important to me. I don't want to do [crap] movies, I just don't want to do them. And, you know, you take certain jobs and sometimes you know you're not crazy about what is written on the page and you're hoping that you can be a little flexible with it and the director will give you that creative freedom. But you never know 'cause some directors are just real control freaks and they want you to stay on page.
But anyway, what I'm most proud of with that film is not my performance, it's Kumail's performance. Kumail is, I love this guy — like, I really have such a love for him as a human being. He's such a good person and he's so talented and I don't mind him shining in that film. I'm proud to say that he steals that film for me. I don't care, 'cause it's still a good quality film ... I can't wait for people to actually see this and see him just killing it, man. He's got such a great range and he's much more than just a funny guy. He's just so much more than that.
SIGN UP for the free Indie Focus movies newsletter »
In the movie you get to show not only more straightforward comedy than you have before, but also a more emotional side in your scenes with Natalie Morales as your daughter. Was it exciting for you to show people things they hadn't seen from you before?
It was, it was actually really exciting for me to play like a dad for once, and also a dad with a dad bod. And maybe I notice it more than other people, but Michael Dowse … what I really loved about him right off the bat is that he saw me as an actor, like he really wanted to strip everything that I'm known for away. He didn't want me to look muscle bound, he wanted me to look like a big guy, a big bull, but he just wanted to put me in a fat suit. I was like, "Really? You want to put me in a fat suit?" He said, "Yeah, if you're willing." And I was like, I love it. He wanted me to grow out my hair. I said, "You know, it doesn't grow out that great, it's a little thin on top." He was like, "Well if you don't mind, you know, we'd really love you to look different than you've ever looked in a film."
And I just loved that he wanted me to play a character. He saw me as a character actor and that goes a long way with me. I feel like that's credibility as an actor. That's respect as an actor. And for me, that's what I've been searching for.
With everything else you have going on, there's also the news that James Gunn has been reinstated to "Guardians of the Galaxy." You were so outspoken when he was removed from the project, how does it feel to have him back?
I've known for a while, and I had this idea that I wanted to do it as a celebration video. And it wasn't to try to rub it in anybody's faces and open up that can of worms, I just wanted, it was a celebration thing. But on the day that it was announced, it was the same day that I lost one of my dogs to cancer. We finally had to say goodbye to her and it just, I was just so crushed. I still am. This was just a week ago and I was so crushed.
I haven't really been back on my social media because, even though it's like a big deal to me, I just don't feel like celebrating anything. I'm just not in that mood. Like my dogs are like my children, and my baby girl, she fought cancer for two years. And we lost her. And that's why I didn't have a public celebration. But if you know how hard I fought for him, that is how much him being back means to me. And you can imagine. It's a huge statement.
And the fact that he, and it looks like you, are going to be involved with "Suicide Squad" now as well. In a way, it feels like he came out ahead.
He really did. And I think it was good for his soul because James — he said that there was so much pressure on him, these last years doing "Guardians," that he said he finally after kind of the mourning period, after he got over the hurt, he said he got to be an artist again. He got to just step back and just start writing and creating and he felt kind of the weight of the world was off his shoulders. So after that initial grieving period where he just felt like the world kind of landed on top of him, I loved hearing him say that, that he just got to be an artist again.
Follow on Twitter: @IndieFocus
Get our L.A. Goes Out newsletter, with the week's best events, to help you explore and experience our city.
You may occasionally receive promotional content from the Los Angeles Times.