Budding auteur Laure de Clermont-Tonnerre takes the reins of 'The Mustang'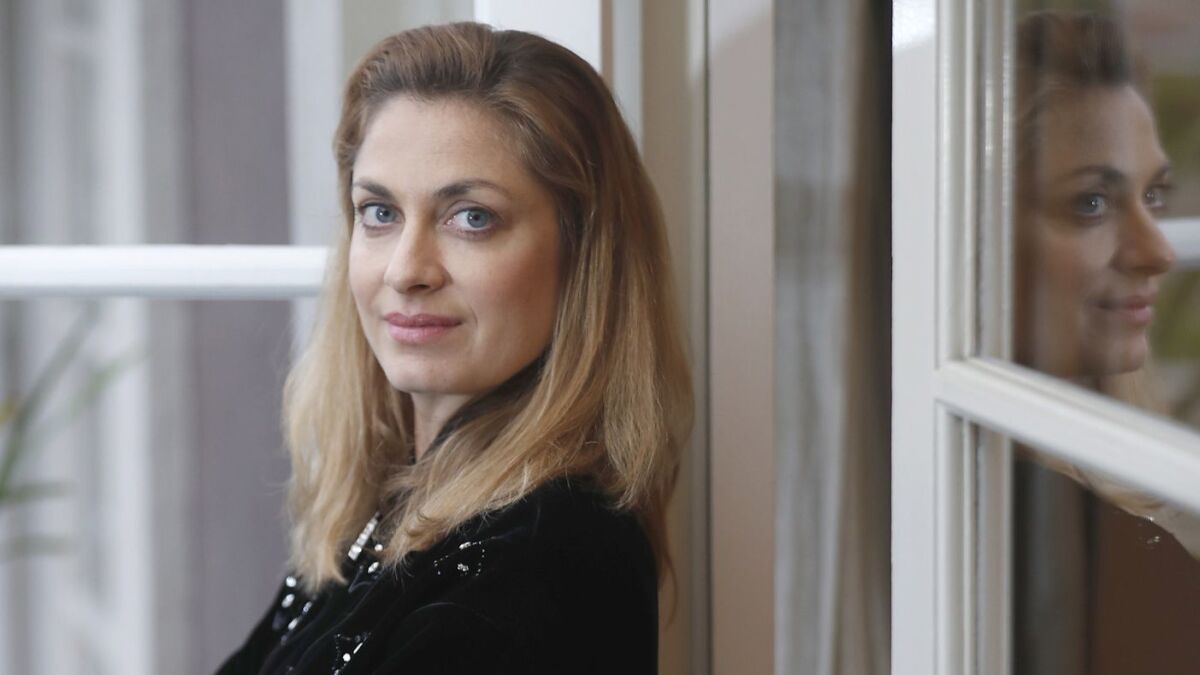 During what might be considered prime performing years, Laure de Clermont-Tonnerre has gone from actrice to auteur.
She racked up 15 film acting credits from 2007-2016, including working with Luc Besson, Julian Schnabel and Raoul Ruiz, despite time taken out for nonperforming pursuits. Now, her feature debut as writer-director, "The Mustang" (with Matthias Schoenaerts and Bruce Dern), arrives this week.
The film about a Nevada convict struggling with his own nature as he works with wild horses took five years to make, growing from the same root as De Clermont-Tonnerre's award-winning short, "Rabbit." Since the completion of "The Mustang," she has directed three one-hour episodes of the upcoming Hulu true-crime drama "The Act," starring Patricia Arquette and Joey King in a twisted mother-daughter duet. Not bad for a 35-year-old Parisian whose only film school has been on-set observation and a master's of history thesis at the Sorbonne that sparked her ardor for France's poetic realism of the 1930s.
Was it hard to pause your busy acting career?
[Laughs] I didn't have that busy a career as an actress. I did have great experiences with very good directors. But the life of an actor is very hard. You don't choose; you have to be chosen. My nature was more of an entrepreneur, to be in the action. I was losing confidence. I was not very happy as an actress.
I directed this play, "Independence," written by Lee Blessing. I directed it 10 years ago, when I was 25 years old, in this small theater in Paris. I loved it so much. So much. Working with the actresses, being able to achieve the vision I had in mind. I was like, "Oh, these might be my right shoes. I want to try again. I want to do a short film."
But all of that took time. I did my first short ["Atlantic Avenue"] when I was 28. I was very attached to my acting vocation; I was very passionate about it. I loved being onstage, being on set. I grew up in a cinephile family; my parents became producers. I started to act when I was 5 years old, so it was kind of in my DNA. But those moments between sets or plays, you know, were very painful. And I was not managing that very well. I feel my nature was much more made to direct and write.
How did "Rabbit" and the idea for "Mustang" come about?
I was reading this article in a French paper ... there was this therapist in this prison in Strasbourg, it's like three hours from Paris. She was entrusting all these small animals — rabbits, mice, chinchillas, birds — to inmates. I was like, "This is a comedy." I love animals. And I was always intrigued by punishment as a kid. I would watch documentaries about prison. So I went in this prison, I spent two days there, and I was like, "This is a drama. It's really heartbreaking." That was the idea for "Rabbit."
I wanted to do it in New York, because I did "Atlantic Avenue" there and wanted to work with the same crew. Leopoldine produced "Rabbit." We shot in Rikers Island. I loved the natural set decoration: Old prison from the '30s; all the textures from the past.
I wanted a female [protagonist], because I wanted this woman who is supposed to be maternal but doesn't have any maternal instincts. She doesn't know how to take care of a rabbit. The real inmates were male.
I loved so much the subject, I was digging even more, and I found out about those horses in Nevada, in a prison. This woman, the head of the health department in Northern California prisons, she knew very well this program in Nevada. She helped me with all my research: "You need to come to San Quentin with me because there's very violent and aggressive offenders you need to meet to deepen your research."
I needed to understand violence and anger to understand my character on a very deep level. And I could gather stories and atmosphere and absorb as much as possible.
In "Rabbit," the rabbit leaves the cell and the inmate is incapable of calling it back nicely. There's a similar scene in "Mustang," but it turns out differently.
His frustration gets to him [in "Mustang"], this kind of chemical reaction. It gets into your nerves, your blood. That feeling of a torrent, exploding like a volcano, there's something liberating. That belongs to your nature. How do you tame your nature? In my research, I saw men who couldn't handle the frustration. They were yelling, insulting the horse, trying even to beat it up.
There's a key moment in your earlier "Atlantic Avenue," about a teenage girl in a wheelchair (Leopoldine Huyghues-Despointes) who falls for a male prostitute, when the street hustler (Brady Corbet) is carrying her up the stairs. He's stern, she's open; they're very close. Out of nowhere, they both crack smiles.
Brady didn't want to smile. He felt it was not the character, it was too sentimental. She was trying to find a connection with him. It was the last take and Brady kind of naturally released a smile; it was so beautiful and authentic. And [hers] happened at the same time; it was not planned. I wanted to have a moment of warmth, humanity that was uncontrolled.
You're fond of poetic realism; that's how the ascending of the stairs seemed.
Yes, it's kind of a metaphor. The film could have just been that shot. Those two earthy characters, their reality is very tough. They're kind of climbing to love, off the ground.
With "The Act," about an overbearing, controlling mother based on the story of Dee Dee and Gypsy Blanchard, you directed three episodes, including the first two — so the showrunners trusted you to establish many things.
Are they crazy? [laughs] I read the pilot and it crossed my themes of imprisonment; my repetitive obsession. Also, my second feature [an adaptation of Blessing's "Independence"] is about a mother and daughter relationship — not like in "The Act," but it's in the same dynamic sometimes. I knew it would be very hard for me to get this pilot, because I hadn't done any TV. "Mustang" hadn't been released. So I did this big presentation. I worked on it for three or four days. I sat down with them, I started to talk, talk, talk, talk. I got really inspired and passionate and I got it.
Could you describe your visual approach to the show?
The camera had to follow Gypsy [King] as she's breaking through to freedom. We start from a very rigid approach, to much more loose and immersive and subjective. The colors evolved. The characters evolved. We started very pastel and happy colors, to something much more dark and aggressive and electric. And haunting. We start with the doll house, to the ghost house. That was part of the arc of going from the public persona to inside the house, and how Gypsy discovers her own biology, her own sexuality.
It was a lot of inspiration from Gregory Crewdson's work. All the characters he puts in his photos, there's something that just happened, or will happen. It's always on the edge of an accident or a catastrophe. When you look at it, it seems kind of normal, but when you double-look at it, there's an odd element. That's something I wanted the audience to feel: "There's a lot of love." "Yeah, she's a little bit crazy, a little bit of toxic love, but …" Then you're like, "Oh no, she's insane."
Patricia Arquette transforms again as the mother.
It's funny, because sometimes you have weird instincts. I thought about her immediately, and I hadn't seen "Escape at Dannemora."
I was not familiar with Joey King's work. She came to audition, and she had the behavior of Gypsy and she looked like her. When you see Gypsy's interviews, there's something very unbalanced, something very on the edge. She wants to manipulate you. She had the right energy for her.
That follows your impressive cast for "Mustang."
Matthias was the first to come on board. He [took] this character for very deep personal reasons. His mother was teaching meditation in prisons; he knew a lot about anger and how to tame anger. He's always on the verge of an emotion. He's very unpredictable. He's kind of like a horse. He's my wild horse.
With Bruce Dern, we sat down, he said, "I love this character. He's funny, but I can make him funnier." I said, "Welcome aboard."
FULL COVERAGE: Get the latest on awards season from The Envelope »
---
Get our L.A. Goes Out newsletter, with the week's best events, to help you explore and experience our city.
You may occasionally receive promotional content from the Los Angeles Times.