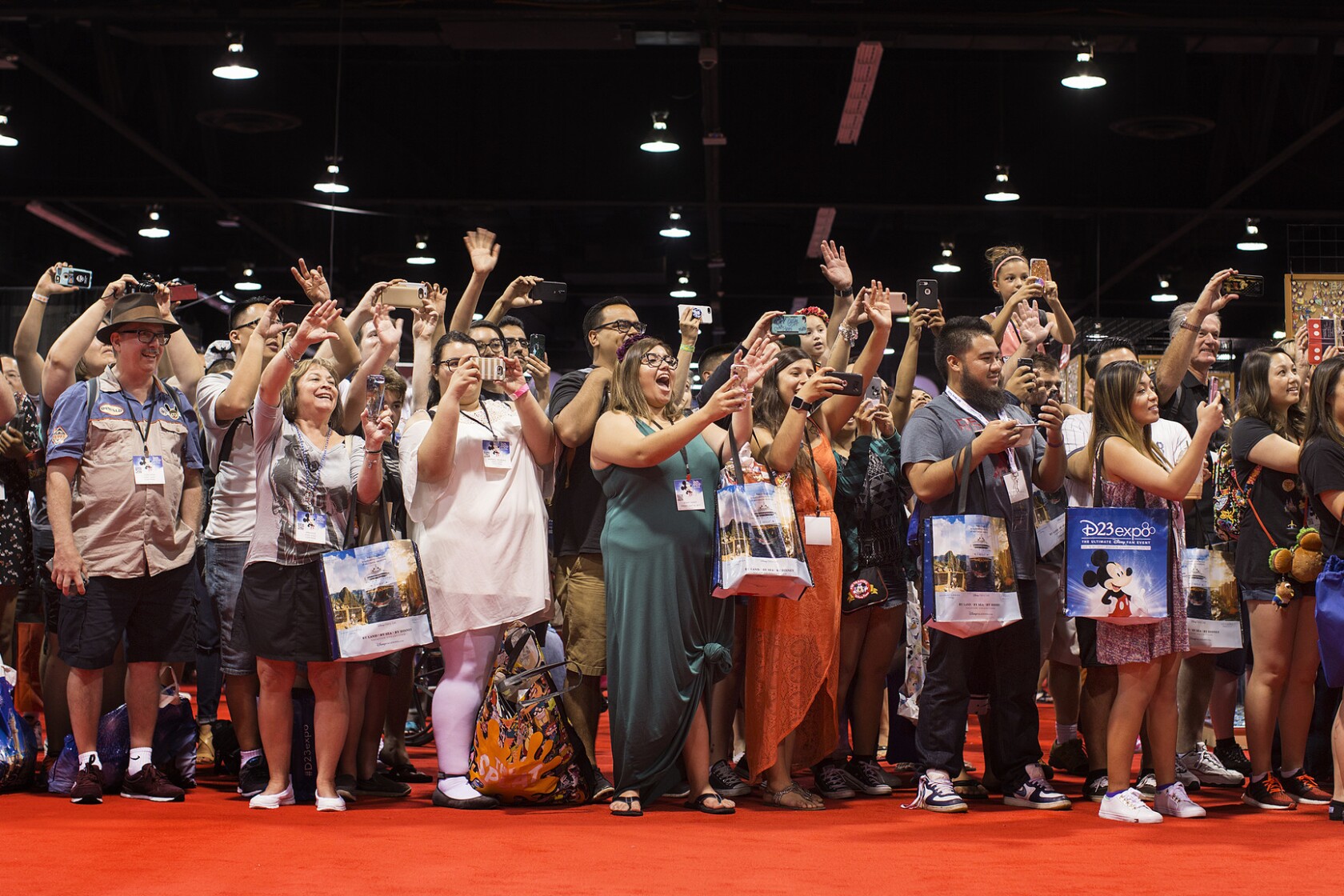 Fans cheer as Disney characters and dancers pass by during the Street Party parade through the exhibit hall. The party kicked off Day One of the D23 Expo, a three-day Disney fan event, on July 14 in Anaheim.
(Gina Ferazzi / Los Angeles Times)
Mickey Mouse entertains visitors during the Street Party parade through the exhibit hall, kicking off the D23 Expo, a three-day Disney fan event.
(Gina Ferazzi / Los Angeles Times)
The Street Party parade kicks off the D23 Expo in Anaheim.
(Gina Ferazzi / Los Angeles Times)
Nicholas Bechtel, 12, of Ontario jumps into the money pit at the Duck Tales exhibit on the first day of D23.
(Gina Ferazzi / Los Angeles Times)
Young Disney fans react as new apparel and fashion are introduced for the Alice in Wonderland character on the first day of D23.
(Gina Ferazzi / Los Angeles Times)
Janet Mah of Lake Balboa reads "Guardians of the Galaxy" to her 3-year-old daughter, Lucy, while they wait in line at the Duck Tales exhibit on the first day of D23.
(Gina Ferazzi / Los Angeles Times)
Fans cheer during the Street Party parade through the exhibit hall.
(Gina Ferazzi / Los Angeles Times)
Disney fans enter the convention center.
(Gina Ferazzi / Los Angeles Times)
Fans dressed in Disney characters attend the sold-out D23 Expo.
(Gina Ferazzi / Los Angeles Times)
Wearing homemade Disney customer service skirts, Victoria Weiner of North Hollywood, left, and Alia Dong Stewart of Venice pose with a Disney fan.
(Gina Ferazzi / Los Angeles Times)
Fans dressed as Disney characters wait in line for the Pirates Life for Me exhibit.
(Gina Ferazzi / Los Angeles Times)
On the first day of its three-day, biennial fan expo known as D23, the Walt Disney Co. offered hardcore Disney-philes early peeks at some of its upcoming animated fare — including "The Incredibles 2," "Coco" and "Ralph Breaks the Internet: Wreck-It Ralph 2" — and announced a new Pixar film set in a suburban fantasy world complete with sprites and unicorns.
Acting as ringmaster — and firing T-shirts into the crowd of some 8,000 attendees at the Anaheim Convention Center — John Lasseter, chief executive of Pixar Animation Studios and Walt Disney Animation Studios, led the nearly two-hour presentation with assists from the films' stars.
Here were the highlights:
From Walt Disney Animation Studios
At the last D23, in 2015, Disney pulled out the big guns by bringing the Rock out to introduce "Moana." In terms of star wattage, that's a tough act to follow, but Disney did its best, bringing "Frozen" stars Kristen Bell and Josh Gad to the stage to tease the upcoming featurette "Olaf's Frozen Adventure."
Reuniting the cast from the animated 2013 musical smash, the 21-minute short film will accompany Pixar's November feature "Coco." In it, Gad's snowman Olaf goes throughout the kingdom of Arendelle in search of holiday traditions to bring seasonal cheer to Anna and Elsa, who don't have any such traditions of their own. Onstage, Gad performed a new song titled "That Time of Year," in which Olaf learns of such perplexing customs as hanging stockings over open fires ("That seems safe!") and decorating Christmas trees ("You cut down a tree and then you dress its corpse with candles?").
A sequel to "Frozen" is due in November 2019 but plot details have been kept under wraps, and Disney didn't reveal anything more about the project on Friday. However, a video was screened showing directors Chris Buck and Jennifer Lee traveling through Norway, Iceland and Finland to soak up inspiration. At least they're staying on brand.
Next, Lasseter brought out "Wreck-It Ralph" sequel directors Rich Moore and Phil Johnston, along with comedian and actress Sarah Silverman, who voices the character of Vanellope von Schweetz, for an early look at the film. In the sequel, John C. Reilly's Ralph and Vanellope leave their video-arcade world to go into the wild and bewildering realm of the Internet. Moore and Johnston announced that Taraji P. Henson will voice a character named Yesss, an algorithm who's the heart and soul of a trend-making site called Buzzaholic; Yesss can constantly change her look and clothing to suit her whims.
The directors screened a clip of a rough work-in-progress sequence from the film, showing Yesss introducing Ralph and Vanellope to site called OhMyDisney.Com (an actual blog that Disney operates in real life). This allowed the studio to show off a collection of its beloved franchises, with cameos from everything from Marvel superheroes to Stormtroopers to Tinker Bell. In the scene, Vanellope banters (and tweaks a few gender stereotypes) with a group of princesses from Disney's animated stable, including Ariel, Mulan, Jasmine, Pocahontas, Anna and Rapunzel. All of the princesses will be voiced by their original actors, who were were brought to the stage for a group photo to rapturous applause from the crowd.
Pixar
Fans have been waiting for more than a decade for a sequel to the much-loved 2004 Pixar superhero film "The Incredibles." Returning director Brad Bird gave the D23 audience their first real peek at the animated action flick.
Keeping plot points vague for now, Bird confirmed that the feature will bring back the Parr family and set them off on a new adventure with a new villain. "'Incredibles 2' is really a family film – it's just that the family happens to have superpowers," said Bird, bringing out the original voice stars, including Craig T. Nelson, Holly Hunter and Samuel L. Jackson.
The movie is not due in theaters until next summer, but Bird showed off a few early snippets to demonstrate how far CG animation has come since the original film in its ability to show nuances of character. "The technology has gotten so much better," Bird said. "It's like driving a better car. It's a smoother ride and we're able to do more."
Bird also screened a still-unfinished clip in which the family baby, Jack-Jack, sees a raccoon eating from the family's garbage can while his father, Mr. Incredible, is sleeping, and uses his superpowers — including the abilities to pass through walls, shoot lasers from his eyes and multiply himself — to do battle with the trash panda.
Pixar's other major upcoming sequel, "Toy Story 4," also got a tease but plot details were all but non-existent. But Lasseter did use the moment to announce that he was stepping aside from directing the next film and that his co-director, "Inside Out" screenwriter Josh Cooley, will helm the movie solo.
To introduce Pixar's newest, as-yet-untitled feature, Lasseter brought out Dan Scanlon, who directed "Monsters University." Scanlon described the film, which is still in the early stages, as an adventure set in a suburban fantasy world without humans populated by elves, sprites, unicorns and other mystical creatures that mixes the magical with the mundane.
Showing concept art of mushroom houses topped with TV antennas and trolls admiring modern appliances, Scanlon explained that the project was deeply personal for him, drawing from the death of his father when he was just an infant and his brother was 3 years old. The story will follow two teenage brothers on a quest to find a way to spend one last day with their father, who died when they were too young to know him. No release date has been announced yet for the project, but it's never too early to stock up on tissues.
The panel closed with Pixar's long-gestating Day of the Dead film, "Coco." The movie's title was first announced at the last D23, but this time — with the picture due in theaters Nov. 22 — director Lee Unkrich offered a deeper look at Pixar's first Latino-centric story.
The feature follows a 12-year-old Mexican boy named Miguel (Anthony Gonzalez), an aspiring musician who tries to follow in the footsteps of his idol, singer Ernesto de la Cruz (Benjamin Bratt), despite his family's ban on all things musical. Unkrich showed a clip in which, after strumming De la Cruz's guitar, Miguel finds himself in the spirit realm known as the Land of the Dead. There, he will meet his ancestors and a skeletal trickster named Hector, voiced by Gael García Bernal, with whom he sets off on a journey to solve a mystery about his family's history.
Ending the presentation on a festive note — and highlighting the importance of music in "Coco" — Gonzalez and Bratt took the stage to sing "Remember Me" accompanied by more than 160 performers.
Twitter: @joshrottenberg
---