Eugenio Derbez shares 'How to Be a Latin Lover' and still break stereotypes
What it means to be a Latin lover according to Eugenio Derbez star of "How to Be a Latin Lover."
Eugenio Derbez is an icon in his home country of Mexico, known for countless popular films and television shows. But here in the U.S., Derbez often walks down the street with few people recognizing him. This makes it easier for him to get around Los Angeles, where he moved a couple of years ago, but then, an actor's career thrives on name and face recognition.
Granted, he is the co-writer, star and producer of 2013's "Instructions Not Included," which became the highest-grossing Spanish-language film released in North America and the fourth-best performing foreign-language film in the U.S. Still, he has yet to become the breakout star he'd like to be — prompting him to produce his latest film, "How to Be a Latin Lover," in theaters Friday.
"I've realized that the only way to succeed is to employ yourself and give yourself opportunities," Derbez says. "Hopefully this will be my vehicle to cross over."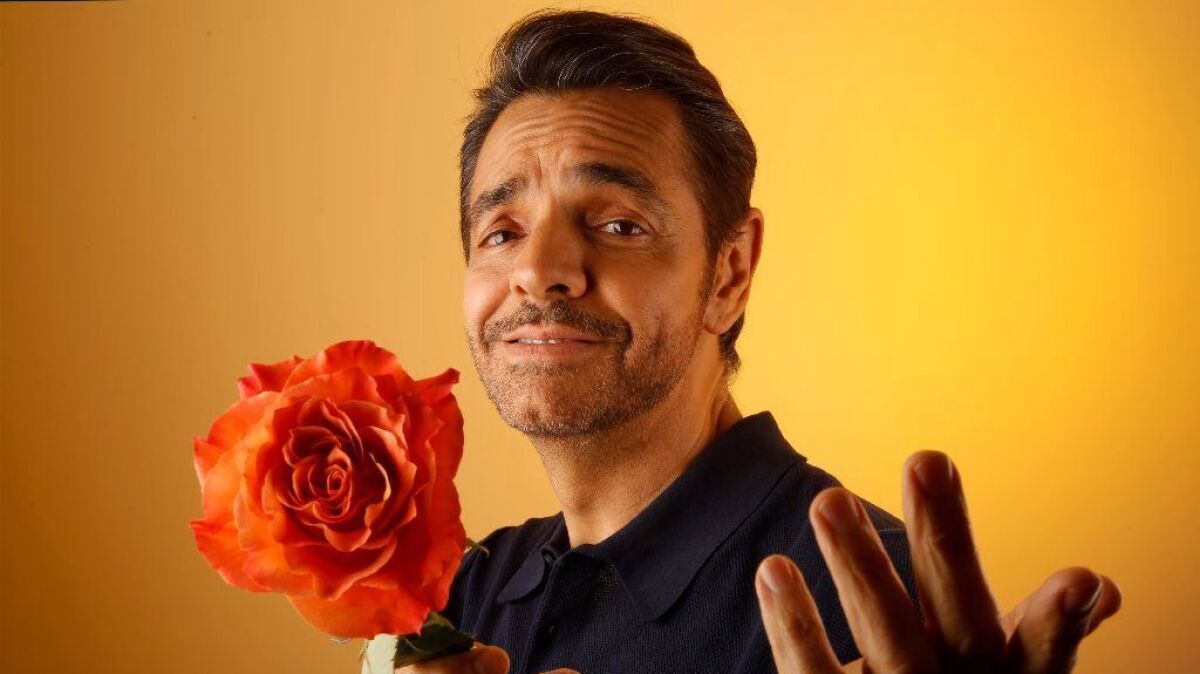 The best way to break down a stereotype is to make fun of it.
— Eugenio Derbez
"How to Be a Latin Lover" follows Derbez's Maximo, an aging former ladies man who must move in with his sister (Salma Hayek) and her son (Raphael Alejandro) when he falls on hard times. As he attempts to get back on his feet, he realizes that the six-pack abs and luscious black locks that got him through his early years have been replaced with a beer belly and gray hair. The comedy, which also stars Rob Lowe, Kristen Bell and Raquel Welch, is the first title from Derbez's 3Pas Studios, which he created with producer Benjamin Odell.
"It's edgy and irreverent, but it's family-friendly," Derbez says. "You can bring the kids and the abuelitas.
He admits, though, that at first glance, his character might appear be rooted in cliché.
"When I first saw the script, I thought it was a stereotype, and it is actually," he says. "But I realized that the best way to break down a stereotype is to make fun of it, especially since every time I wear a suit or tuxedo someone here in America says, 'You look like a Latin lover.'"
Derbez's outsized character is what attracted actor Ken Marino to the directing chair for his first feature film.
"I like movies that have larger-than-life characters, like 'Tootsie' or 'The Big Lebowski,'" Marino says. "When I saw this character, I thought it would be fun."
But he wanted to make sure the comedy of it was "rooted in something."
"I wanted these two characters, who grew up in Mexico, to be real," the director says. "That's why parts of the film are in Spanish with English subtitles."
Derbez agrees, saying that he wanted the characters to speak in both languages "because in real life, [Hayek and I] are Mexican and when it's just us by ourselves, we speak Spanish," he says. "The rest of the time when we're in front of everyone else, we speak English."
The film is ultimately about 85% in English, which means the use of subtitles is noticeable. Derbez hopes American audiences won't be turned off and will take a page out of his home country's book.
"We always laugh in Mexico when we see a Hollywood movie that happens in Russia but everyone is speaking English, or in China and everyone is speaking English," he says, "because that's not the way it is."
"How to Be a Latin Lover," with its use of both languages, is, "in this bilingual world, true and honest."
As Derbez continues to develop movies and television shows, "true and honest" is what he's trying to bring to the industry, especially in terms of its stories about and featuring Latinos. And it seems to be working: 3Pas has an exclusive first-look deal with "Latin Lover's" distributor, Pantelion Films (a Latino-specific studio under Lionsgate and Grupo Televisa) and is developing a TV adaptation of Cuban American author Meg Medina's "Yaqui Delgado Wants to Kick Your Ass" for Hulu, in partnership with "Jane the Virgin's" Gina Rodriguez.
"We need to be honest with the storytelling," he says.
Ironically, that's also part of the solution to Hollywood's diversity issue, he continues.
"Tell the story and if you're honest with it, you don't have to hire an actor of every race — but if you are portraying a Mexican and using a white guy, that's not honest."
Get your life! Follow me on Twitter (@TrevellAnderson) or email me: trevell.anderson@latimes.com.
ALSO
RuPaul, the world's most famous drag queen, on pushing boundaries and getting political
'All Eyez on Me' star on the movie that offers a Tupac 'you can't see anywhere else'
---
Get our L.A. Goes Out newsletter, with the week's best events, to help you explore and experience our city.
You may occasionally receive promotional content from the Los Angeles Times.