'All Eyez on Me' star on the movie that offers a Tupac 'you can't see anywhere else'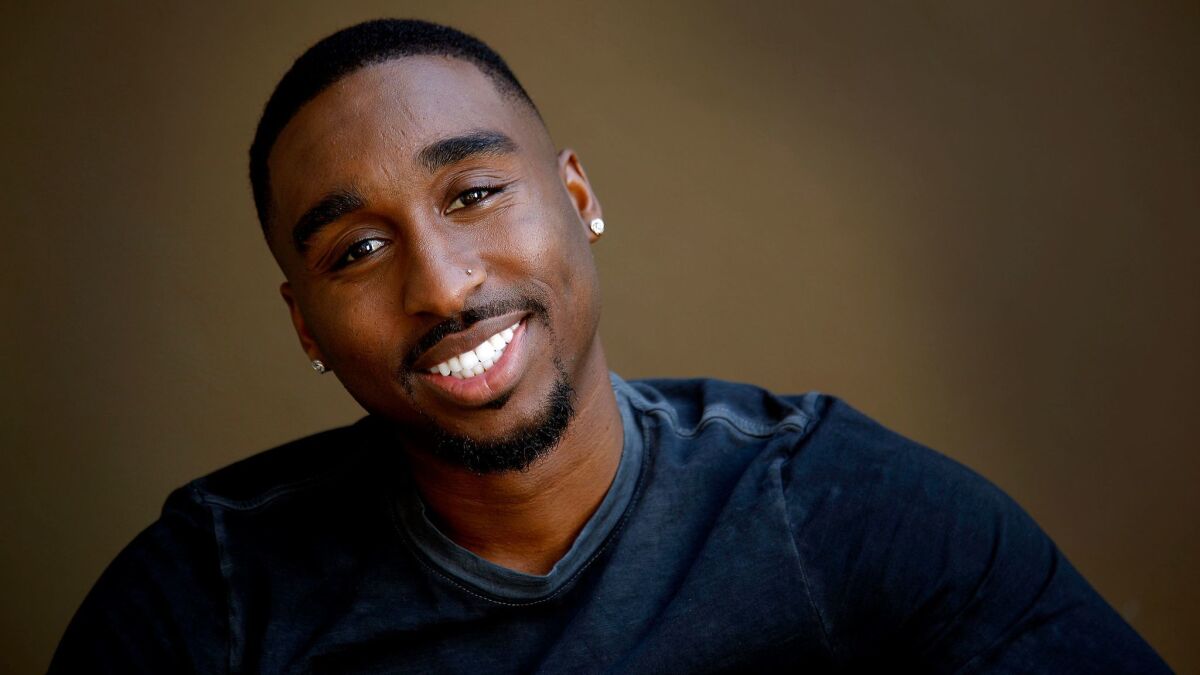 Tupac is polarizing. To some, the rapper-turned-actor was a mother-loving prophet and poet whose life was cut short. To others, he was a hardcore gangster whose chosen lifestyle, replete with guns, drugs and sexual assault allegations, dictated that death by drive-by shooting at 25 was probable.
But to Demetrius Shipp Jr., who plays Tupac Shakur in the biopic "All Eyez on Me" — due in theaters on June 16, what would've been the rapper's 46th birthday — he was just a product of his environment, complex and complicated like everyone else.
"They'll judge you by what you do, but they never know what you had to choose from," Shipp said. "Like [producer] L.T. Hutton says, 'The objective of this movie is to show you how he ended up in the car that night.'"
SEE OUR COMPLETE SUMMER MOVIE PREVIEW >>
"All Eyez on Me," titled after the last album Tupac released while alive, is set to be one of the summer's standouts. In the vein of 2015's "Straight Outta Compton," which charted the rise of rap group N.W.A, "Eyez" aims to chronicle the impact the Harlem-born artist had on the music scene. (Earlier this year he was posthumously inducted into the Rock and Roll Hall of Fame.) Alongside Shipp, the film stars Danai Gurira ("The Walking Dead"), Kat Graham ("The Vampire Diaries") and Jamal Woolard ("Notorious").
They'll judge you by what you do, but they never know what you had to choose from.
— Demetrius Shipp Jr.
Demetrius Shipp Jr. stars as Tupac Shakur in the trailer for "All Eyez on Me."
And though the role is Shipp's first acting gig, some might say it was ordained by the universe. The 28-year-old bears an uncanny resemblance to the performer, something Shipp has been told since high school. "I went to school in Long Beach and all the seniors I used to kick it with called me Pac," he said, smiling.
Acting had never been a goal for him, but when an open audition for the movie was announced in 2011, it was Shipp's best friend and cousin who encouraged him to submit a tape online. While working at Dish Network "climbing on top of roofs and installing satellites" to pay the bills, Shipp aspired to be a music producer, like his father.
As the final day to submit auditions approached, Shipp decided to take a shot. After spending the day watching old interviews of Tupac online, he recorded his monologue and uploaded it to Facebook. When his father, who produced Pac's "Toss It Up," saw it, he forwarded the video to Hutton, whom he had worked with at Death Row. That got the ball rolling and four years later — after shaving himself bald, getting his nose pierced, seeing production stall to the point of taking the nose ring out, growing his hair back, and taking a series of acting classes — he booked the role.
It shows a Pac that you can't see anywhere else.
— Demetrius Shipp Jr.
Shipp's favorite scenes were with Annie Ilonzeh, who plays Kidada, the daughter of Quincy Jones and actress Peggy Lipton, who was engaged to Tupac at the time of his death. "Because it shows a Pac that you can't see anywhere else. It's not on Youtube," he said. "You can't see what it was like for him to be romantic with a woman. That's a great texture in the movie that people I think will enjoy."
As for the toughest scene, perhaps predictably that would be the fatal Las Vegas drive-by shooting.
"I wanted it to be over fast," he said. "I was like, 'Dude, how many different angles are we going to shoot this from?' because it was an emotional thing more than anything."
While Shipp is very much aware that fans of the rapper have very high expectations of his performance, he says he cares more about the responses of "the people who put this together and knew him and lived with him and walked with him," he said. "If they are telling me that I'm delivering and capturing the essence of him, that's what means the most to me. That's real and you can't fake that, and they're not going to."
But what about that long-held conspiracy theory that the rapper faked his own death and is living la vida loca in Cuba?
Shipp doesn't buy it. "A man like that would never just be able to be silent for this amount of time."
See the most read stories this hour »
Get your life! Follow me on Twitter (@TrevellAnderson) or email me: trevell.anderson@latimes.com.
---
Get our L.A. Goes Out newsletter, with the week's best events, to help you explore and experience our city.
You may occasionally receive promotional content from the Los Angeles Times.