Francis Ford Coppola brings experimental 'Live Cinema' workshop to UCLA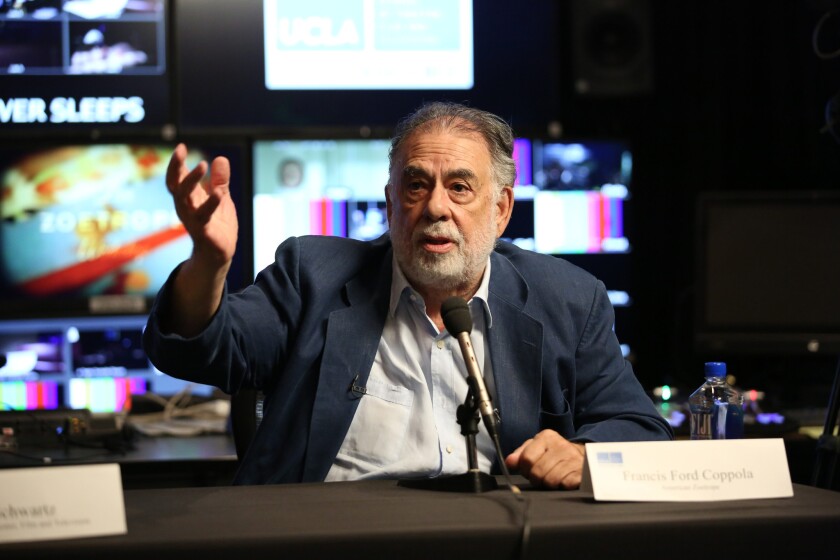 "I am still a boy scientist in my heart," Francis Ford Coppola said to a group that had gathered at a UCLA theater to hear the legendary director talk about his latest project, an ambitious process he calls "Live Cinema."
On Saturday morning the five-time Academy Award winner sat on a raised platform surrounded by monitors and high-tech equipment. His mobile technical facility, a custom Airstream trailer known as "the Silverfish," was parked nearby. Seated before him were a few dozen students who had been part of the team of more than 75 who worked for the past five weeks to realize his vision.
The theater had the feel of a laboratory — and that is likely just how Coppola intended it. On Friday night there had been a 25-minute broadcast from the theater to a small number of private screening rooms around the globe, demonstrating the Live Cinema concept.
Shot with some 40 cameras, the broadcast was intended to look like a movie but with elements of a live event. Actors would perform in one part of a stage as sets were reconfigured off-camera in another.
Coppola held a similar workshop last year at a community college in Oklahoma. The source material for both workshops is a sprawling 500-page screenplay called "Distant Vision" about three generations in an Italian American family.
Eventually Coppola would like to see "Distant Vision" shown as a cycle of Live Cinema events. Each section could be broadcast as a Live Cinema performance over a series of nights, with the best moments later edited together into a single film.
For Coppola, 77, the Live Cinema idea combines the best of moviemaking, television and theater, conveyed with the in-the-moment immediacy of live performance.
Coppola, who directed the best-picture-winning "Godfather" and "Godfather 2," has been into experimenting with the form of cinema for many years, trying to bring a more immediate quality to the audience experience.
"I don't want to live in a canned world," he said Saturday. He added, "I don't see this as the whole future of cinema. We could talk for hours about what that is, but it's part of the future. Some big dramatic, beautiful, emotional experience will be performed live and shown in theaters, I believe."
Coppola was introduced Saturday at the Freud Playhouse by Teri Schwartz, dean of the UCLA School of Theater, Film and Television. She called Coppola, who received an MFA from the school in 1967, as "our most distinguished alum and most treasured alum."
At a time when live television has been making a comeback, with performances of musicals such as "Grease" or even late-night talk shows covering the political conventions, Coppola is quick to assert the differences in polish and visual complexity in his concept.
"It's a hard distinction to grasp," Coppola said in an interview with The Times. "But just go look at any live television and you know in two seconds it's live television. And then look at a movie; it looks like a movie. The difference is what I am trying to achieve.
"What's different about it is in live television when they do a play or a musical, they do the play," he said. "They are basically covering an event. Live cinema works totally differently. Live cinema is shot-based. You need to have great shots and they need to be lit the same way they would for a movie. It can't look like 'The Young and The Restless' when you're looking at it; it has to behave as though it's cinema."
I don't see this as the whole future of cinema... but it's part of the future.
Francis Ford Coppola
Having completed the workshop at UCLA, for now Coppola will think about what he has learned and make additions to the manual he is compiling while continuing to work on the "Distant Vision" screenplay..
"I do believe that one day what I'm learning in these workshops will be useful to someone else," he noted. He sees himself as being a year and a half to two years away from really presenting the project.
Coppola seems unsure if he will make another conventional film. For now, he is intrigued by taking the Live Cinema concept as far as he can.
"I am a student. For me the greatest pleasure in life is learning," he said. "And it doesn't have a kickback. If you eat too much you get fat, if you drink too much you get sick. Learning is just pleasure. You don't get in trouble for it and you don't get sick."
Take a look at a behind-the-scenes video here.
Follow on Twitter: @IndieFocus
---
The complete guide to home viewing
Get Screen Gab for weekly recommendations, analysis, interviews and irreverent discussion of the TV and streaming movies everyone's talking about.
You may occasionally receive promotional content from the Los Angeles Times.