Review: 'Friended to Death' too silly to send up Facebook culture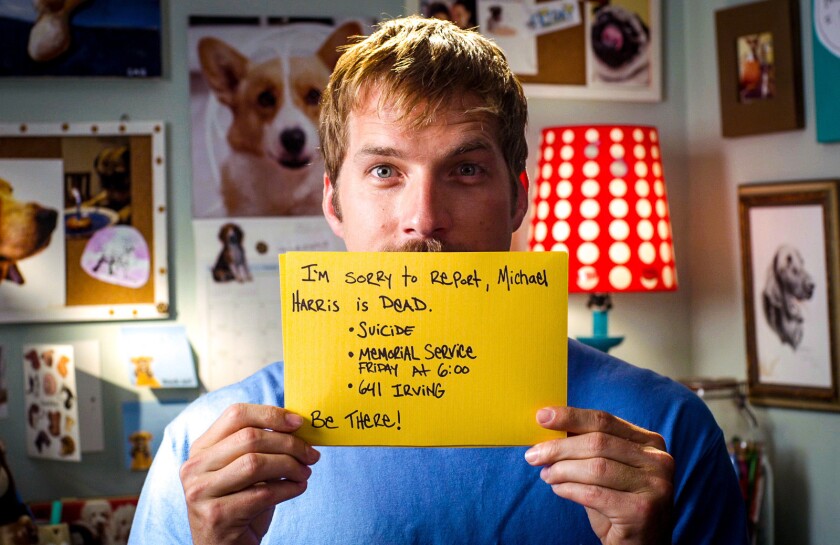 "Friended to Death" has a few sharp points to make about our addiction to social media and the ridiculous side of the Facebook culture. Unfortunately, these observations are wrapped within an overly broad and silly package whose one-joke, sitcom-like premise strains to fill feature length.
Ryan Hansen ("Veronica Mars") proves an elastic and confident comedic lead as Michael, a Facebook-obsessed man-child and hyperactive parking enforcement officer who's fired on the same day his best bud, Joel (Zach McGowan), dumps him for newer pal Kevin (Ian Michaels).
Sulky and uber-narcissistic, Ryan suddenly wonders if anyone would attend his funeral if he died. So, with the reluctant help of an also-fired co-worker, sensitive mama's boy Emile (James Immekus), Ryan fakes his own demise via a Facebook post. Let the cyber-mourning begin. But will it?
Ryan's goofy ploy is threatened by a vengeful, seemingly unstable woman (Sarah Smick, also the film's co-writer and director) whose car Ryan once had towed, as well as by Kevin's certainty that Ryan is still alive. Both are weakly conceived obstacles.
But it's the bromantic attention of Joel that Ryan has been struggling to attract all along. The result: a futile test that's as misguided as it is a bit weird and pathetic.
Although the script attempts some genuine back story to justify Ryan's fears, quirks and misbehaviors, the tone is too juvenile (gay panic is passé, folks) and the characters too inane and self-absorbed for us to invest in Ryan's journey.
Only during the movie's sweet epilogue do we get a sense of what "Friended" could have been had the filmmakers taken a smarter, gentler, more human approach.
"Friended to Death." MPAA rating: R for language including crude sexual references. Running time: 1 hour, 34 minutes. At Sundance Sunset Cinema, West Hollywood; Los Feliz 3 Cinemas; Laemmle's Monica 4, Santa Monica; AMC's Burbank 16.
---
Inside the business of entertainment
The Wide Shot brings you news, analysis and insights on everything from streaming wars to production — and what it all means for the future.
You may occasionally receive promotional content from the Los Angeles Times.