The women who flipped the hero script, onscreen and off, in 'Their Finest'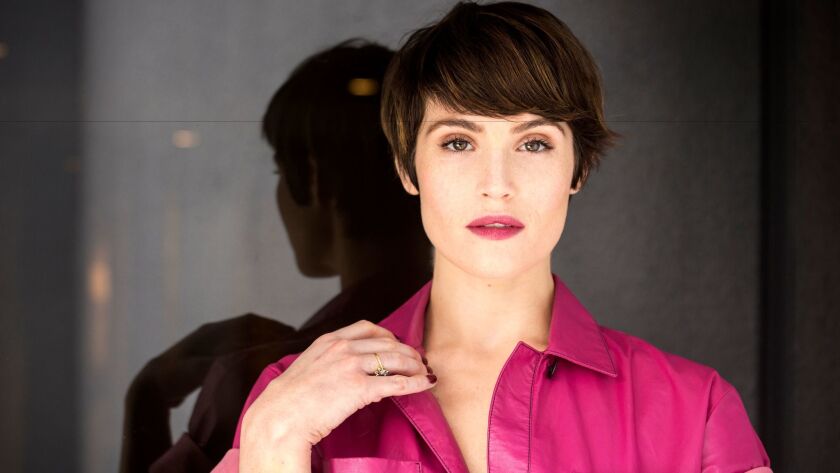 London, 1940, amid the panic of the Blitz: Copywriter Catrin Cole (Gemma Arterton) has landed a job scripting women's dialogue for war films at a British ministry desperate to boost the national spirit, when she's given a plum piece of advice from a co-worker (Sam Claflin) on writing for female moviegoers.
"Girls don't want to be the hero," he declares with chauvinist condescension in "Their Finest," the new World War II-set period drama from director Lone Scherfig ("An Education"). "They want to be had by the hero."
It's a galling line played pitch perfect to rankle audiences through the lens of a more progressive today — even if many inside Hollywood argue that, too often, Hollywood still agrees.
"That's how it was back then," Arterton says on a recent afternoon in Los Angeles, shaking her head in faux anger. "And that's something I like about this film. Catrin comes in [to her new job] and they say, 'Obviously, we can't pay you as much as the men' — and because it's that period, she just kind of accepts the sexism."
At least, to start. Based on author Lissa Evans' 2009 novel "Their Finest Hour and a Half," "Their Finest" tracks Catrin's blossoming empowerment as she's propelled headfirst into the production of a fact-based Technicolor war epic set against the rescue of Dunkirk.
Kenneth Turan reviews "Their Finest," directed by Lone Scherfig, starring Gemma Arterton, Sam Claflin, Bill Nighy. Video by Jason H. Neubert.
Working her way up from writing the "slop" — the derogatory term male writers used for female dialogue — she finds her voice by writing the film's female characters into heroes in their own right, and then by protecting them from having their agency erased off the screen by her male colleagues.
Meanwhile, amid the organized chaos of moviemaking with a colorful crew of egotistical actors, anxious ministry producers, a pretentious director and the sexist co-writers who begrudgingly come to respect her talents, Catrin brings her quiet battle home, where her narcissistic artist-husband (Jack Huston) has his own ideas about his wife having a career of her own.
"The Second World War was one of the most important moments in British history for women," says Arterton, 31, whose character was based on real-life Ealing Studios screenwriter Diana Morgan. "Because that's the time that they were actually used and needed. All of these women were going to work and doing men's jobs and given things that they possibly never thought they would even enjoy, ever, and it opened up their eyes.
"Imagine being a woman, and all you had been doing was the typical thing of raising the children and cooking and cleaning," she adds energetically as she sits cross-legged in an airy hotel suite. "All of a sudden you're driving buses through London or making parts for planes and getting your hands dirty, and thinking, 'Wow — I can do this.'"
"Their Finest" is as much about Catrin's personal journey as it is an exploration of London at a precarious time in history. Death hangs over everyone's doorstep, even on the showbiz set, as the war takes its toll at home and hardship forces characters of all stripes to reconsider their priorities, resilience and values.
It's a love letter to the ability of cinema to inspire and empower, rooted in the rarely celebrated history of the female writers who fueled the British film industry during wartime.
"Our whole city was practically destroyed. There was this amazing energy — people knew that they could die any minute. People were dying every day because it was a war zone. And people had to get on with it, as well," muses Arterton.
"Coming at the war from a fresh angle," adds Oscar-nominated producer Amanda Posey ("An Education," "Brooklyn"), "through the eyes of a woman trying to make her way through an industry, which at that time employed hardly any women… I fell in love with it because it was such an elegant parable of the meaning of storytelling, at a moment in time when it mattered so much — and how you told your story, and what story you told, mattered."
Reflecting its onscreen celebration of female creative power, "Their Finest" is one of the most woman-driven film productions in recent memory. Under the direction of Scherfig, who previously worked with Posey on the 1960s-set "An Education" garnering three Oscar nominations, "Their Finest" tapped veteran female film professionals across the roster in editing, composing and production design, working from a script adapted by British television writer Gaby Chiappe.
"It is really rare, and it wasn't a conscious decision," Scherfig explains over the phone. "That's just how it happened!"
Initially, Posey and Chiappe had both read and responded to Evans' novel instantly. "Carol" producer Stephen Woolley came onboard, along with Posey's producing partner Finola Dwyer and Elizabeth Karlsen, to produce the sprawling and ambitious production, which combined period scenes of 1940s London devastated by the Blitz bombings with movies-within-the-movie in styles ranging from documentary vérité to propaganda cinema to the vivid Technicolor grandeur of the era.
It was, Posey admits, a tough film to get financed. "But they all are," she smiles. And, she adds, the tide has begun to turn for the financial viability of women lead performers, thanks to audience demand for female-driven stories.
"It's much, much better now," she says. "There's such a strong market for older female viewers that love the kind of movie that I like telling.
"From a creative instinct, you find the interesting stories in the untold stories — and the untold stories are often women's stories," Posey explains. "Just as Gemma's character fights to tell the ordinary women's story, that's what, behind the camera, we were trying to tell as well."
It's rare for movies to examine the lives of women behind the camera. For Danish-born Scherfig, who began her career three decades ago before making a name for herself in a still male-dominated industry, "Their Finest" echoes the transformative empowerment she first felt when she first got behind the camera.
"It made me believe more in having the right to do what I do, in taking people's time when they go to the cinema," she says. But the industry's current-gender parity crisis is impossible to ignore. "It mirrors the rest of our world. And it's also defined by history. It's a slow movement that's taken a step forward this year … there are so many untold stories about girls and women."
Catrin's journey of creative self-realization is one that resonated exceptionally loud with Arterton. After launching her acting career with 2007's prep school comedy "St. Trinian's" and appearing in films like "RocknRolla," the Kent-born actress landed a coveted role in 2008's "Quantum of Solace" opposite Daniel Craig's James Bond. Bond Girl status helped boost her to more blockbuster gigs — "Clash of the Titans," "Prince of Persia: The Sands of Time," "Hansel & Gretel: Witch Hunters" — but something crucial was missing.
"I was like, 'Come on, I've got to regroup and actually start thinking about what I want to say.' Because if I died and that was my legacy, I'd be like, well that's a … legacy," she says, cursing with a smile."The first six years of my career, I was sort of being a flock-follower and not really making decisions properly based on gut. I was making them based on what I thought I should be doing. And then it got to a point where I was like, 'I'm really not creatively fulfilled — and I've got so much more in me that needs to be said.'"
Four years ago she started producing in addition to acting, focusing on projects by female writers and directors, and seeking what she describes as a more pure expression of art. Adding producing to her résumé "has totally changed everything," she says.
"My mind-set has changed," Arterton explains. "I've given myself merit. I've taken myself more seriously and thought, 'Well actually, I think I'm quite good at coming up with stuff, or getting people together, rather than just being an actor that turns up at the eleventh hour and makes the movie.' I'm actually thinking, 'I think I can make movies myself.'"
She's currently working to get "Vita and Virginia" off the ground, about the love affair between Virginia Woolf and Vita Sackville-West, adapted by Eileen Atkins from her own play and in which Arterton is set to star opposite Eva Green. She recently completed "The Escape," "about a woman who has to leave her children, and chooses to," she says, beaming proudly. "It's a very personal film that I made for $1 million and in my mum's back garden."
Her ideas as a producer and star now are "kind of weird, but you never know," she laughs. "But because my mind-set has changed and I'm thinking in a different way, it's not just, 'What role do I want to play?' but 'What story do I want to tell?' Going further, what's my message — what do I really want to say?"
And, more and more, who will help her say it. "You get to create it from scratch in terms of the team, as well," she says. "Who should direct, instead of the other way around. So for me, I'm in a really happy place creatively — way better than I was four or five years ago when I had absolutely no say other than, 'Should my hair be like this?'"
"Awful things," she smiles, remembering those days. "But it's good now."
ALSO
The charm — and bite — of 'Their Finest,' a seamless blend of comedy and drama
Justin Chang and Jen Yamato debate 'Ghost in the Shell' and the dangers of Hollywood whitewashing
When you make a movie about Scientology, Scientology comes to you: A walk with Louis Theroux through L. Ron's hood
From blockbusters to art-house muse, is Kristen Stewart the best actress of her generation?
---
The complete guide to home viewing
Get Screen Gab for weekly recommendations, analysis, interviews and irreverent discussion of the TV and streaming movies everyone's talking about.
You may occasionally receive promotional content from the Los Angeles Times.