Review: Will Ferrell, Kevin Hart buddy up in the cliched 'Get Hard'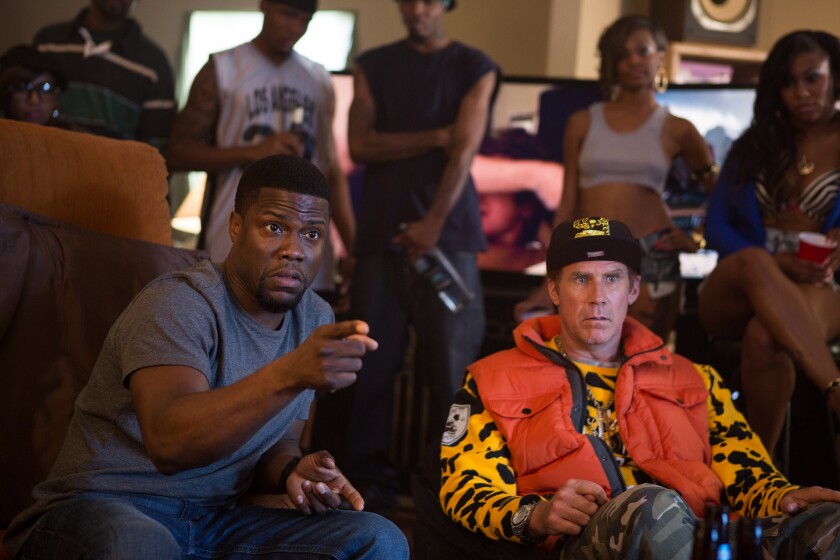 Los Angeles Times Film Critic
Kevin Hart is Hollywood's current favorite comic it guy. He's been playing the best black friend in one film after another: "Think Like a Man" 1 and "Too" opposite Michael Ealy, Jerry Ferrara, Terrence Jenkins and Romany Malco; "Ride Along," 1 and soon to be 2 opposite Ice Cube; "The Wedding Ringer" opposite Josh Gad.
A Hart-Will Ferrell pairing was only a matter of time.
"Get Hard," the new R-rated prepping-for-prison-can-be-fun comedy starring Hart and Ferrell, is certainly a better name than, say, "Laugh Hard," which you won't do nearly enough.
There are plenty of intentionally un-PC jokes packed into the film. With Ferrell and Hart involved, it's probably impossible for anyone to completely resist their baser instincts to be amused by the patently offensive. Though it's hard not to wish more moviegoers would. The tip-off for the tone is, no surprise, the title, which is so transparently ripe for innuendo riffing that it's almost embarrassing.
Most of the jokes come at the expense of some group clichéd-up to the nines. White collar, blue collar, gay, straight, black, white, male, female, gangbangers, CEOs, maids, gardeners, spoiled rich girls, basically, if you live or breathe on this planet, "Get Hard" probably takes a stinging swipe at your "type."
But hey, it's all for a good cause, right?
We wouldn't want anything to slow the hyperkinetic Hart's current juggernaut. And why come up with some creative, unexpected comedy conceit when a retread of an idea will do? Because if there's anything we've learned from "Paul Blart: Mall Cop" — the Kevin James mall cop so very like his UPS driver in the long-running CBS sitcom "The King of Queens" — when it comes to certain comics, fans do not demand quality and ingenuity. If anything, they seem to crave the same joke again and again. (Which is why we'll be seeing a second "Mall Cop" installment with James next month.)
"Get Hard" is directed by Etan Cohen, one writer of "Tropic Thunder's" caustic farce. He's one of the writers of "Get Hard" as well, along with Jay Martel and Ian Roberts. The duo came up with the "Hard" idea along with the ubiquitous Adam McKay, who is involved in pretty much everything Ferrell does — writing, directing, producing, props…
Hart plays Darnell, an articulate car wash entrepreneur looking for enough money to expand his business and get his wife (Edwina Findley Dickerson) and daughter (Ariana Neal) into a better/safer neighborhood. Ferrell's newly indicted rich hedge fund guy, James, might be his ticket out of the ghetto.
But before we get to the, ahem, Hart of the matter, the filmmaker wants us to see and appreciate James' lifestyle. He's got a gorgeous modern manse in tony Bel-Air, an equally gorgeous and anything but loving fiancée, Alissa (Alison Brie), a fabulous job working for her billionaire father, Martin (Craig T. Nelson), and a morning routine that includes yoga moves in the nude in front of his floor-to-ceiling windows. The gardeners are not amused.
The dream soon turns into a nightmare when the feds charge James with racketeering. James pleads innocence and is quickly sentenced to hard time at maximum security Alcatraz. But first he's given a month of house arrest to get his affairs in order. His ankle bracelet allows him to roam freely across the L.A.-area basin. And in the typical fashion of the rich and the racially insensitive, he turns to the only black guy he knows to get him ready to survive prison.
Hello, Darnell, who runs the garage car wash operation in the same building that houses Martin's hedge-fund business.
Though his record is clean, he signs on because his bank account needs a boost. For prison-life specifics, Darnell's conveniently got a cousin straight outta Compton, a gangbanger named Russell, played by rap star T.I. Fortunately, James has a limitless supply of stereotypical beliefs that Darnell can manipulate to his advantage.
The rest of the film runs on two parallel tracks. The primary one involves crazy things Darnell does to prepare James for prison — this is where you'll find most of the homophobic jokes that have drawn much well-deserved criticism. Helping James identify and entrap the scoundrel who set him up is the other.
In between all the offense-riddled getting hard, a real friendship between the men blooms.
Interestingly, Ferrell and Hart are much better together when they slip out of the shtick and rely on their acting talent — both men have a nice soft side. It does make you wonder what might have happened if the movie had taken the idea and its execution up a notch. "Get Hard" just might have gotten better.
Better yet, it's time for Hart to get a shot as the solo star. No best friends allowed.
------------
'Get Hard'
MPAA rating: R for pervasive crude and sexual content and language, some graphic nudity, and drug material
Running time: 1 hour, 40 minutes
Playing: In general release
---
Inside the business of entertainment
The Wide Shot brings you news, analysis and insights on everything from streaming wars to production — and what it all means for the future.
You may occasionally receive promotional content from the Los Angeles Times.