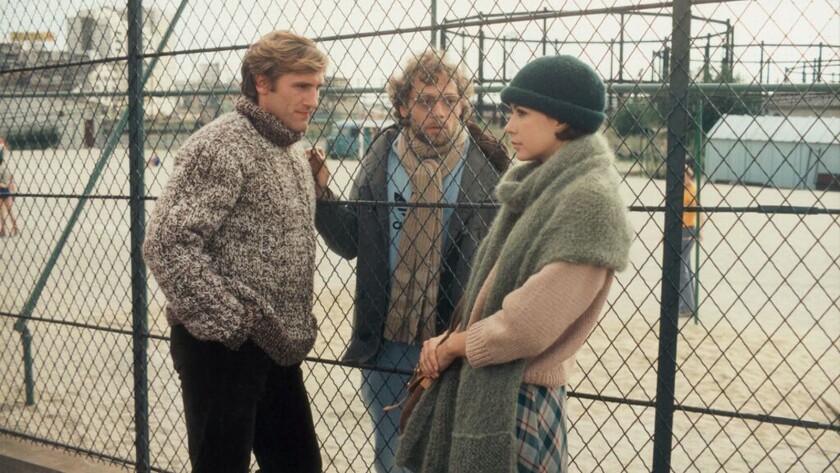 Forty years on, Bertrand Blier's Oscar-winning French sex comedy "Get Out Your Handkerchiefs," in which a frustrated husband (Gérard Depardieu) seeks unusual outside help about his unhappy wife (Carole Laure), still plays like a slap on the behind, followed by a slip on a banana peel, then a finger in the eye.
What remains provocative about Blier's freewheeling romp, which just received a 2K restoration, is that who's on the receiving end of these humiliations shifts frequently, although it's safe to say that Blier invariably finds the foibles of his own gender more interesting than those of women. Calling men out for their romantic buffoonery doesn't automatically make one terribly enlightened about those they're chasing.
But that's also probably the point of Blier's misogyny-adjacent needling, that the vacuous energy expended by Depardieu's willing cuckold Raoul and costar Patrick Dewaere's eager seducer Stephane in trying to decode the listless Solange (Laure) isn't exactly equaled by any apparent depth on the female's part, no matter the speculative breadth of their brainstorming.
Her mystique is just as shallow as their overheated, often hilariously off-track analyses. Then again, without Blier's piquant mix of cynicism and absurdity about relationships, we might not have gotten one of the more transgressively amusing sexual antiheroes in modern comedy: a 13-year-old math prodigy played with laser-like precocity by Riton Liebman.
In the opening sequence, before seemingly every door is thrown open in this farce, Blier shows a solid flair for the sparkle of screwball logic. It's lunchtime in a restaurant when Raoul, exasperated at his wife's zombie-like mien, browbeats a bookish patron at a nearby table — schoolteacher Stephane (Dewaere) — into taking Solange as his lover.
A driving instructor with bourgeois aspirations and patriarchal views of domestic bliss, Raoul articulates his hope as wanting his wife's smile to return, which becomes Stephane's mission as well when even his extramarital wooing — built on a facile love for Mozart and pride in his organized library — doesn't do the trick.
Solange remains unresponsive, obsessively knitting cable sweaters for whatever man is directing his attention toward her (which become a delightful territory-marking sight gag) or succumbing to fainting fits. She's like the satirical opposite of the French New Wave's enigmatic beauties: a glum cipher.
Over summer at a boys' camp, however, with this dysfunctional trio as counselors, Solange finally awakens when she falls for the bullied, brainy Christian (Liebman), an industrial heir who finally gets her to laugh when this man-boy administers an IQ test to her intellectually stunted boy-men ex-suitors. She quickly realizes she can't live without Christian, which turns Raoul and Stephane — reduced to hapless caretakers for one woman's happiness — into willing kidnappers.
The last scene, peered at through a window, which finally separates Raoul and Stephane from the fruits of their perverse matchmaking, is — has to be? — Blier riffing on the ending of "Stella Dallas."
But then that's the kind of place your brain goes after navigating a sensibility-goosing minefield like "Get Out Your Handkerchiefs": Blier yawns at the ménage à trois (how un-French!), casually lampoons the flimsiness of bromances — Depardieu and Dewaere, reteamed after the director's 1974 "Going Places," were a great id-driven comedy team — and dares to romanticize the coupling of a grown woman with a 13-year-old boy.
And yet the movie's style is pure deadpan — bored, even, at times, which in a way creates its own blackly humorous fizz regarding our taste for exhaustive sexual escapades, endless psychologizing and the timeless (tired?) allure of the unfathomable object of desire. (Were the signposts of the French New Wave Blier's eye-poking target?) "Get Out Your Handkerchiefs" may not shock the way it once did, but it remains the purest expression of Blier's comic métier, treating naughty ideas with the straightest of faces.
------------
'Get Out Your Handkerchiefs'
In French with English subtitles
Rated: R
Running time: 1 hour, 49 minutes
Playing: Starts April 19, Laemmle Royal, West L.A.
---