Golden Globes after-party roundup: Fox wins the night, but Netflix is a hot stop too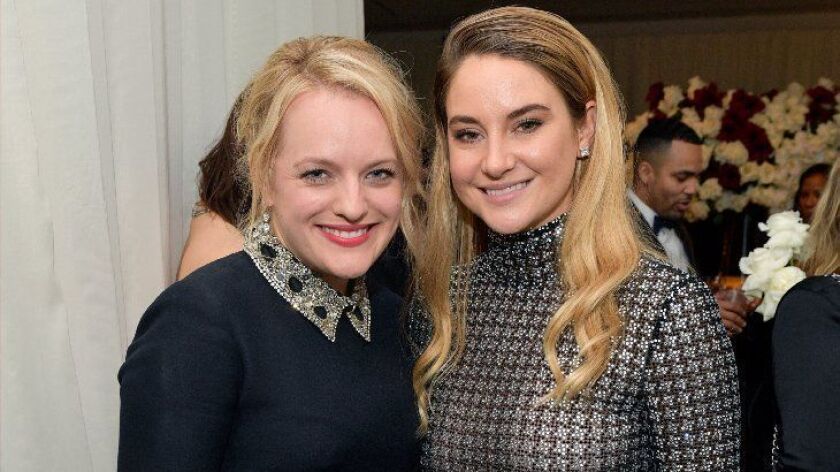 The 75th Golden Globes may have been a more serious affair than usual thanks to the unofficial black dress code and #TimesUp movement, but that didn't stop anyone from cutting loose at the after-parties. Here are the highlights from the night's prime events.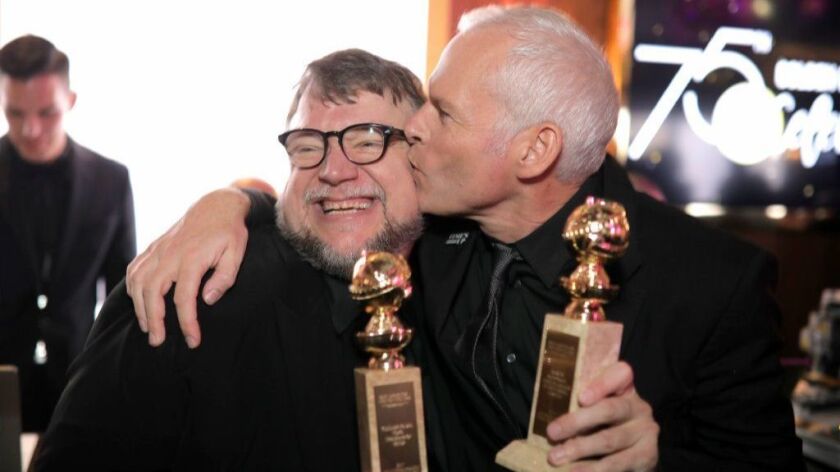 Fox
The Fox bash, which included 20th Century Fox, Fox Searchlight, FX, National Geographic and Hulu, was an early must-stop for Globes-goers who noshed on charcuterie and cheeses.
"Shape of Water" mastermind Guillermo del Toro, who won the Golden Globe for directing, and Martin McDonagh, director of "Three Billboards Outside Ebbing, Missouri" (which won for motion picture drama), arrived showing off their Golden Globes. Both films were released by Fox Searchlight.
The evening's winningest studio had a lot to celebrate at the sprawling after-party held on the roof terrace of the Beverly Hilton, where glinting chandeliers hung high above revelers.
Stars of "The Post" gathered in one nook; gawkers flocked toward lead actress drama winner Frances McDormand and her husband, Joel Coen; on the dance floor, "Greatest Showman" actress and singer Keala Settle posed for pictures, celebrating a best song win for "This Is Me."
In the "Shape of Water" corner, sat "Star Trek: Discovery" star Doug Jones, the versatile physical performer who plays the creature in Del Toro's sci-fi romantic fantasy.
"I've known Guillermo for 20 years and seven projects," Jones said, speaking fondly of Del Toro, with whom he first worked on 1997's "Mimic." "I'm so happy for him."
Outside, along a cozy terrace, television screens replayed scenes from the Globes telecast. Hungry guests lined up to soak up Champagne with gourmet pizza and enjoy an espresso bar as the DJ spun tunes from Madonna to Chubby Checker for the early-night crowd.
GOLDEN GLOBES 2018: Full coverage | Winners | Red carpet photos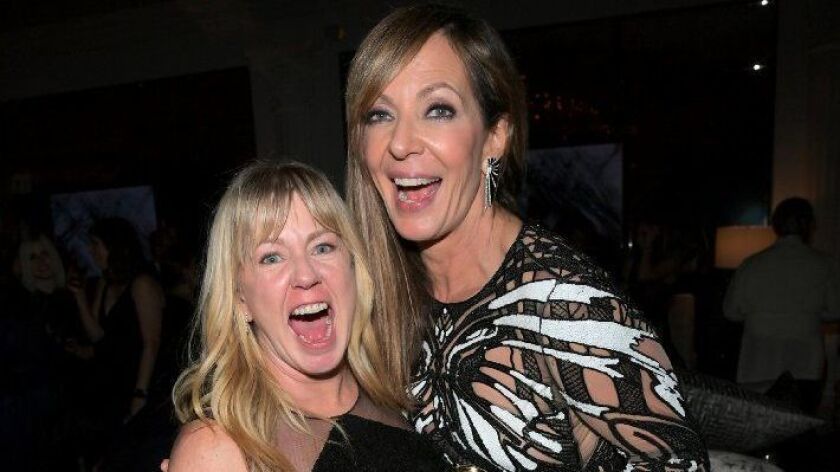 Warner Bros. / InStyle
The first stop for many at the Warner Bros. and InStyle party was the L'Oreal flats machine. That's right — there was a machine doling out free rollable flat shoes for any lady whose tootsies were wiped after wearing heels all day.
That did not include Mariah Carey, who was posted up in the first banquette inside the party surrounded by a slew of Hollywood power players: Ashley Judd, Salma Hayek and Rowan Blanchard. Blanchard, 16, wasn't the only teen in attendance — Ava Phillippe, 18, attended the bash with her mom, Reese Witherspoon.
Busy Phillips, who is typically Michelle Williams' plus-one — this year, Williams brought #MeToo founder Tarana Burke instead — caught up with her BFF at the party. They were hanging out near the "I, Tonya" crew, including Tonya Harding herself. Despite the fact that Margot Robbie plays Harding in the film, the figure skater seemed to have found a new buddy in Allison Janney. The two kept hugging and laughing as Janney, who plays Harding's mother in the film, let Harding hold her newly acquired Golden Globe. Harding pretended to drop the prize, indicating how heavy it was, and then began rocking it like a baby.
Over on the dance floor, Maggie Gyllenhaal was busy dancing to Camila Cabello's "Havana." More guests were actually dancing at this bash than any other, perhaps on a sugar high after hitting the fully stocked gelato and doughnuts bar.
What was unclear, however, was whether astronaut Buzz Aldrin, who wandered into the bash around 11 p.m., broke out into the moonwalk.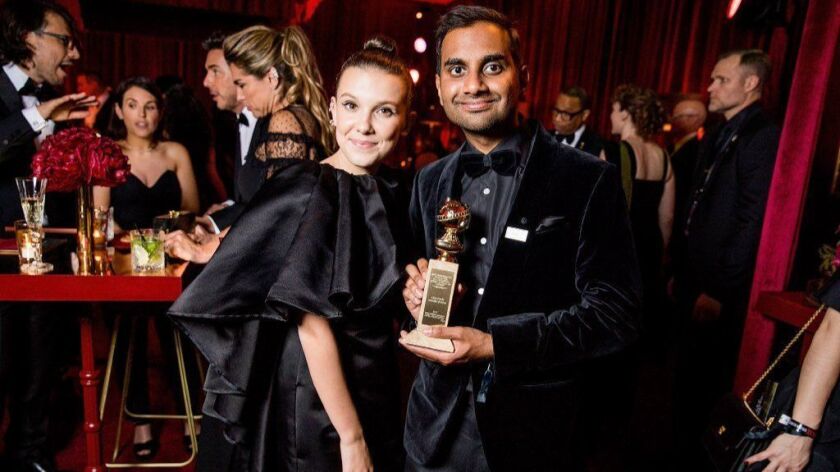 Netflix
Held at the newly built Waldorf Astoria in Beverly Hills, Netflix's after-party was an event fit for a monarch.
Guests were greeted by a blood-red carpet that wound its way to the hotel's entrance. Attendees were presented black wristbands with the Netflix brand on checking in, then were greeted by waiters with glasses of white wine. Around the corner, a bellboy, specially hired for the event, managed elevators that took guests upstairs to the party. (The red carpet on the elevator was also branded with the streaming service's name.)
As the elevator's doors opened, another sign led guests to a shoe valet, where they were able to trade their heels and dress shoes for a pair of slippers — it was clearly time to Netflix and chill.
Just before 9:30 p.m., Pharrell Williams joined the party in jeans, sneakers and a cream-colored jacket as Mary J. Blige's "Real Love" blared from the speakers. Blige, who was nominated for her role in Netflix's "Mudbound" and for her original song "Mighty River," was seated at the party in the film's reserved section, joined by actress Alfre Woodard. On a table not far away, someone had discarded their invites to HBO's after-party.
Wearing a Time's Up pin, Golden Globe winner Aziz Ansari went mostly unnoticed against the bar by the dance floor. Steps away, guests were clamoring to get photos with the "Stranger Things" kids.
A short time later, rapper Drake entered in a black tux with a white shirt and a security detail all around. He made his way across the dance floor, first embracing Millie Bobby Brown of "Stranger Things" before migrating to "Mudbound's" section and then the bar. At the bar, he and Ansari hugged and exchanged pleasantries.
Amazon
As some Golden Globe after-parties cleared out, others got packed — and some of the hottest soirées turned out to be thrown by the newer kids on the block.
Like Netflix's, Amazon's penthouse party at the Beverly Hilton Hotel was a hot ticket. Around 11:30 p.m., Viola Davis made her way down the hallways just as Carey was gliding out; guests arriving in the witching hour were greeted by the booming sounds of rising rapper Cardi B.
Her breakout hit, "Bodak Yellow," gave way to a supremely danceable DJ set as attendees filled a small dance floor, gazing out at the Los Angeles skyline from penthouse heights.
The party's catchy soundtrack was no accident, as Amazon brought in the heavy hitters to score the evening. Sibling DJs Samantha and Mark Ronson were both on hand to successfully keep the dance floor full late into the evening.
HBO
Conveniently located immediately outside of the ballroom where the Golden Globes are held, HBO's party is always a prime stop. That was the place for Emilia Clarke, who took the opportunity to catch up with "Game of Thrones" costars Gwendoline Christie and Nikolaj Coster-Waldau. Also at their table? The Lonely Island guys, including Andy Samberg. When the trio of dudes got up to leave, Clarke shook her head defiantly and insisted they stay longer. Samberg picked up the placard on the table reading "Game of Thrones." "See!" he said. "We don't belong here."
"Big Little Lies" nominee Shailene Woodley, meanwhile, spent the evening alongside the Indigenous activist she'd brought as her guests to the Globes, Calina Lawrence. Plenty of onlookers surrounded her table, but she was focused intently on her plate of food, as no one who attends the Globes actually gets to eat dinner.
Also spotted? Lena Dunham, chatting with her "Girls" showrunner Jenni Konner, and one of the evening's big winners, Nicole Kidman, who could barely get to a table due to an onslaught of selfie-seekers toting their iPhones.
Los Angeles Times staff writers Tre'vell Anderson, Amy Kaufman and Jen Yamato contributed to this report
On Now
Video: What can be done to help with inequality?
2:50
On Now
Video: Oprah Winfrey, a look back at her career
1:14
On Now
Video: Why did you wear black to the Golden Globes?
3:23
On Now
Video: William H. Macy thinks the world would be a better place if women ran it
0:46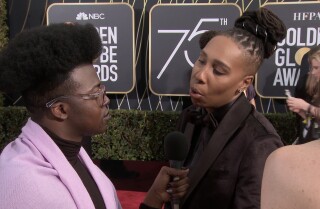 On Now
Video: Lena Waithe is on a mission with 'Master of None' and 'The Chi'
0:26
On Now
Video: Milo Ventimiglia says he doesn't see gay, black, white, woman, man: 'I see an artist'
1:26
On Now
Video: Ann Dowd on the exposure of predators in Hollywood
0:49
On Now
Video: 'The Square's' Ruben Östlund and Terry Notary on sexual harassment in Hollywood
0:56
On Now
Video: Raphael Saadiq on how to behave with women, with a little help from Dave Chappelle
1:49
On Now
Video: Director Nora Twomey on wearing black at the Golden Globes
2:06
ALSO
Tommy Wiseau reveals what he would have said on stage at the Golden Globes
Oprah at the Golden Globes: Is she running for president? She should, they say
'Three Billboards' and 'Big Little Lies' are the top winners of a very different kind of Golden Globes awards
---
Get the Indie Focus newsletter, Mark Olsen's weekly guide to the world of cinema.
You may occasionally receive promotional content from the Los Angeles Times.