Director Peter Sohn brought a natural touch to once-troubled 'Good Dinosaur'
On a sleepy afternoon at the Natural History Museum of Los Angeles County in early November, Peter Sohn sprang from his seat and started acting out a scene from "Lawrence of Arabia."
"It is my pleasure that you dine with me in Wadi Rum!" Sohn said, spreading his arms and raising his voice in the dramatic manner of Anthony Quinn's character in the David Lean desert epic.
Sohn, 38, was explaining an effect he wanted to achieve in his new film, Pixar Animation's "The Good Dinosaur": a sense of vast terrain.
SIGN UP for the free Indie Focus movies newsletter >>
"I remember as a kid feeling the goose bumps of, 'There are so many people out there! This is real!'" Sohn said in an interview. "How do we capture this? What did they do to give you that feeling of scope and of the land?"
Sohn's artistic ambition and boyish enthusiasm are palpable, but the rocky production of "The Good Dinosaur" tested another, more grown-up quality in the Bronx-born, Korean American animator — his ability to lead.
Pixar executives removed "The Good Dinosaur's" previous director, Bob Peterson, in the summer of 2013 over story concerns, and elevated Sohn. Though he had distinguished himself in the art, story and animation departments at Pixar, and directed the 2009 short film "Partly Cloudy," Sohn had never directed a feature, and was taking over responsibility for a frustrated crew of hundreds grappling with a story that had grown increasingly complex.
"Pete had a reputation at Pixar as someone who is super talented," said "Good Dinosaur" producer Denise Ream. "He has an incredible eye. He's funny, he's emotional, he's honest, he has a lot of charisma. But when he was named director, people kept saying, 'Can he do it?'"
Midstream director changes happen more often in animation than live action, and especially at Pixar, where an iterative creative process led to swaps on "Ratatouille," "Cars 2" and "Brave." "The Good Dinosaur" screenplay is credited to Meg LeFauve but the film has four other writing credits, including Sohn, Peterson, Erik Benson and Kelsey Mann.
Ironically the key story change Sohn said he made was to return to Peterson's own simple, original pitch, a twist on the boy-and-his-dog story, which had been subsumed by several subplots about exotic human and dinosaur civilizations.
In "The Good Dinosaur," Sohn juxtaposes two unique styles of animation, his characters designed with a cartoonish whimsy and his settings treated with a painterly realism. The western-inspired movie follows an 11-year-old Apatosaurus named Arlo who befriends a scruffy human boy named Spot, with Spot serving as Arlo's scratching, fetching companion on a dangerous voyage into the wilderness.
The movie opened Wednesday to strong reviews — The Times' Kenneth Turan said "The Good Dinosaur" has "some of the most beautiful landscapes ever seen in a computer animated film."
A few weeks before release, Sohn, whose two children were born during the making of "Good Dinosaur," was too nervous to enjoy the positive buzz.
Pixar's animated comedy film imagines the moment when dinosaurs met human beings. While dinosaurs are known to have gone extinct, the tale illustrates how the creatures evolved into farmers instead, using their figures to dig trenches and slice tree branches.
(Pixar Animation Studios)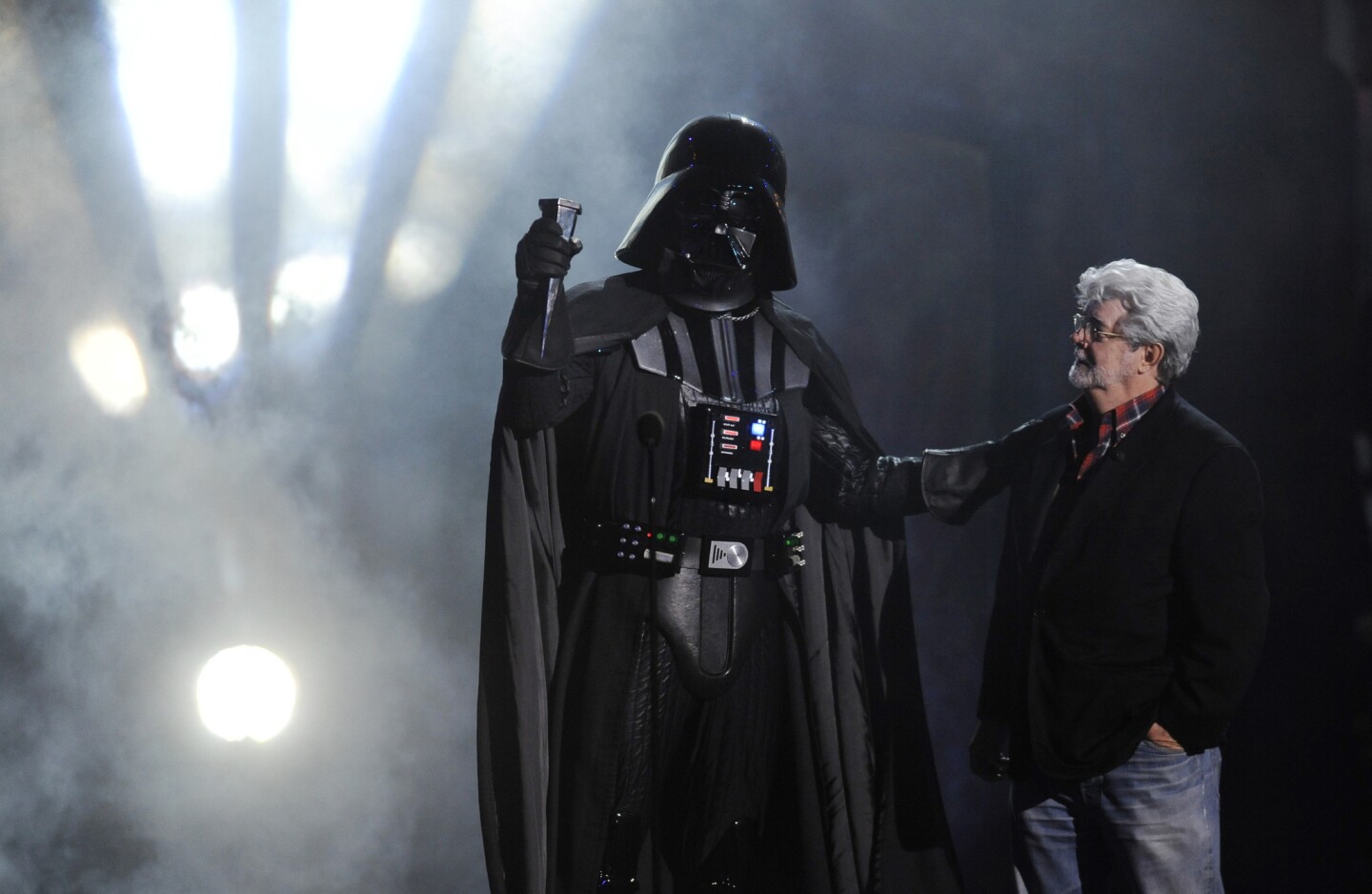 The saga continues in the seventh installment of the "Star Wars" series created by George Lucas. The latest film is being directed by J.J. Abrams.
(Chris Pizzello / Invision/Associated Press)
"Finding Dory" is the sequel to Pixar's 2003 comedy drama "Finding Nemo." The tale traces Dory's adventure to reunite with her family. Taking place a year after the original movie, the film features returning characters such as clownfish Marlin, son Nemo and the "Tank Gang."
(Pixar Animation Studios)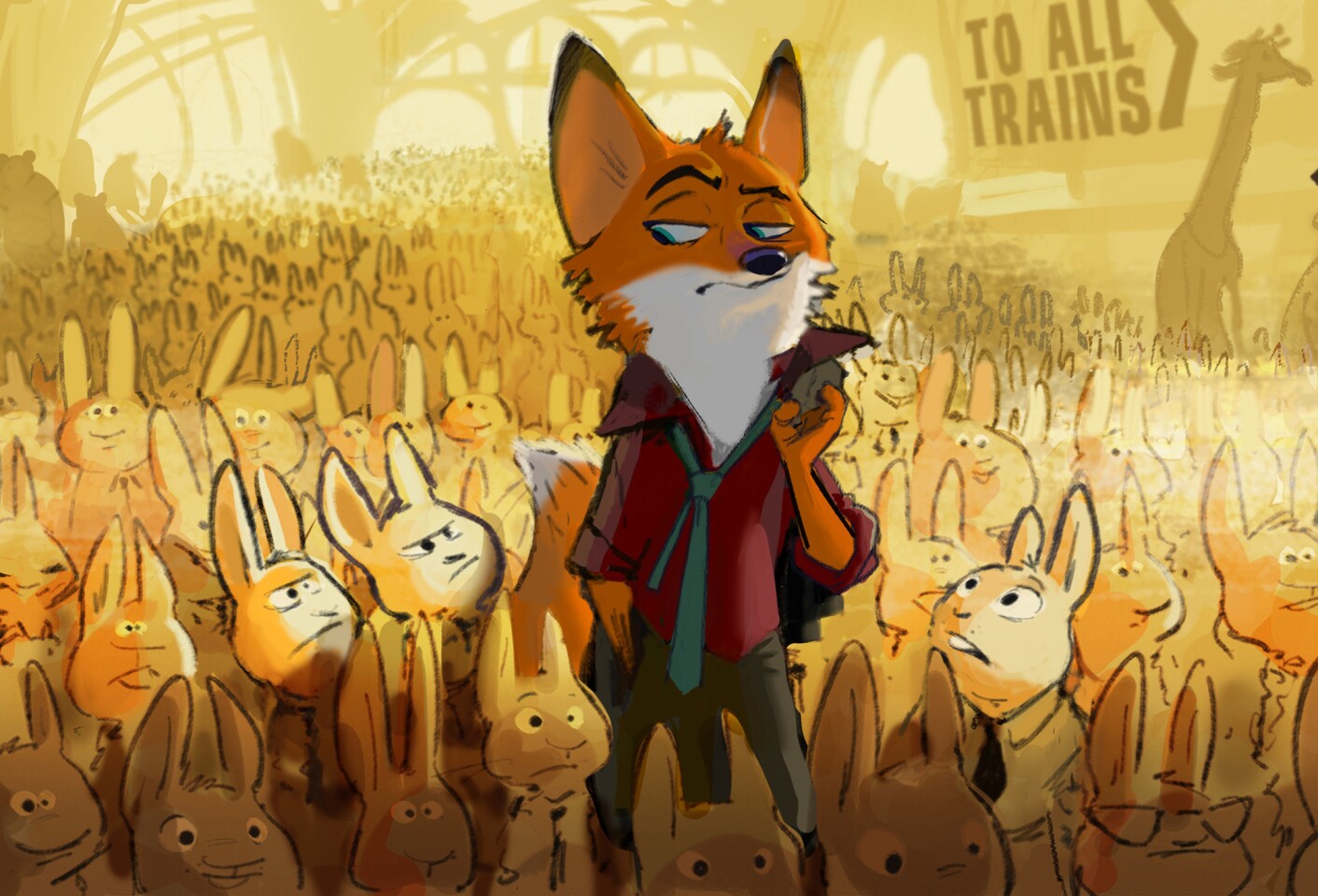 In the action comedy "Zootopia," a fast-talking fox is on the run from a crime he didn't commit. Zootopia's cop, a pompous rabbit, is out to get him. Until, that is, the two become the targets of a conspiracy, which then leads to a long-lasting friendship.
(Walt Disney Pictures)
Rian Johnson's "Star Wars" sequel was announced in March 2015. Disney acquired Lucasfilm, the production company behind "Star Wars," for about $4 billion in 2012. Photo above: "Star Wars: The Force Awakens."
(Lucasfilm / Disney)
In March 2015, Disney announced that "Frozen" filmmakers Chris Buck and Jennifer Lee, as well as the character Olaf, who was voiced by Gad, will return for the sequel.
(Disney)
"I ate a giant hamburger at 11 o'clock last night," Sohn said, hanging his head. "This waiting is brutal."
Sohn's parents emigrated from Korea in the 1970s, opening two grocery stores, one in the Bronx and the other in New Rochelle, N.Y. From his father he got a driven work ethic, from his mother a love of art and cinema, Sohn said. (This summer at D23, Disney's fan convention, while other animation directors presented footage from their films, Sohn showed a reel of storyboards he had made about his mother, who loved Disney movies because she could understand them despite limited English skills).
"My mother and I are a lot alike," Sohn said. "She's hot-tempered. Her emotions are on her sleeve just like mine. She wanted to be an artist when she was growing up in Korea, but she was a woman... the last of four daughters before a son was born. My uncle was going to be the one to go to college. She took us to the movies all the time. I owe her everything. I owe her the art love and the movie love. In a weird Korean way she knows movies better than I do."
Sohn started attending his uncle's SAT-prep school in sixth grade, but his mind wandered and he spent class doodling.
"I remember my mom sitting me down and saying, 'You have to focus,'" Sohn said. "'This is not going to be your future.' She must have heard the same thing when she was younger."
Sohn was accepted into the prestigious character animation program at the California Institute of the Arts, and while studying there got a summer job working on Brad Bird's 1999 animated cult classic "Iron Giant." His career soon blossomed, with a stop at Warner Bros. Animation before landing at Pixar in 2000.
"In New York it was always about, 'I'm yellow. This is my identity,'" Sohn said. "When I found animation, that was my new tribe."
At Pixar, Sohn quickly became a studio character — literally — his round, expressive face was inspiration for Russell, the overenthusiastic 8-year-old wilderness explorer in "Up."
Sohn had been working on "The Good Dinosaur" as Peterson's co-director, a title akin to a deputy at Pixar, when the studio leadership grew anxious over Peterson's failure to make key story decisions as the release date barreled down on him. (Peterson declined to comment for this story).
After changing directors, the studio pushed back the release date of the film by 18 months, a dramatic move that left Pixar without a feature film out in 2014. Producer Ream used the extra time to surround Sohn
with experienced department heads, including production designer Harley Jessup and director of photography Sharon Calahan, so he could focus on honing the story.
"When big changes happen, it hurts," Sohn said. "I was very transparent, as much as I could be. There were a lot of areas where I felt confident but there were some where I just didn't. I had no experience in the technical departments. I said, 'I'm going to be honest with everyone about the things I don't know.' There was no time to second-guess."
Sohn and key members of his crew took a research trip inspired by one his favorite films, the 1953 western "Shane," which was shot
in Jackson Hole, Wyo. During that trip, to the Wyoming side of the Tetons, the filmmakers decided nature would be Arlo's adversary.
Capturing nature's ferocity and beauty meant creating several technically challenging action sequences on a roiling river, as well as more contemplative shots of dancing fireflies and quivering pine trees. For an animated movie, the sheer number of locations, and the vastness Sohn wanted to convey were daunting.
"After the Wyoming trip, he came back with a vision and decisiveness that gave me huge confidence," Ream said. "Morale kept getting better and better as the story was falling into place. People loved Pete's honesty. It got to the point where that crew would do anything for him."
At the same time, Sohn wanted to preserve a wit and warmth to his characters, a varied mix that includes a macho rancher T-rex named Butch voiced by Sam Elliott and a wacky Styracosaurus voiced by Sohn.
"When I got onboard I wanted to say, 'Is there any way we can do this without another monster attack, without another carnivore? Is there any way we can make it emotional?'" Sohn said. "All the guides we talked to [in Wyoming] said that nature was the most beautiful and the most dangerous thing you could encounter. That duality was everywhere."
ALSO:
'Black Mass' stars Johnny Depp and Joel Edgerton chose 'white-knuckling' over rehearsing
Disney CEO Bob Iger aims to bring an NFL team back to professional-football-starved L.A.
Who will Golden Globes voters go for this year? Not necessarily the biggest stars
---
The complete guide to home viewing
Get Screen Gab for weekly recommendations, analysis, interviews and irreverent discussion of the TV and streaming movies everyone's talking about.
You may occasionally receive promotional content from the Los Angeles Times.