Review: 'Green Room' is a stylishly done horror show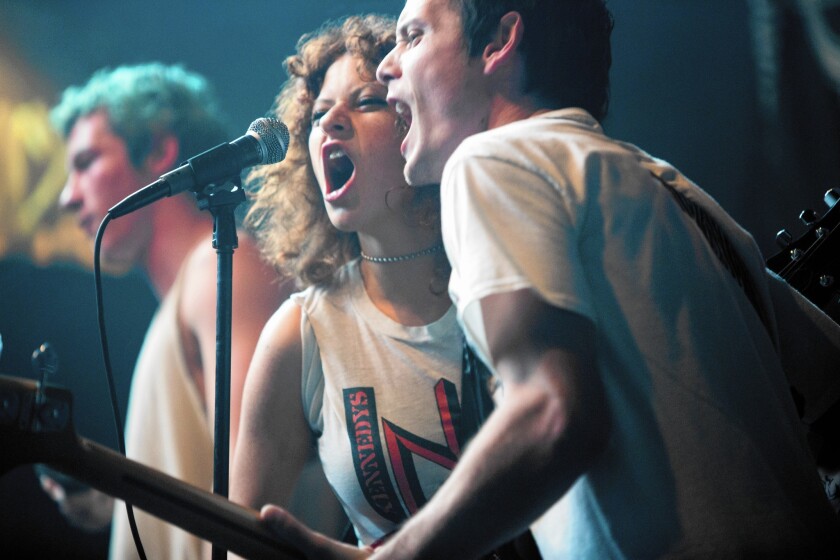 A shabby white-power outpost in the Oregon boondocks becomes a grim last stand for a nomadic band of college-age punk rockers in the demonically gripping "Green Room." It's the latest tense, brutal genre triumph for writer-director Jeremy Saulnier after his cat-and-mouse nailbiter of a few years ago, "Blue Ruin." While thrashing chords score this gutbucket nightmare, Saulnier's way with overwhelmed characters, pressing evil and dangerous escape mechanics is practically symphonic.
An unsuccessful road tour leads the cash-poor members of the Ain't Rights — played by Anton Yelchin, Alia Shawkat, Joe Cole and Callum Turner — to take a quick gig playing at a deep-woods club for skinheads. (With millennial cheek, they hammer out the Dead Kennedys' "Nazi Punks F... Off!" for the crowd.) Afterward, they become witnesses to a crime backstage, and the suddenly terrified musicians lock themselves in the green room with a crying bystander (Imogen Poots). Enter the club's owner, a coiled figure named Darcy (Patrick Stewart, dripping malevolence), who has some grim extraction plans for his ready-and-willing jackbooted thugs.
Saulnier's métier is the kind of clenched grindhouse standoff defined by well-timed horror-shocks and, when it comes to our cornered heroes' growing resourcefulness, thrillingly clever gambits. Though the onscreen tools at hand — box cutters, machetes, shotguns and hungry attack dogs — ensure a steady level of sickening violence, Saulnier's dexterous shot placement, controlled rhythm and Sean Porter's atmospherically sickly cinematography are the true manipulators here. In every case, filmmaking trumps bloodletting in setting a tone of deliciously unpredictable dread.
It's such bracing confidence in the snarled gamesmanship of the bad end — keeping you never fully secure in who will prevail — that you may forget to admire the skillful acting (including that of "Blue Ruin" star Macon Blair) and strokes of grim humor along the way. (The whole movie is already a great nasty joke: tossing poser-punk wannabes into a true mosh pit of hell and watching them squirm.) But some qualities are hard not to notice: how well the perfectly cast Poots slow-boils her scary-eyed transformation, and how a terrifyingly methodical Stewart easily turns his famously authoritarian voice into the anti-Picard with just a dash of sulphuric growl.
"Green Room" is such a gonzo knockout of siege cinema — "Deliverance" meets "Assault on Precinct 13" — that you hope it finds an appreciative audience beyond horror lovers already itching to embrace it. Simply put, when you watch a meticulously crafted movie like Saulnier's, you go exactly where he wants you to go, and that may be a more menacing prospect for chillseekers than any splashy act of violence.
------------
'Green Room'
MPAA rating: R, for strong brutal graphic violence, gory images, language and some drug content
Running time: 1 hour, 34 minutes
Playing: Arclight Hollywood
---
From the Emmys to the Oscars.
Get our revamped Envelope newsletter, sent twice a week, for exclusive awards season coverage, behind-the-scenes insights and columnist Glenn Whipp's commentary.
You may occasionally receive promotional content from the Los Angeles Times.