In 'Greta,' Isabelle Huppert and Chloë Moretz flip the table on the stalker movie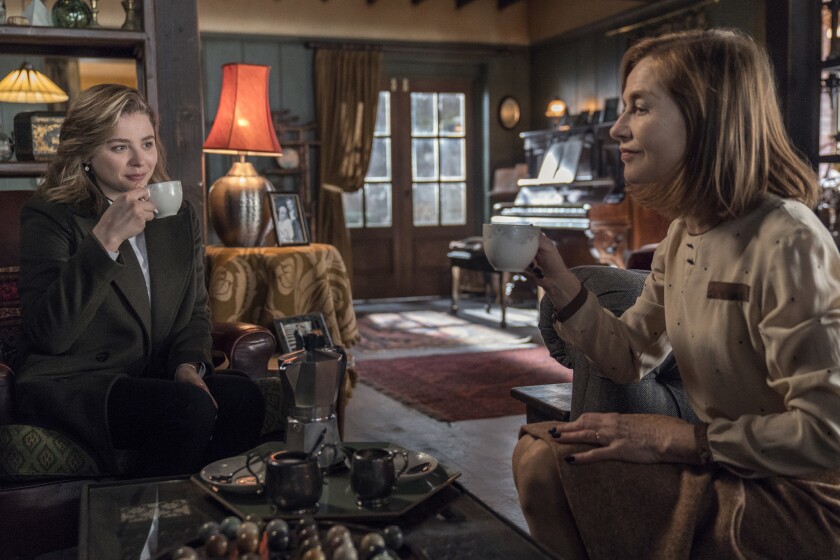 A simple act of kindness, returning a handbag found on a New York City subway, sets off a rapidly escalating series of events in the new psychological thriller "Greta."
It's the latest from Irish director Neil Jordan and opens with a young woman named Frances (Chloë Grace Moretz) who recently lost her mother. She meets a lonely woman named Greta (Isabelle Huppert), and an emotional bond and unlikely friendship forms. That is, until the story becomes an over-the-top table-flipping, gum-spitting, dream-within-a-dream, locked-in-a-box grotesquery of a fairy tale.
When the film had its world premiere last fall at the Toronto International Film Festival, the audience didn't know whether to laugh or scream or both, eventually unraveling into hysterics as the movie builds and builds to wickedly delightful heights.
With "Greta," Jordan has enabled Huppert and Moretz to lean fully into the ridiculous aspects of the story, creating something that has its roots in genre storytelling but isn't a straightforward fright-fest.
"It was fun. I'd never done anything quite so simple before," Jordan said in a recent phone interview from Dublin, Ireland, where he lives. "Sometimes, simple genre pieces can be a very solid bedrock on which to ring all series of psychological changes.
I could relate to somebody who was so lonely their isolation drives them insane. Out of that comes this huge pathology.
Neil Jordan
"I also liked the fact that there was something kind of real behind it," Jordan said. "I could relate to somebody who was so lonely their isolation drives them insane. Out of that comes this huge pathology. I could relate to the way in which [Greta] wanted a friend. It was about something simple, a human relationship, even though it goes into these extreme stalker-slasher areas in the movie."
Jordan is best known for his '90s films, such as "The Crying Game" and "Interview With the Vampire," and has more recently been crafting smaller, fable-like stories such as "Ondine" and "Byzantium" as well as creating the television series "The Borgias" and "Riviera."
"Greta" began with an original script written by Ray Wright. Jordan revised the screenplay, re-envisioning the character of Greta and substantially reconfiguring the last third or so of the story, most significantly adding a detective character that would end up being played by Jordan's longtime collaborator Stephen Rea.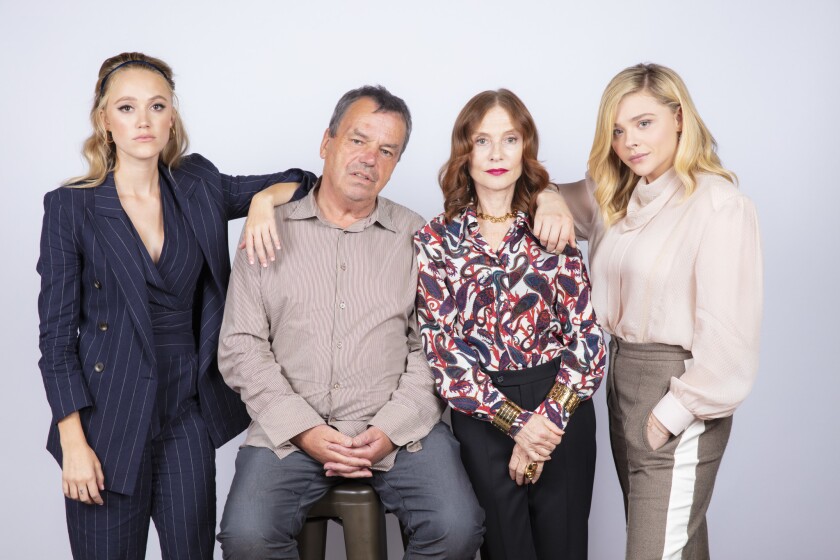 For Moretz, the film continues a strand of genre revisionism in her work, from appearing in Luca Guadagnino's recent remake of "Suspiria" to her roles in Kimberly Peirce's "Carrie," Matthew Vaughn's "Kick-Ass" and Matt Reeves' "Let Me In." Moretz noted that when she read the script for "Greta" it reminded her of thrillers of the '80s and '90s, such as "Fatal Attraction" and "Single White Female."
"Those are stories that I grew up with that I loved so much," Moretz said. "And especially with someone like Neil Jordan directing, with [a costar] like Isabelle Huppert and making this story about two women of differing ages, it was really an exciting opportunity to subvert a genre."
Huppert has become known for her zesty, haughty characters, from her collaborations with Claude Chabrol and Michael Haneke to her Oscar-nominated performance in Paul Verhoeven's "Elle." On the phone from New York City during a break in rehearsals for the off-Broadway production of Florian Zeller's play "The Mother," Huppert said she was drawn to working with Jordan and his description of the character.
Review: 'Greta' gets a boost from Isabelle Huppert's freaky, funny performance »
"He said, 'She's a horrible person,' so that's kind of a quite juicy thing to do. She's a portrait of a psychopath all the way down the line," Huppert said. "And I knew that with Neil it was going to be very singular. But maybe I did not expect how far he would've gone in this direction — taking this film between something really horrible and something really funny sometimes. And also a little bit of emotion. A lot of ingredients in this film."
In the film's centerpiece scene, as Huppert's character of Greta becomes more and more obsessed with Moretz's Frances and holding onto their relationship, she books a table at the restaurant where Frances is a server. Their confrontation escalates and Greta literally flips over a table. Moretz's vulnerability and Huppert's storming ferocity give the scene an exciting tension.
"It was wild," Moretz said of the scene, shot on an elaborately constructed set in Dublin (one of three locations for filming, including New York and Toronto). "We rehearsed that purposefully where the extras in the room were very unaware of what was about to go down. And so we brought them all in, and they did not know that tiny Isabelle was going to flip the table and try to attack me in the way that she did. It was brilliant on Neil's part to do that because he got the most naturalistic reactions from the room.
"People seemed genuinely shocked by the situation," she added, "For me, it was definitely very creepy, but knowing Isabelle, it also made us giggle."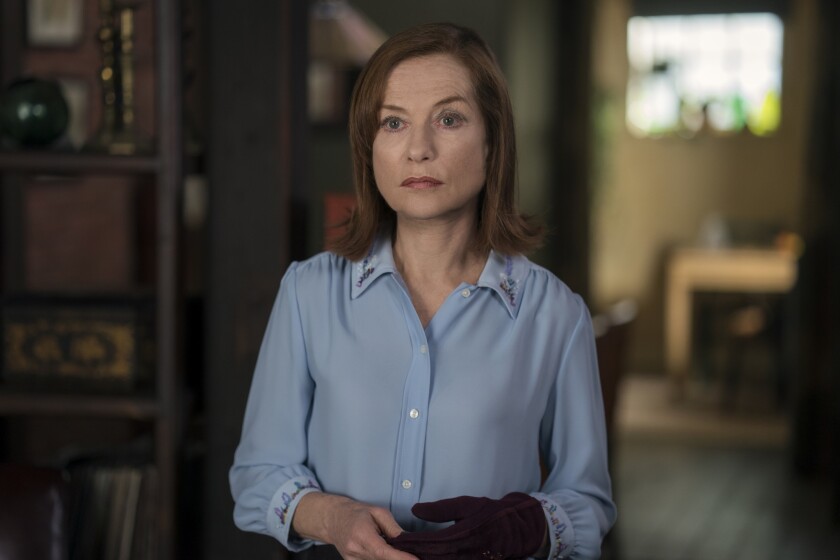 For Huppert, moments like that restaurant scene, or when she spits chewing gum into Moretz's hair, are both fun to play and also a vital part of storytelling.
"That's why we need books and movies and plays — so we don't have to behave like that in real life," Huppert said. "Unfortunately we still do it in real life; that's the problem"
One of the pleasures of "Greta" is simply seeing how much fun Huppert seems to be having with the part, such as a madcap, twirling dance she does in a scene opposite Rea. She believes that it's OK for the audience to see her peeking out from behind her character.
"I think I do a lot of winking in most of my work, by the way," Huppert said. "To me that's the key to a great character and to a great film, to always leave space for a certain amount of humor and irony, to allow for a distance to make the character even more mysterious. It doesn't necessarily take the emotion out of it.
"In most of my recent movies, whether it's in 'Elle' or even in 'The Piano Teacher,' there is always a moment where you can have this," Huppert said. "And it's not like winking to the audience, it's more like almost winking to yourself."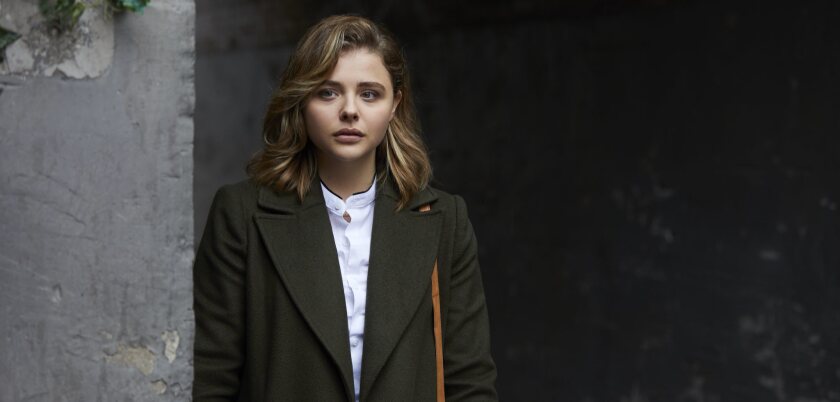 Even at 22, Moretz is an industry veteran, having appeared in dozens of movies since she was very young. And yet she admits she still has a lot to learn from someone like Huppert, not the least of which is to keep learning.
"Her essence when she walks into a room — she's 5-foot-2 or 5-foot-3 and she feels as if she's 6-foot-4. She is one of the most powerful beings that you'll meet," Moretz said of Huppert.
"And yet Isabelle is someone that is a learner, and that's why she's so brilliant," Moretz said. "That's why she has not just sustained a career over this many years, but she is continuing to be revolutionary in her craft because she never stops learning and she never will be stagnant."
Jordan is next working on an adaptation of Simon Sebag Montefiore's "Jerusalem" for television and an adaptation of his own novel "The Drowned Detective" as a feature film.
Acknowledging the struggles of being an independent filmmaker in the current media landscape, Jordan isn't averse to making the kind of big-budget branded-content that Hollywood studios are interested in. But as much as possible it would still have to be on his terms.
"I'd love to make a Disney fairy tale. I would actually, I'd love to get my hands on 'Snow White' or 'Pinocchio,'" Jordan said. "But it probably wouldn't be the version that Disney would ever want."
SIGN UP for the free Indie Focus movies newsletter »
Follow on Twitter: @IndieFocus
---
From the Emmys to the Oscars.
Get our revamped Envelope newsletter, sent twice a week, for exclusive awards season coverage, behind-the-scenes insights and columnist Glenn Whipp's commentary.
You may occasionally receive promotional content from the Los Angeles Times.