Director James Gunn talks mom rock and why Led Zeppelin missed the cut for his 'Guardians 2' mix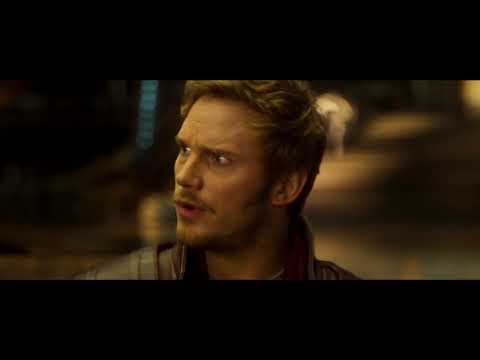 Trailer for "Guardians of the Galaxy Vol. 2," starring Chris Pratt, Zoe Saldana, Bradley Cooper, Dave Bautista and Karen Gillan.
If you were looking for the ultimate exemplar of early-'70s soft rock, you could hardly do better than the 1972 song "Brandy (You're a Fine Girl)" by the largely forgotten 1½-hit wonder Looking Glass.
With its infectious earworm of a melody, its background doo-doo-doos and its goofily heart-on-sleeve lyrics about a fetching barmaid in a harbor town who "loves a man who's not around," "Brandy" has been the go-to selection over the years for many a sozzled Gen-Xer on karaoke night. And there are more than a few fortysomething Brandys walking around today who owe their very name to the song's brief reign on the Billboard charts.
"Brandy" is not, however, the kind of song you'd typically think of to put on the soundtrack for a big-budget sci-fi-superhero movie in the year 2017. Unless, of course, you're James Gunn. And unless the movie is "Guardians of the Galaxy Vol. 2."
In that case, it would be so perfect, you'd build a whole plot point around it.
For Gunn, '70s AM-radio staples like "Brandy," Blue Swede's "Hooked on a Feeling" and Rupert Holmes' "Escape (The Piña Colada Song)" have been the unlikely secret sauce in the "Guardians" franchise since its inception. In both the original 2014 Marvel Studios smash and its follow-up, which opens this week, these retro roller-rink hits of yesteryear have given Gunn's bizarro space opera much of its earthly heart and soul.
"I knew 'Guardians' was a rather outlandish concept — it's a talking raccoon, a bunch of space aliens, one character who's from Earth but has been in outer space for nearly 25 years — so I needed a way to ground people emotionally," says Gunn, who grew up with songs like "Brandy" — which he counts as a personal all-time top-10 favorite — as part of his childhood musical wallpaper. "My thinking was that these AM pop hits would give the audience something they can hold on to that's very familiar amidst all this strangeness."
Gunn was clearly on to something. The first "Guardians" soundtrack — which, according to the film's conceit, was an "awesome mix" made for the main hero Peter Quill (Chris Pratt) by his late mother, Meredith — proved a massive success.
In most films, screenwriters will put in songs and they're almost never the song that ends up in the actual movie. With James, they are always the songs.
— Marvel Studios President Kevin Feige
To date, the album has sold more than 1.75 million copies in the United States, with many of those bought by people who weren't even born until decades after songs like "Spirit in the Sky" faded from the charts. More than 11,000 copies of the soundtrack have even been sold on cassette tape in stores like Urban Outfitters, ushering in a mini-revival of an analog format that had all but died out in the 1990s.
"The coolest thing that happened out of the first soundtrack was turning these songs by these bands that people had for the most part forgotten on to young kids," Gunn says. "If you go on iTunes and read the reviews, it's all young people who say, 'I wish songs today were like this.' Today things are much more moody and less song-like, really."
Some millennials might dismiss this kind of bygone music from the 8-track cartridge era as "dad-rock." But Gunn, respectfully, begs to differ.
"If you think about it, it would be way more like mom-rock," he says. "I mean, a lot of dads were listening to Led Zeppelin or Cream or whatever at that time. Maybe it's the feminine side of me but I like that AM radio pop. People are always saying, 'Why don't you put Led Zeppelin in?' I'm like, 'That's not my thing.' "
Marvel Studios President Kevin Feige credits Gunn, who once sang in a band called the Icons and has composed music for various films, with having an unerring knack for picking just the right song for a given cinematic moment.
"James writes [the songs] into the outlines and scripts and gives us a CD," Feige says. "In most films, screenwriters will put in songs and they're almost never the song that ends up in the actual movie. With James, they are always the songs."
For the sequel, Gunn wanted to take the "awesome mix" idea a step further than in the first film, incorporating songs like "Brandy," Fleetwood Mac's "The Chain" and Yusuf/Cat Stevens' "Father and Son" that wouldn't just provide a fizzy hit of nostalgia but would resonate on a deeper level with the story's themes of family and commitment.
"I think Meredith Quill made the first mix for a kid who was 8 years old and she made the second mix for a kid who was a little older," says Gunn, who keeps an enormous catalog of songs on his computer that he thinks a feisty, pop-loving '70s mom like Meredith would have liked. "The songs are a little more complex and they're technically a little better in some ways."
They're also, in some cases, better known. Armed with a bigger music budget this time around, Gunn and music supervisor Dave Jordan went after a handful of major hits by big-name acts, like "The Chain" and George Harrison's "My Sweet Lord." "Those are songs that we would never have been able to afford on the first movie," Gunn says.
Clearing the use for such classic chart-toppers can sometimes prove an onerous process. Gunn feared that securing the rights to "The Chain" could be particularly difficult, with each member of the famously contentious Fleetwood Mac needing to sign off on its use. But after watching an early cut of the film, they all agreed.
The Electric Light Orchestra song "Mr. Blue Sky," which helps kick off the movie, was a different story. ELO leader Jeff Lynne initially resisted letting Gunn use the 1977 tune — which Feige calls "one of our favorite songs at Marvel Studios" — perhaps because he was miffed that another ELO song, "Livin' Thing," had been cut from the first film. "Maybe he wasn't so happy about that," Gunn says. "We were screwed." In the end, for the right price, Lynne relented.
While songs like "The Chain" and "My Sweet Lord" are still in regular rotation on classic-rock stations, the "Guardians" sequel also includes a handful of highly obscure picks that could stump any self-professed rock nerd.
"Lake Shore Drive," a twangy 1971 country-rock number by the band Aliotta Haynes Jeremiah, was a regional hit in the Midwest where Gunn grew up but is otherwise all but unknown. Surviving member Skip Haynes was so thrilled to have the song rescued from historical oblivion, Gunn says, he recorded a new version incorporating the director's name into the chorus.
Another little-known song, "Wham Bam Shang-a-Lang" by the band Silver — which plays in the film over a pitched space battle — was suggested to Gunn by a fan on Twitter.
"I had never heard it, and I was like, 'What is this song?' " Gunn says. "I thought it might have been a modern band doing a retro version of a '70s song. Because I really have listened to practically every single song that was in the Top 40 during the 1970s."
The song that helps lend the film its most heartstring-tugging emotional moment, "Father and Son," had the strangest provenance: Gunn was reminded of the wistful 1970 acoustic ballad when he heard Howard Stern attempt to play the song on his Sirius XM Radio show.
As with all the film's music, Gunn had "Father and Son" played on the set for the cast and crew while shooting the pivotal scene in which it would be used. For Pratt, whose character wrestles in the film with father issues, it was a potent moment. "I cried not only when I watched it — I cried when I was doing it, for real," Pratt recalls. "It's a powerful piece of music."
Given the huge success of the first soundtrack album, the bar has been set high for the second volume, which has been perched near the top of the iTunes and Billboard charts even before the film's opening. But Gunn says he deliberately tried not to think about eventual record sales when he was picking the songs for the film.
"I have to tune that out," he says. "I've been making movies a long time. I'm a professional at it. I'm not a professional at making soundtracks — that's not my job. My job is to put the right songs in the movie so the movie works the best it possibly can."
With the new "Guardians" film set for global box-office domination, Gunn has already signed on to write and direct a third installment in the franchise — which means going back once again to that deep well of Meredith Quill songs he has accumulated on his hard drive.
"Things are opened up a little bit in the soundtrack in the third movie, so I'm going to have to make some pretty specific choices in the not-too-distant future," he says, being deliberately cryptic to avoid any whiff of a spoiler. "I think I know a few songs that are in there already. But all that could change."
He laughs. "I'm already panicking about the soundtrack."
Times staff writer Meredith Woerner contributed to this report
Twitter: @joshrottenberg
ALSO
Review: 'Guardians of the Galaxy Vol. 2' has that familiar feeling, maybe too much of it
Plan your summer: A list of every single movie coming out this season
'Guardians of the Galaxy Vol. 2's' Kurt Russell can sum up his career in one word: 'Brandy'
Get the Indie Focus newsletter, Mark Olsen's weekly guide to the world of cinema.
You may occasionally receive promotional content from the Los Angeles Times.