Horror maven Eli Roth's unlikely pivot to family fare with 'The House With a Clock in Its Walls'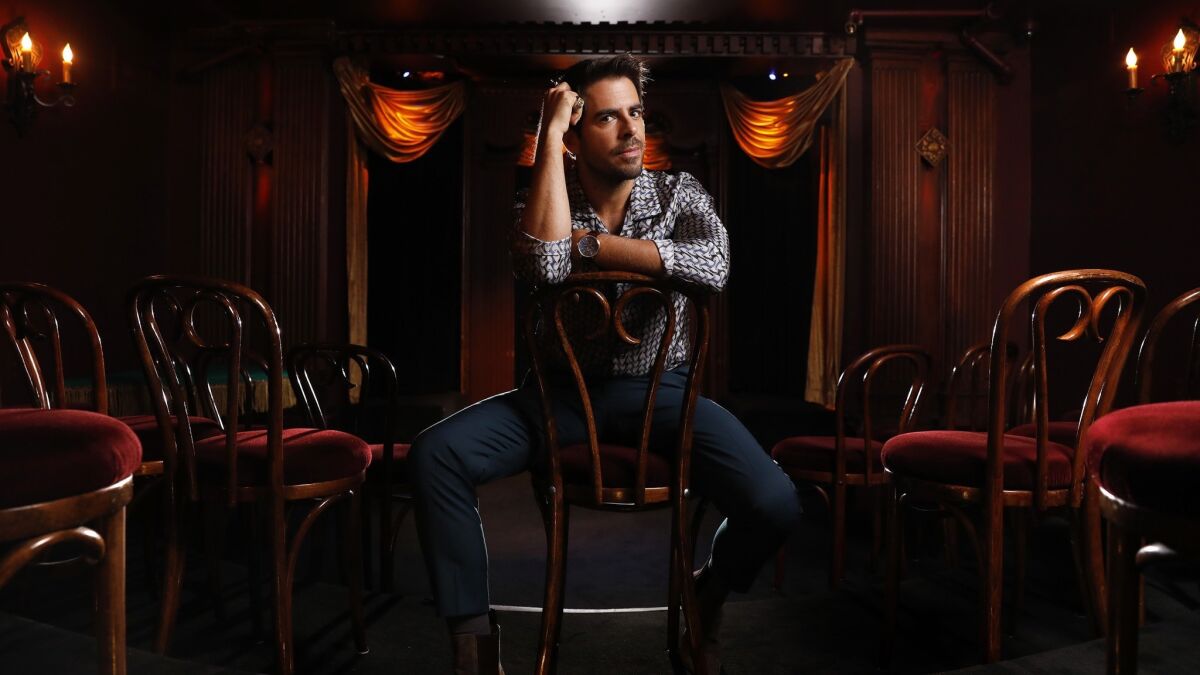 Eli Roth sat in an editing room on the Universal Pictures lot on a recent afternoon, eagerly preparing to show off a scene from his latest movie, "The House With a Clock in Its Walls."
Given Roth's filmography — which features such gory and gruesome low-budget horror movies as "Cabin Fever" and "Hostel" — this would normally be the moment when you'd steel your stomach for an evisceration, a disemboweling or perhaps an impalement. ("Finish your popcorn early if you're going to 'The Green Inferno,' and save the bucket to barf in," one critic wrote of Roth's 2013 survival-horror film about a group of activists captured by cannibals.)
But this is a different kind of Eli Roth movie altogether, and the scene the director showed involved no splattering of blood, no buzzing of chainsaws, but rather an awkward, innocent young boy discovering the wonders of magic.
Based on the 1973 novel by John Bellairs, "The House With a Clock in Its Walls," which opens Friday, centers on an orphan (Owen Vaccaro) who is taken under the wing of his eccentric warlock uncle (Jack Black) and his good-witch best friend (Cate Blanchett) in an eerie old house in which an evil magician has hidden a doomsday clock.
Review: 'The House With a Clock in its Walls' offers creaky, freaky haunted-mansion fun »
Rated PG, it is essentially a horror movie with training wheels, with spooky moments — creepy dolls coming to life, a corpse rising from the dead — leavened with "Harry Potter"-esque wizardry, a positive message about being true to yourself and occasional moments of bathroom humor.
"All of my friends who have kids were saying, 'When are you going to do a movie that I can take my kids to? What is your version of a kids' movie?' " the 46-year-old Roth explained. "I wanted to do a film that, if you love scary movies and you want your kids to love scary movies, this is the gateway. If you show a child 'Hostel,' it's going to traumatize them and they'll never watch another scary movie. You've got to ease them into it."
On paper, a director who has made movies about flesh-eating viruses, sadistic kidnappers and home invasion may not have seemed like the most obvious candidate to direct a film aimed primarily at elementary schoolers. But James Vanderbilt, one of the film's producers, said Roth's name soon rose to the top of the list.
"Eli zeroed in so quickly on the fact that this is the story of this boy and it's really a story about finding your family," said Vanderbilt. "We knew he'd be able to do the horror stuff. But as soon as you talked to him, you weren't worried that he wouldn't be able to do the emotional stuff. He was hungry to tell a story like that. It was not a hard fight with the studio to convince them that he would be good to do this movie."
Indeed, Roth, who comes across as genial and open in person, said he's always had an easy time relating to kids. "I was a camp counselor when I was 16, 17, 18 years old and I was in charge of a whole group of 10- and 11-year-old boys," he said. "I was like the neighborhood babysitter."
And "The House With a Clock in Its Walls" — which had been in development in fits and starts before landing at Steven Spielberg's Universal-based Amblin Entertainment in 2017 — represents a way to pay homage to some of his own formative childhood influences.
"The movies that mattered to me as a kid were films like 'Raiders of the Lost Ark,' 'Time Bandits,' 'The Goonies,' 'Gremlins,' 'E.T.,' 'Poltergeist,' " he said. "These were your first scary experiences in a theater where it's got that little bit of danger and generally kids are at the forefront of the adventure, but you could see them with your parents and your parents would also love them. I weirdly feel like that's a lost art now."
You don't want kids crying. You want kids coming out smiling and laughing.
— Eli Roth, director
Before shooting began, Roth met with Spielberg to discuss how he should approach the film.
"The main thing he said was, 'Don't be afraid to make it scary. Kids love to be scared,' " Roth said. "Amblin is using this movie to really relaunch the brand to make it what it was in the '80s. For me, it was a huge honor. Those Amblin movies were so important to me. I wanted this to have my sense of humor and my personality but feel like you could put it alongside those other movies and it would have the same connective tissue and DNA."
For Roth, that meant dialing back his impulse to shock to a level appropriate to a 10-year-old. "When I make the adult scary movies, they are to horrify," he said. "This is to give you a thrill the way you would get in a haunted house or on a roller coaster. You don't want kids crying. You want kids coming out smiling and laughing."
Granted, most younger viewers who walk into the theater to see "House With a Clock in Its Walls" will have no idea that its director has been credited with popularizing the sub-genre known as "torture porn." For Black, though, Roth's resume was a major part of the appeal.
"I've been down with Eli since 'Cabin Fever' and 'Hostel,' " said Black, who earlier starred in the 2015 family horror-comedy hit "Goosebumps." "What was exciting on this one was that this dude is going to bring some real scares but he's going to have the governor on. Obviously he's not a dumbbell and he's going to keep it within the bounds of family fare. But I think kids crave a little legit thrill, and most directors make the mistake of pulling their punches too much."
While PG territory is new for Roth — whose most recent film, a remake of the seminal vigilante movie "Death Wish," opened to generally negative reviews and middling box office earlier this year — there's more to this unexpected career pivot than appealing to family audiences.
"I really wanted to surprise people and show another side of myself," he said. "The directors that I admire are people like Sam Raimi, Tim Burton, Guillermo del Toro and Terry Gilliam. You look at the wild creativity in their films. I felt like it was time for me to make a film on that scale with that kind of budget, where I could really show what I could do and show my imagination. Finally I feel like I can make a movie that's representative of what I'm capable of."
Before signing on to "House With a Clock in Its Walls," Roth had been set to direct a different big-budget studio film: the rampaging-giant-shark movie "The Meg." Speaking to The Times in 2015, he enthused, "I love the idea of a shark that eats people like Pac-Man eats dots... It's going to be so much fun!" But after months of development, Roth fell out of the project and was replaced by Warner Bros. with Jon Turteltaub. "The Meg" opened last month and has grossed more than $500 million worldwide to date.
"I haven't seen it and, look, it's kind of tasteless to comment on another director's movie," Roth said. "They hired me and I did a lot of work and they paid me for it and the work is there. As long as I helped make the movie better, then that's good."
Lest fans worry that this recent move toward the mainstream means Roth is going soft, he points out that he still has plenty more full-on horror movies he wants to make. "I'm producing a film called 'Haunt' that the writers of 'A Quiet Place' [Bryan Woods and Scott Beck] are directing," he said. "That's straight-up grisly, intense survival horror — very scary, very violent."
Still, should "A House With a Clock in Its Walls" prove successful, with 11 other novels in the series to draw from, it could well keep ticking as a franchise. And if it does, Roth would love to stay on for the ride.
"If this movie is a big hit, we know exactly what books and stories we'd go with to continue the series," Roth said. "But I've learned not to plan anything. For me, it's really about whether or not I feel like I can make a movie that matters and has a lasting cultural impact. People still know 'Cabin Fever.' People still know 'Hostel.' Some are big hits right away, some grow over time. But you want to make a movie that 10 years from now people are watching it at sleepovers and it holds a special place in their heart."
Twitter: @joshrottenberg
---
Get our L.A. Goes Out newsletter, with the week's best events, to help you explore and experience our city.
You may occasionally receive promotional content from the Los Angeles Times.