Review: 'How to Train Your Dragon 2' packs emotional firepower in a rip-roaring ride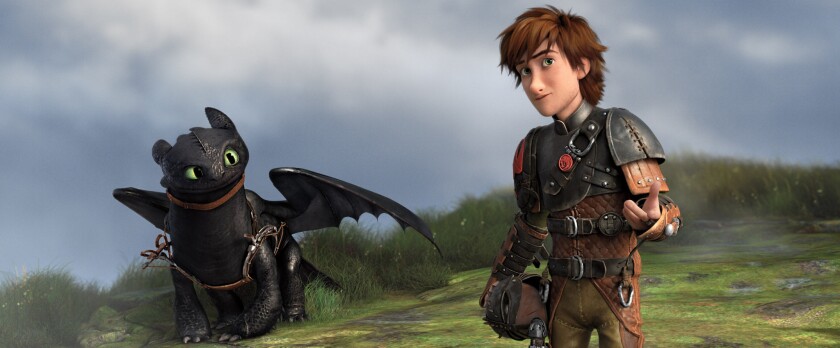 From the fashionable day-old scruff on Hiccup's 20-year-old Viking chin to the amped-up fire power of Toothless, "How to Train Your Dragon 2" has made good use of the years since the villagers of Berk and the boy who'd rather not be chief first charmed us.
The growing pains, starting with the decision to visibly age the animated characters, only begin with Hiccup's hip facial hair. Meanwhile, much of the tension in "2" turns on the art of negotiating peace in a world that prefers taking up arms. Sound familiar?
"Dragon's" already spot-on cast, led by Jay Baruchel as the emerging hero, has improved with age too, thanks in part to the addition of Oscar winner Cate Blanchett, Oscar-nominated Djimon Hounsou and impressive newcomer Kit Harington. He's known to "Game of Thrones" fans as Jon Snow, though instead of brooding hunk, "Dragon" exposes his lighter side.
The new Vikings join the returning mariners, ancient and otherwise, including Gerard Butler, America Ferrera, Craig Ferguson, Jonah Hill, Kristen Wiig, T.J. Miller and Christopher Mintz-Plasse.
Dean DeBlois is the steady hand guiding this latest flight of fancy. The Canadian writer-director, who was there for the first training session, is going solo this time — an issue of scheduling: "Dragon" No. 1's co-director, Chris Sanders, was busy on "The Croods" case.
Not to discount the artistry of the first, but "Dragon 2" feels like it is powered by a singular vision, though certainly still respectful of its source, Cressida Cowell's popular children's book series. There is never a doubt that the many emotional arcs and narrative curves that Hiccup and Toothless must weather are all part of the master plan. The animation, as you might expect, remains the film's best quality.
"Dragon 2" returns to the now-peaceful Berk just in time for the dragon games. The sport involves midair sheep passing, sky-high sheep dunking and a lot of other hoop action that looks like basketball might if LeBron James were on the back of an unstoppable fire-breathing beast instead of just being one. The locals' long-held fear of dragons has been replaced by a tendency to domesticate and pamper — every hut has at least one curled up by the hearth.
Berk's beloved chieftain, Stoick the Vast (Butler), is pressing to put his horned helmet on Hiccup's head — a father-son passing of the torch that Hiccup continues to resist. Meanwhile, Gobber (Ferguson) is working the forges with even more creativity, making for some amusing sight gags. And the kids who were in training the last time around are, like Hiccup, all grown up. Twins Tuffnut (Miller) and Ruffnut (Wiig) are into as much mischief as ever, but it does seem that Snoutlout (Hill) is resigned that he will never be chief or win Astrid's (Ferrera) heart. Hiccup's best pal, Fishlegs (Mintz-Plasse), is as loyal — and as dense — as ever.
The film is essentially chasing the tale of what happens when one leaves the nest. That Hiccup and his cohorts use flying dragons as transport means they can range widely. It is in one of those forays into uncharted territory that "Dragon 2" has hidden all of its surprises. There is the power-hungry pure evil of Drago Bludvist (Hounsou), who is building a dragon army, and a trapper named Eret, son of Eret (Harington), whose nets first entangle Hiccup and Toothless.
The most significant, though, is Valka (Blanchett), a mysterious dragon warrior whose keen interest in Hiccup is because he is, unexpectedly, family. If Valka's reunion first with the son she hasn't seen since he was a babe, then with Stoick, doesn't melt the ice around Berk, I'm not sure anything will. Blanchett and Butler are particularly good playing off of each other.
The animation is crisper than ever, and the various regions — from the darkness of Drago to the paradise watched over by Valka — are striking in distinctive ways. The dragons come in more colors, shapes and sizes than people. Most of the best effects capture the beasties in flight. It's a rip-roaring ride.
But what set the first "Dragon" apart, and what DeBlois has deepened in No. 2, is the film's emotional core. Though there are moments when the tension goes slack, the cast steps up to keep things afloat.
Just as Berk's fate rests with Hiccup, so "Dragon's" rests with Baruchel. The good news is they are in the best of hands. The film revolves around the type of hero it celebrates, a lad turned leader defined by loyalty, honor, duty, decency and a John Lennon-like insistence to give peace a chance. It would be easy to overplay all those attributes, but between the filmmaker's studied sensibility and his star's understated delivery, Hiccup is getting only better with age.
Twitter: @BetsySharkey
----------------------------------
'How to Train Your Dragon 2'
MPAA rating: PG for adventure action and some mild rude humor
Running time: 1 hour, 45 minutes
Playing: In general release
---
The complete guide to home viewing
Get Screen Gab for weekly recommendations, analysis, interviews and irreverent discussion of the TV and streaming movies everyone's talking about.
You may occasionally receive promotional content from the Los Angeles Times.