'I, Tonya' explores the humanity and hard landings of the former figure skater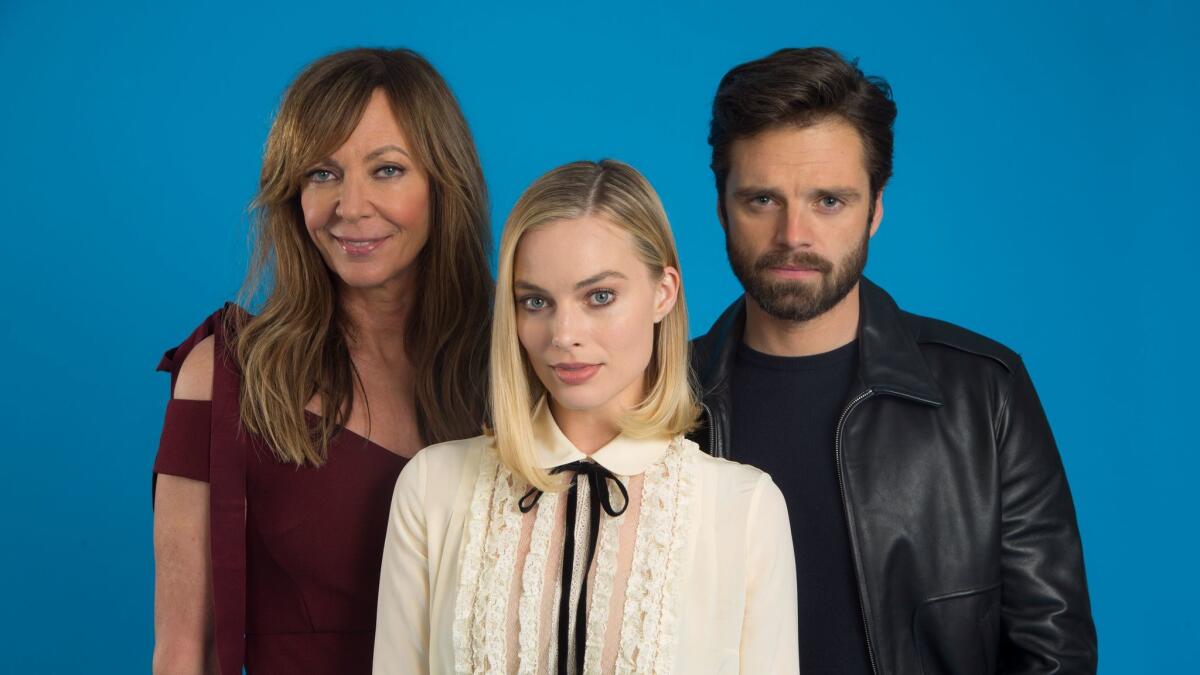 It is an event that lives on in tabloid infamy: the tale of figure skaters Tonya Harding and Nancy Kerrigan and their battle to make it to the 1994 Winter Olympics. The new film "I, Tonya" reframes that story to fully spotlight Harding, transforming her from a media-made villain into someone far more human, fragile and tragic.
A title card at the beginning of the film declares that it is based on "irony free, wildly contradictory, totally true interviews" with Harding and her ex-husband, Jeff Gillooly. The portrait of Harding drawn by the film is one of sharp edges and hard landings, a woman with raw athletic abilities who couldn't fit in with the refined image of the figure skating establishment.
Harding made some of her costumes herself and sometimes performed to music by ZZ Top. She also was the first American woman to land the extremely difficult and still-rare triple axel jump in competition. But the scandal that ensued after Kerrigan was attacked at the 1994 national figure skating championships left a long shadow over Harding's reputation and legacy. Gillooly was implicated in planning the crime, and questions remain about Harding's level of involvement.
Directed by Craig Gillespie from a screenplay by Steven Rogers, "I, Tonya" is a showcase for energetic, emotional performances by Margot Robbie as Harding, Sebastian Stan as Gillooly and Allison Janney as Harding's mother, LaVona Golden.
Australian-born Robbie, best-known for her breakthrough role in "The Wolf of Wall Street" and more recently as Harley Quinn in "Suicide Squad," had never heard the Harding saga when the script first came through her production company, LuckyChap Entertainment. (Robbie is also a producer on the film.) She was immediately struck by the rowdy energy of the storytelling and the complicated depiction of Harding.
"It was a character that scared me but also intrigued me," said Robbie, who would go on to some five months of figure skating training for the part.
I thought the movie was going to be all about 'the incident,' but it really wasn't.
— Allison Janney
The project began when Rogers, a veteran screenwriter with credits including "Stepmom" and "Hope Floats," saw Nanette Burstein's documentary on Kerrigan and Harding, "The Price of Gold," on television. Intrigued, he sought out Harding and Gillooly, and to his surprise, was soon in the Pacific Northwest interviewing them separately. Their wildly differing accounts of their lives together and the events surrounding the attack on Kerrigan provided an unexpected point of entry, and so he structured the story to play up the friction of their differing perspectives.
"I felt it was a really funny story and a really tragic story. It was a really crazy story. It was a true-ish story, depending on whose point of view you want to believe. It was all those different things, so I just wanted the screenplay to mirror that." Rogers said.
Rogers is a longtime friend of Janney's and so he wrote the part of Harding's mother for her. (Rogers frequently has written parts with Janney in mind, but this is the first time the actress has actually been cast in one.) A figure skater herself in her youth, Janney, now a seven-time Emmy winner, had followed the Harding saga when it happened and was surprised by all she did not know.
"I thought the movie was going to be all about 'the incident,' but it really wasn't," Janney said.
Alongside Robbie and Janney is Stan, known to audiences as the Winter Soldier in the "Captain America" movies and also seen earlier this year in Steven Soderbergh's "Logan Lucky." After an extended search for someone to play Gillooly, the actor brought unexpected empathy to the character.
"Sebastian never played him as a villain. He had so much more complexity to him," Robbie said. "With Sebastian, he felt more like a person and less like a caricature."
Before shooting, Robbie and Stan were both able to meet their real-life counterparts, while Janney was not. (The whereabouts of Harding's mother were unknown during production of the film, though she was more recently interviewed by a television news magazine.)
Janney improvised a line at the end of a scene depicting Harding and Gillooly's first date that turned the other actors red — "What you see is our genuine reaction," said Stan — and the actress relished both the emotional nuance and rough humor of the part.
"Everything that comes out of LaVona's mouth is something people are going to laugh at but wonder, 'Why am I laughing?' " Janney said. "Those kinds of lines, they're awful, but they're funny."
Different scenes are told from the perspective of Harding or Gillooly, and as Robbie and Stan were equally committed to their characters' points-of-view, it led to some conflicts on set. What Harding knew about the plot to attack Kerrigan, and when she knew it, was a frequent point of contention, and both actors defended the position of their characters while shooting.
"She and I had a few moments where we kind of looked at each other, and I'd say, 'She would have known at this point,' and Margot would say, 'But she didn't know,' " recalled Stan. "It was funny. We would get confused ourselves as to what the truth was."
"Sebastian and I would constantly be arguing on set. It was comical. We were turning so much into our characters it was terrifying to us," Robbie said. "We'd go through stages of being best buddies, and then a conflict would come and we'd be arguing. I couldn't have hoped for someone better to do this with."
The film had its world premiere at a rollicking screening during the Toronto International Film Festival that elicited a mixture of laughs and gasps from the audience. Its depiction of domestic violence — including LaVona hitting young Tonya with a hairbrush, kicking her out of a chair at the dinner table or throwing a knife at her and Jeff repeatedly hitting Tonya, including smashing her head into a mirror — has been a point of conversation and controversy ever since.
"The thing that was my biggest concern was the violence in it. It was one of the first questions Margot asked me when we met: 'How are you going to handle that?' " Gillespie said. "And I said, 'I think we have to be brutally honest; we have to show it.' It informs all of her character choices, why she is the way that she is."
Added Robbie, "This movie is entertaining. Those are not entertaining moments."
Much as the lauded television series "The People v. O.J. Simpson" got audiences to reconsider all they thought they knew about a tabloid topic, "I, Tonya" finds an unlikely underdog story inside the saga of the disgraced skater.
"We hope it will make people stop and think for a second before they pass judgment," Robbie said. "It's something that I do, everyone does, and just to be cognizant of the fact it can have a greater effect. It's showing a female character who isn't a victim or a villain or a hero but something else entirely. I think that's more truthful and reflects more women that I know.
"You can't sum her up in a sentence," Robbie added. "You can't sum up a person in a sentence of a neat soundbite headline. There's just so much more to it."
SIGN UP for the free Indie Focus movies newsletter »
Follow on Twitter: @IndieFocus
ALSO
'I, Tonya' blends humor and pathos at TIFF premiere with Margot Robbie as Tonya Harding
Sundance announces 2018 program as festival sits at cultural crossroads
Ruben Ostlund's 'The Square' lands in the new avant-garde of European comedy
Get the Indie Focus newsletter, Mark Olsen's weekly guide to the world of cinema.
You may occasionally receive promotional content from the Los Angeles Times.