'In Full Bloom' spotlights transgender community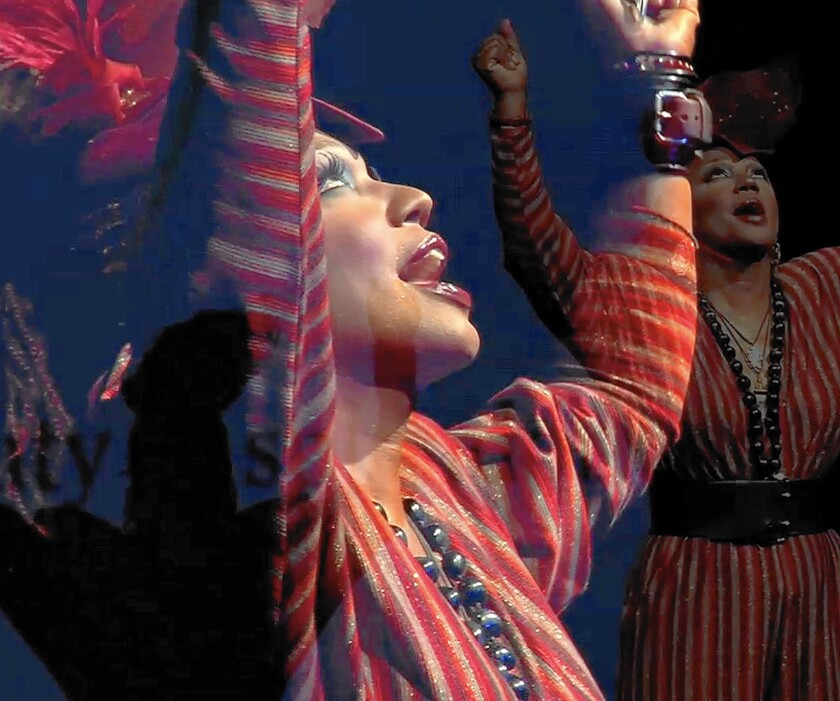 "Orange Is the New Black" actress Laverne Cox and Amazon's acclaimed series "Transparent" may have brought attention to the lives of transgender men and women, but salacious headlines about Bruce Jenner recently prove just how much society has to learn, say the producers of a movie premiering at the Pan African Film Festival this week.
The documentary "In Full Bloom: Transcending Gender" chronicles the lives of 13 transgender people and two gay men as they work to put together a stage play in Hollywood. Los Angeles filmmaker Michael Brewer said it's an effort to humanize the trans community against a backdrop of media that, more often than not, sensationalize or poke fun.
The idea was to let people tell their stories and to normalize the transgender community — to "show what similarities they have with mid-America," Brewer said. "Everyone wants to be loved, and I hope that comes through in the documentary."
The film goes behind the scenes of the play "Lovely Bouquet of Flowers," the joint idea of producers Jazzmun Nichcala and David Gaddas. Nichcala is a transwoman who has appeared in "The 40-Year-Old Virgin" and "CSI: New York"; Gaddas is a filmmaker and political theater activist. After Gaddas heard Nichcala perform a spoken-word piece about being transgender, the two decided to create a stage production that pulled back the curtain on the trans experience.
After interviewing transgender men and women, they wrote the script for "Lovely Bouquet of Flowers" with 15 characters embodying the diversity — and the sameness — of the transgender community.
"I want people to know how complex and diverse these people are and how much depth there is to them," said Nichcala, who also works with transgender people as an educator with the Apait Health Center. "There are so many different communities within 'the community.' I wanted to shine a light on them."
The actors in the play include Maria Roman, a member of West Hollywood's transgender advisory board, as the rose Luisa; Amiyya Wilson, a model, as the poppy Erica; Jaguar St. Claire, a graphic designer, as the sweet william named Claude; and Gizelle Messina, a former makeup artist from San Luis Obispo, as the rose Jacqueline.
The production played at a packed Renberg Theatre in Hollywood in June 2013. Since then, however, the producers feel that positive portrayals of trans people in the media have been subsumed by the insensitive and the sensational.
"It's been going on forever," Nichcala said, referencing episodes of the syndicated tabloid talk show "Maury" in which transwomen have paraded onstage while audience members decided whether they were born male. "It's about the outer appearance, and there's no depth there. They are so concerned about the physical appearance."
Even Golden Globe winner "Transparent" falls short, Gaddas said, with a straight, white actor (Jeffrey Tambor) playing the main character, Maura Pfefferman. The series shows support for the transgender experience, Gaddas said, "but it's not a prototypical story."
Nichcala likened it to spoon-feeding the world, because such representations make people more receptive to a project like "In Full Bloom," which highlights transgender men and women of varying backgrounds.
It's the latest of many movies at the Pan African Film Festival to explore the intersection of race and sexuality. Other LGBT-related films that have premiered at the festival include writer-director Patrik-Ian Polk's "Blackbird," starring Oscar winner Mo'Nique and Isaiah Washington, which screened last year.
Although "In Full Bloom" takes on multiple issues — homelessness, religion, familial support, body enhancement — its light-heartedness plays out as an honest portrayal of trans experiences without beating anyone over the head, said Madeleine Liebert, a documentarian and one of the film's producers.
The people in the film are funny, "but then you laugh and you go, 'Wait a minute, what did you just say?'" Liebert said. "If I can reach someone that way, it's probably going to stay with them longer."
The goal is to start a conversation among those watching the movie, director Brewer said, and to help viewers relate to the subject matter as he did — not as a filmmaker, but simply as a human being.
"I didn't know how deep it would affect me," he said, "but it made me realize that we are the same. We have the same emotions. We have the same issues, and it transcends gender, race and all of those things. Wherever you are in life, we can all identify on some level."
Nichcala wants the play to travel. More interviews can be done across the country. Flowers in the bouquet can be interchanged.
"There's a new flower growing everywhere," she said.
-------------
Pan African Film Festival
When: Thursday through Feb. 16
Where: Rave Cinemas Baldwin Hills 15, 4020 Marlton Ave., Los Angeles
What: "In Full Bloom" premieres at 9:55 p.m. Saturday and screens again at 4:20 p.m. Monday
Other notable films: "The Cooler Bandits," about four teens engaged in restaurant robberies; "Girlfriends' Getaway," in which girlfriends go on a trip to Trinidad and one of them is kidnapped; "First Impression," a romantic comedy chronicling the complexities of Internet dating; "August Wilson: The Ground on Which I Stand," a documentary commemorating the 70th anniversary of the two-time Pulitzer Prize winner's birth and the 10th anniversary of his death; "The Man in 3B," a romantic comedy and thriller about an attractive new tenant's effect on neighbors.
Cost: Most screenings are $9-$12.50 for adults; check for special nights and festival passes
Info: https://www.paff.org
---
The complete guide to home viewing
Get Screen Gab for weekly recommendations, analysis, interviews and irreverent discussion of the TV and streaming movies everyone's talking about.
You may occasionally receive promotional content from the Los Angeles Times.