Hello! I'm Mark Olsen. Welcome to another edition of your regular field guide to a world of Only Good Movies.
We have started to roll out the award season roundtables for The Envelope. First up is the group of actors who sat down with Amy Kaufman and myself to talk about not only their own movies and careers, but also the upheaval over sexual harassment allegations currently rattling Hollywood to its very foundations. It was thoughtful and informative and because they all seemed to genuinely like each other, also unexpectedly fun.
Joining us for the lead actor conversation were Gary Oldman for "Darkest Hour," Hugh Jackman for "Logan" and "The Greatest Showman," James Franco for "The Disaster Artist," Jake Gyllenhaal for "Stronger," Jeremy Renner for "Wind River" and Timothée Chalamet for "Call Me by Your Name."
We also had two terrific events this past week with screenings and Q&As for "Call My by Your Name" followed by a Q&A and the Dutch foreign-language entry "Layla M."
And we've got more coming up soon – some seriously do-not-miss titles – so for updates on future events go to events.latimes.com.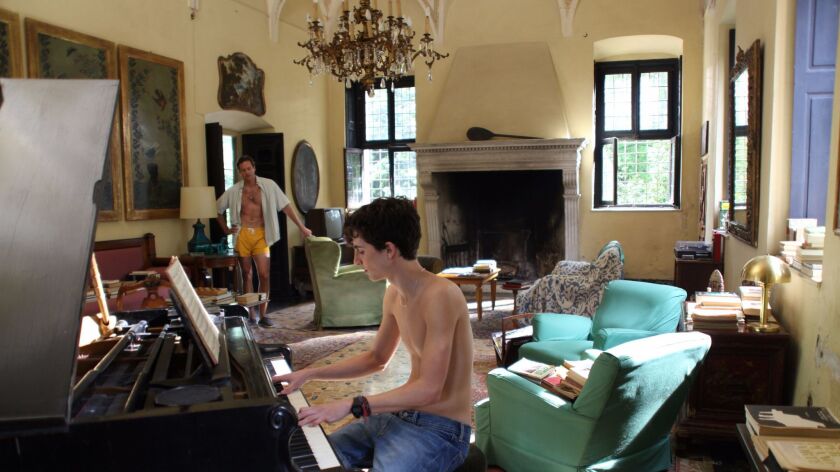 'Call Me by Your Name'
From when it first played at Sundance earlier this year, "Call Me by Your Name" has been one of the year's most anticipated releases. Directed by Luca Guadagnino from a screenplay adapted by James Ivory and with performances by Timothée Chalamet, Armie Hammer, Michael Stuhlbarg and Esther Garrel, the film is about desire and love and the excitement and heartbreak of one summer in Italy. (And expect this to be a movie we continue talking about through awards season.)
In hs review for The Times, Justin Chang declared, "to describe this as one of the year's most pleasurable movies, in short, may be less a matter of critical insight than of simple observation. Pleasure isn't just Guadagnino's intended effect; it is one of his defining obsessions and guiding artistic principles. He has become one of world cinema's great sensualists, a filmmaker whose sun-kissed surfaces and woozy rhythms produce an atmosphere of sweet, heady intoxication."
The Times' Amy Kaufman profiled 21-year-old Chalamet, who can also be seen in "Lady Bird" and "Hostiles." He noted how he is grappling with this flush of attention as it happens while also still experiencing it.
"When I try to appreciate something, it feels like my hands are around the moment, trying to squeeze it. It's when you really release yourself of the responsibility to be enjoying things that you actually do."
For the AP, Lindsey Bahr noted, "And it's an aesthetic journey that pays off in a stunning third act when the endless summer quickens to light speed and is gone in a flash… The characters might not be able to go back and relive those idle days, but we can."
At Vox, Alissa Wilkinson added, "The way 'Call Me by Your Name' intermingles lust and love, desire and selflessness, flesh and soul is fully in service of Eros, but it isn't just about sex, though that's certainly a big part of it... It summons an erotic orientation toward the world with all its power, and then pours it onto the audience. It is, undoubtedly, Guadagnino's masterpiece."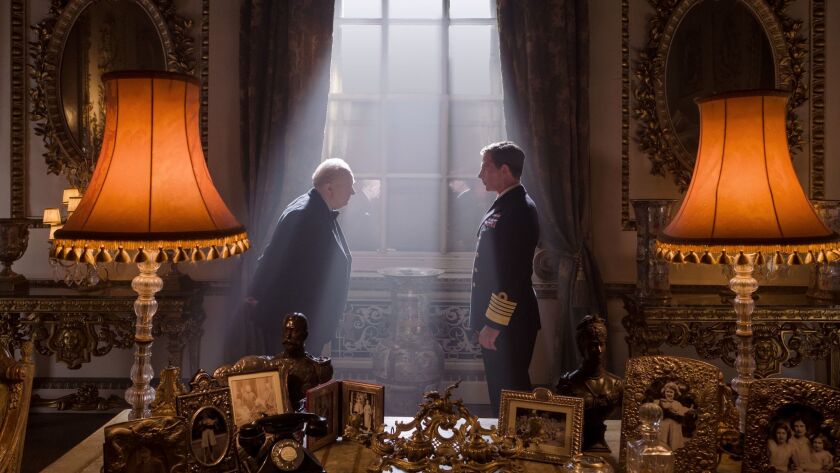 'Darkest Hour'
Even if you've already seen plenty of depictions of Winston Churchill on-screen, you've never seen anything quite like Gary Oldman's energetic embodiment of the man in "Darkest Hour," which depicts the British prime minister in the early days of World War II. Directed by Joe Wright, the film is also the third this year, after "Their Finest" and "Dunkirk," to depict the events around the perilous evacuation of soldiers from the beaches of France. (And all three movies are marvelous companion pieces to each other.)
Reviewing the movie for The Times, Kenneth Turan celebrates Oldman's performance by saying, "Only those who knew Churchill can say whether Oldman's fine performance is an accurate representation of what the British leader was like behind the scenes, but as a portrait of a wildly eccentric, believable human being, it succeeds beyond doubt."
Jeffrey Fleishman recently took a look at the renewed pop culture interest in Churchill, who has popped up in multiple recent television shows and movies.
As Fleishman noted, "His eccentricity and breadth of talent – skilled painter, gifted writer, incisive comic – are that much more pronounced when compared with many of today's world leaders… He was that rare character who was both a hero to the right (militaristic and unapologetic against fascism) and the left (an intellectual beloved by the common man)."
In his New York Times review, A.O. Scott added that the film depicts Churchill as taking pleasure in his work and that, "In grasping that joy, Mr. Oldman partakes of it and passes it along to the audience. He is having fun, playing the part in every sense. And his blustery, blubbery charm, backed as it is by a sly and acute intelligence, is hard to resist."
At New York Magazine, Emily Yoshida added, "Everyone seems to be a walking embodiment of an essence, not cartoons exactly, but something more totemic. If all this makes 'Darkest Hour' propaganda, then the shoe may fit, though it's hard to find fault with its protagonist's aims, at least in this small of a scope."
At the Village Voice, Bilge Ebiri interviewed Wright, who said of "Darkest Hour" that "what I love about the story is that it's about the importance of doubt in the search for wisdom, and the importance of wisdom in leadership."
'Thelma'
The filmmaker Joachim Trier is a real favorite around here, someone who is able to make films with emotional depth that also have an unexpected lightness of touch. His latest, "Thelma," is an unexpected turn to genre filmmaking, as it is something of a supernatural mystery/romance/coming of age tale. In the film a young woman (Eli Harboe) struggles to fit in at college as she finds her paranormal powers growing in parallel to unexpected attraction to a classmate (Kaya Wilkins.) The film is also Norway's submission for the foreign-language Academy Award, so hopefully we'll have some chances to revisit it in the coming months.
In his review for The Times, Justin Chang noted the "impressive nuance" of the film, and added that it is "tense, thoughtful and beautifully composed, and it contains at least two sequences, both of them flashbacks, that tap into a vividly primal sense of terror. It also contains moments that suggest an upscale European spin on a standard-issue schlock horror movie, the kind where big revelations come courtesy of a few creepy Google searches and a trip to the mental hospital."
The New York Times' Manohla Dargis was among the earliest and strongest critical voices to champion Trier's work. In her review of "Thelma" she notes that the film "works with some largely recognizable narrative ideas, but it's finally too pleasurably unruly to fit into one box."
She goes on to say, "Mr. Trier has a great talent for making loneliness visceral and visible, for showing how pain can make the world disappear. Thelma's anguish can shatter a wall of glass, but her story is never more frighteningly true than when she's just another lonely girl in the frame."
When "Thelma" played the New York Film Festival this past fall, Trier sat for an engaging talk alongside directors Claire Denis and Kevin Jerome Everson.
Email me if you have questions, comments or suggestions, and follow me on Twitter @IndieFocus
---