Indie Focus: Reaching for more in 'The Old Man and the Gun,' 'Monsters and Men' and 'Free Solo'
Hello! I'm Mark Olsen. Welcome to another edition of your regular field guide to a world of Only Good Movies.
This is another strong week with frankly more worthwhile movies than fit into the typical format of this newsletter. (And that's definitely not a complaint!)
The feature debut as writer and director for Eva Vives, "All About Nina" is both a showcase for a powerhouse performance by Mary Elizabeth Winstead as an emotionally volatile stand-up comic and a searing story of a sexual assault survivor moving forward with her life. As Katie Walsh put it in her review for The Times, "both bleakly humorous and laugh out loud funny, the brilliant 'All About Nina' is a powerful film about the importance of women's voices, and the change that can come from telling your story."
Robert Greene has been making some of the most provocative documentaries of the past few years, largely because of his pointed interrogation and self-critique of the practice on nonfiction filmmaking itself. How real can it be, his movies all seem to ask. And his latest, "Bisbee '17," is no different, using a historical reenactment in Bisbee, Ariz., as an opportunity to examine issues of immigration and assimilation while also questioning documentary forms.
As Justin Chang said in his review for The Times, "one of the pleasurable discoveries of this continually surprising movie is that artifice can be the most direct route to the truth. That's especially the case here, perhaps, given that the issues raised remain as urgent and upsetting in the present as they were 100 years ago. The lesson of 'Bisbee '17,' signaled by that sly apostrophe in its title, is that the past is never really past."
And I published my recent interview with David Cronenberg ahead of his appearances in Los Angeles as part of Beyond Fest. He is just a pleasure to listen to, as the filmmaker dug deep into what genre filmmaking once meant to him and how he thinks of it now. He also noted that he isn't bothered by the image of an exploding head from his 1981 film "Scanners" taking on a life of its own on social media.
"A lot of people, especially these days, have felt like their heads are exploding," he said. "If it gives you a little relief to see somebody else's head exploding, then that's probably a good thing."
We'll have new screening and Q&A events of our own soon. For info and updates on future screenings, go to events.latimes.com.
'The Old Man and the Gun'
Directed by David Lowery, "The Old Man and the Gun" is a gentle, small-scale movie about a bank robber that considers what drives people to do the things they do. And because that bank robber, based on the real-life character of Forrest Tucker, is played by Robert Redford in what may be his final screen role, the movie also considers the nature of Redford's particular gifts as actor and star as well. The supporting cast includes Sissy Spacek, Casey Affleck, Tika Sumpter, John David Washington, Danny Glover and Tom Waits.
In his review for The Times, Kenneth Turan wrote that the movie, "succeeds wonderfully well in part because of the effortless movie star charisma of its old school stars, Robert Redford and Sissy Spacek." He added that Lowery had "made a film that unfolds serendipitously, never quite doing what you expect when you expect it."
I'm currently working on a story about the film. On the enduring movie-star appeal of Redford, Lowery said, "I think it was his iconoclastic attitude towards everything. And this is something I've talked with him a lot about lately as we've been chatting about the movie, he has always just seen himself as an outlaw and he projects that in everything he does. I think that combined with the way he looks, the movie star good looks really made him pop in a way that no other movie star was popping."
At the New York Times, A.O. Scott noted that Redford's recent work "offered a series of master classes in understatement. At a time when bluster, bragging and histrionic displays of self-pity are apparently the defining characteristics of American manhood, it's nice to be reminded of the virtues of discretion and quiet. Forrest seems like a gent who would be pleasant to hang out with, easy to forgive and impossible not to admire, for how cool he is if nothing else."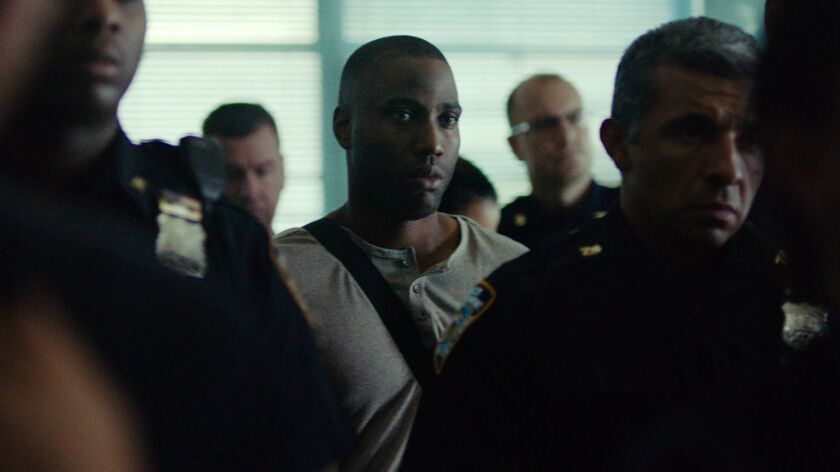 'Monsters and Men'
Written and directed by Reinaldo Marcus Green, "Monsters and Men" unfolds in three acts, each dealing with the aftermath of the same police shooting of an unarmed man in Brooklyn. One details a young man (Anthony Ramos) who was witness to the incident. Another a cop (John David Washington) trying to find a space for himself within an unforgiving culture. The third is about a high school baseball star (Kelvin Harrison Jr.) who feels driven toward activism. And it all adds up to a probing, commanding drama.
For The Times, Justin Chang called the film "both sobering and breathtaking," before adding, "The result, while fragmented by design, is a politically astute, emotionally layered examination of a violent death and its lingering psychic residue. It's about how the aftermath of a tragedy spirals outward into a community, sending tendrils of shock, anger and anxiety into the lives of even those hovering on the periphery."
Tre'vell Anderson spoke to Green for an article that will be publishing soon. We also included the film as part of a conversation for the Reel podcast that included myself, Anderson, Chang and Jen Yamato on recent movies that seem to be capturing the mood of the moment, that also included "Fahrenheit 11/9," "Assassination Nation" and "Suspiria."
For Vanity Fair, Richard Lawson reviewed the movie when it premiered earlier this year at Sundance, writing, "Green is clearly interested in that larger context, but he keeps his film's gaze intimate."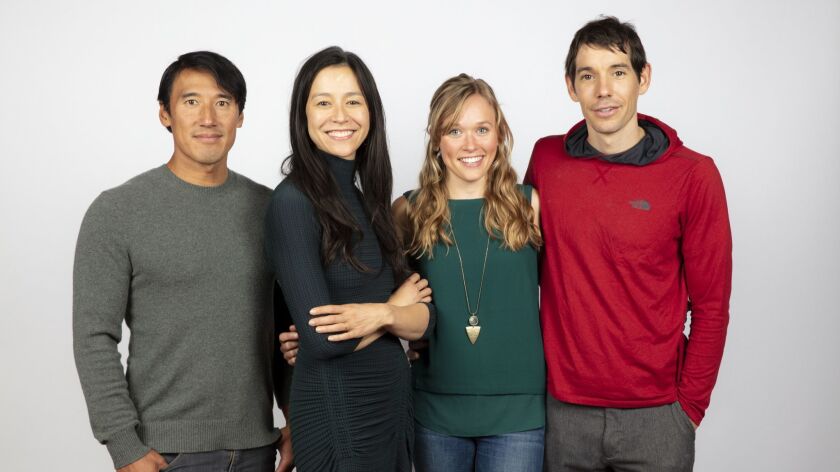 'Free Solo'
A documentary directed by the married filmmaking team of Elizabeth Chai Vasarhelyi and Jimmy Chin, "Free Solo" is the story of celebrated climber Alex Honnold, known for working without ropes, and how his growing personal relationship with Sanni McCandless affected his performance as he prepared for a new climb.
In his review for The Times, Kenneth Turan called the film "both intimate and expansive," while adding that it is "also a surprisingly personal film, allowing us privileged glimpses of Honnold's private life."
Amy Kaufman interviewed the two couples behind the movie. As Vasarhelyi put it, "I think what the film was trying to say was that we were questioning Alex's judgment for training with a novice when he's training for this big objective… It was all so intense. To fall in love with Sanni in front of the cameras while you're working on the biggest dream of your life while this big production is around you — it was a lot."
Email me if you have questions, comments or suggestions, and follow me on Twitter @IndieFocus.
---
Inside the business of entertainment
The Wide Shot brings you news, analysis and insights on everything from streaming wars to production — and what it all means for the future.
You may occasionally receive promotional content from the Los Angeles Times.