Indie Focus: SXSW, 'A Wrinkle In Time,' 'The Death of Stalin' and 'Thoroughbreds'
Hello! I'm Mark Olsen. Welcome to another edition of your regular field guide to a world of Only Good Movies.
Greetings from Austin, Texas, where Jen Yamato and I are covering as much of the South By Southwest Film Festival as we can. Between the movies, panels, events and, you know, Austin, it's no easy task.
This is the 25th year of the SXSW Film Festival, and I took a look at what makes this fest unique from many others, with its longtime emphasis on discovery, female filmmakers, comedy and films that get overlooked elsewhere.
Jen Yamato talked to filmmaker Julia Hart, co-writer Jordan Horowitz and star Gugu Mbatha-Raw about one of this year's breakout titles, "Fast Color," which positions itself as a different kind of superhero movie.
" 'Fast Color' came out of this idea of moms as superheroes," explained Hart. "I'd never seen a mom who was literally a superhero in a movie before."
Keep an eye out for more of our coverage from here at SXSW.
Later in March, we will have an event with "Gemini," which premiered at SXSW last year, that we'll have details about soon. For info and updates on future events, go to events.latimes.com.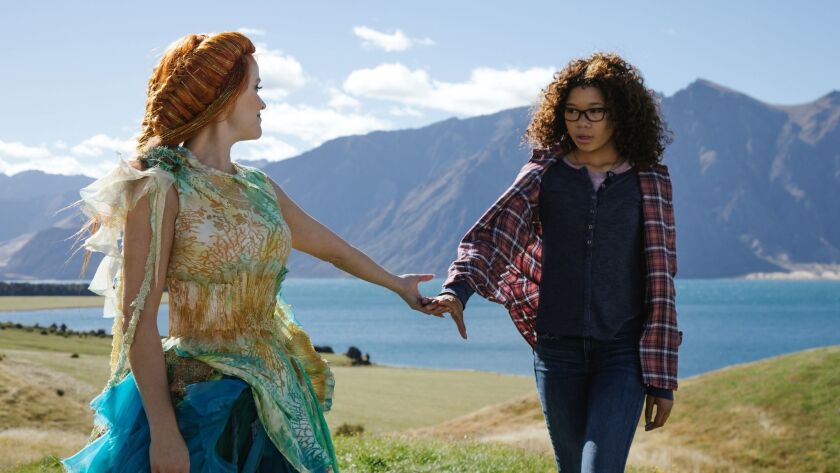 'A Wrinkle in Time'
Filmmaker Ava DuVernay has made herself into a force to be reckoned with in Hollywood, so it is only fitting that she be the first African American woman to direct a movie with a budget of over $100 million with "A Wrinkle in Time." An adaptation of the novel by Madeleine L'Engle, the film stars Storm Reid, Reese Witherspoon, Oprah Winfrey, Mindy Kaling, Gugu Mbatha-Raw and Chris Pine.
In his review for The Times, Justin Chang had this to say of the film: "By turns gorgeous, propulsive and feverishly overwrought, 'A Wrinkle in Time' is an otherworldly glitter explosion of a movie, the kind of picture that wears its heart on its tie-dyed sleeve. It's the product of a big, unwieldy and excitingly go-for-broke vision, one etched in bright hues and kaleidoscopic visual effects, in busy musical orchestrations and original pop songs from artists like Sade, Sia and Demi Lovato."
Tre'vell Anderson spoke to DuVernay and her young star, Storm Reid. Though the film may seem an unusual choice for the filmmaker, she doesn't see it that way.
"I didn't want to be put in a box," she said. "But even though this is for 8- to 12-year-olds, it's still speaking to the same things — parity and equality and justice. … This movie is not 'Selma' in space. It's a movie for children that I had on my heart to make to tell young people some things that are important to me."
At the New York Times, Manohla Dargis noted, "The diversity of its cast is both a welcome innovation and the declaration of a new norm. This is how movies should look from now on, which is to say how they should have looked all along. Fans of the book and admirers of Ms. DuVernay's work — I include myself in both groups — can breathe a sigh of relief, and some may also find that their breath has been taken away."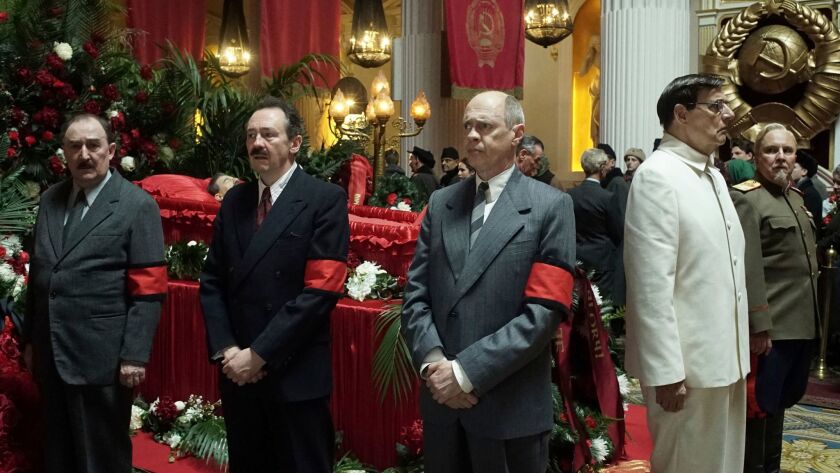 'The Death of Stalin'
Directed and adapted by Armando Iannucci, who created the TV show "Veep," "The Death of Stalin" is a dark political satire and an odd slice of history set around the political positioning put in motion by the death of the Soviet leader in 1953. The film stars Steve Buscemi, Michael Palin, Jason Isaacs, Jeffrey Tambor, Simon Russell Beale, Rupert Friend and Andrea Riseborough.
In his review for The Times, Kenneth Turan wrote, "This is a comedy of terrors that creates laughs but doesn't let you forget that Stalin and his coterie caused the deaths of untold numbers of Soviet citizens."
Jeffrey Fleishman had a freewheeling interview with Iannucci, covering, among other things, the difficult balance the film strikes in its tone.
"It's tricky, and I knew it would be," Iannucci said. "It would rise or fall on that balance. If we didn't get it right, it would either be too grim to be funny or not believable because it's too silly."
For rogerebert.com, Glenn Kenny noted Iannucci's decision to let his cast speak in the their natural accents rather than conforming to some idea of what Russians should sound like, adding, "It allows the virtuoso cast to have at each other in a brisk and seemingly spontaneous a way as possible. You get a feel for the characters that transcends accents."
'Thoroughbreds'
The film debut of writer-director Cory Finley, "Thoroughbreds" is a delightfully wicked story of two teenage girls (Anya Taylor-Joy and Olivia Cooke) who become entwined in a dark, obsessive relationship. The film is also the final role for actor Anton Yelchin.
In his review for The Times, Justin Chang noted, "The threat of violence churns beneath nearly every frame of this poised and coolly disturbing movie, but Finley's diabolical sense of mischief is held in check — and in some ways amplified — by his discretion. The story is rife with lethal intentions and nasty dealings, and the tension is no less acute for the fact that the worst of what happens is left to the imagination."
I spoke to Finley, Cooke and Taylor-Joy about the movie and the push-pull relationship between the two young women and the movie's playful take on genre.
"Even though it is, I guess, a psychological thriller, genre-wise, the core thing that you're tracking is the relationship, and it is structurally almost a very perverse romantic comedy," Finley said. "That's the genre where I feel like two characters can be the two heroes and the two villains of the film — they are both one another's chief obstacles and one another's chief goal in the movie.
For the Wrap, Inkoo Kang noted, "If you don't mind your movies nasty, brutish and slight, you couldn't ask for a more delectable chocolate-covered razor blade."
Email me if you have questions, comments or suggestions, and follow me on Twitter @IndieFocus
---
The complete guide to home viewing
Get Screen Gab for weekly recommendations, analysis, interviews and irreverent discussion of the TV and streaming movies everyone's talking about.
You may occasionally receive promotional content from the Los Angeles Times.