The breakthrough talents of 'Thoroughbreds' put a dark twist on teen tale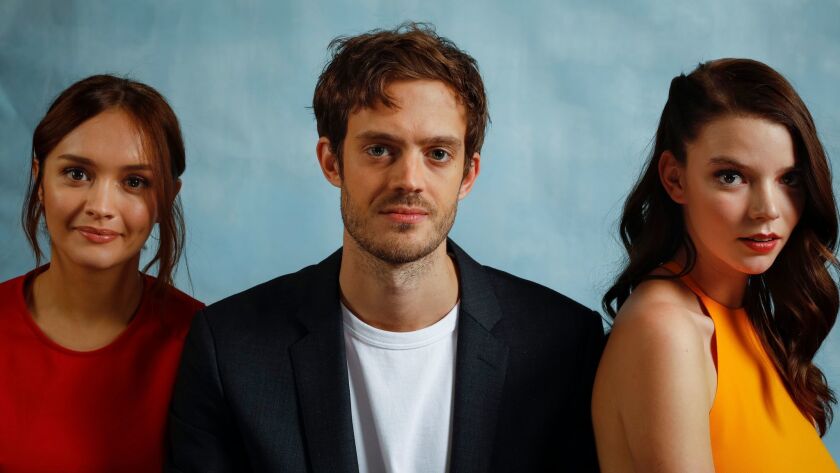 Teenage friendships can run deep while also taking on a skittish, volatile energy. The new film "Thoroughbreds" explores one such relationship that takes an unusual turn to dark, dangerous consequences.
In the film, two high school girls in an exclusive East Coast enclave lead lives of blank loneliness and a desperate frustration for something else. Amanda (Olivia Cooke) has become a social pariah and is set up to study with an estranged childhood friend Lily (Anya Taylor-Joy). The mismatched pair becomes increasingly drawn to one another and hatch a plan to murder Lily's stepfather, Mark (Paul Sparks). The scheme also involves a local drug dealer (Anton Yelchin) as a pawn in their game.
"Thoroughbreds," which premiered at the 2017 Sundance Film Festival and opens in limited release March 9 from Focus Features, is the debut of 29-year-old New York-based playwright turned filmmaker Cory Finley. Amidst the barbed dialogue and tricky plotting, Finley had a few essential ideas he wanted to explore.
"It was certainly unpacking my own complicated feelings about social class and privilege and wealth and then it was also about these sort of core moral questions," Finley said. "There were certain moral questions and moral inconsistencies about human thinking that were interesting to me. I liked the idea of these two characters who were very intellectually sophisticated but still young and had a very insulated worldview."
The earliest version of the story focused on Lily's mother, now a tangential figure in the movie, but Finley found himself more and more drawn to expanding the character of her daughter. Once he transformed Lily's male friend into another young woman, the story truly clicked into place.
Written as a play, most of the action took place with the two young women seated on a couch. As he realized he wanted to move and explore their physical space more, Finley rewrote the script as a screenplay.
"Thoroughbreds" was filmed over a month in 2016, and Finley, Taylor-Joy and Cooke found themselves reunited for press duties gearing up for the release. The trio sat down for lunch recently in an upscale West Hollywood hotel that was perhaps a bit too hip for the stuffy patrician world of the film.
Both actresses had breakthroughs at the 2015 Sundance Film Festival: the U.K. born Cooke, 24, with "Me and Earl and the Dying Girl" and Miami native Taylor-Joy, 21, with "The Witch." Besides having appeared on the TV series "Bates Motel," Cooke will also be seen in the upcoming Steven Spielberg film "Ready Player One." Taylor-Joy appeared in M. Night Shyamalan's "Split" and will also be in his upcoming "Glass" as well as Marvel's "The New Mutants."
"Anya and I have both played very innocent ingénues," said Cooke. "We've never had the chance to be really wicked thus far in our careers, the chance to play with this really sharp dialogue and also to work out the art of manipulation and fakery and to work within the parameters of this really obsessive relationship that I think a lot of young women have when they're that age."
"Sans murder," interjected Taylor-Joy, while adding, "At its core, it's essentially a really long conversation between these two girls who are consistently usurping each other through dialogue, manipulating each other through various degrees of transparency."
The film explores an unusual screen chemistry between the characters of Lily and Amanda — initially not so much an attraction as a form of friction — as they rub each other the wrong way before finding the simpatico common ground of a working dynamic.
"Each of them has attributes and qualities the other desperately wants because they feel like that's what would make them complete," said Taylor-Joy. "And together, they're terrifyingly unstoppable. They complete one another. And so there's a sort of morbid fascination in watching each other and desperately wanting that thing that the other has."
Right from when it premiered at Sundance, the film has garnered comparison to films such as "Heathers" and "Cruel Intentions" for its unsettling depiction of teenage life, along with the work of Korean filmmaker Park Chan-wook ("Oldboy," "The Handmaiden") for its air of chilly stylization.
While Finley is happy to see the film compared to modern classic teen films, he said the goal was not "an entry into the murderous teens genre." Instead, the inspiration was something more along the lines of the film noirs his characters watch on late night TV and classic amoral murder stories such as "The Postman Always Rings Twice" or "Double Indemnity."
"Even though it is, I guess, a psychological thriller genre-wise, the core thing that you're tracking is the relationship and it is structurally almost a very perverse romantic comedy," Finley said. "That's the genre where I feel like two characters can be the two heroes and the two villains of the film — they are both one another's chief obstacles and one another's chief goal in the movie.
"There is this whole murder plot, but, to me, that is just this device to get into what they really need from one another, this weird tenderness that's underneath," he added.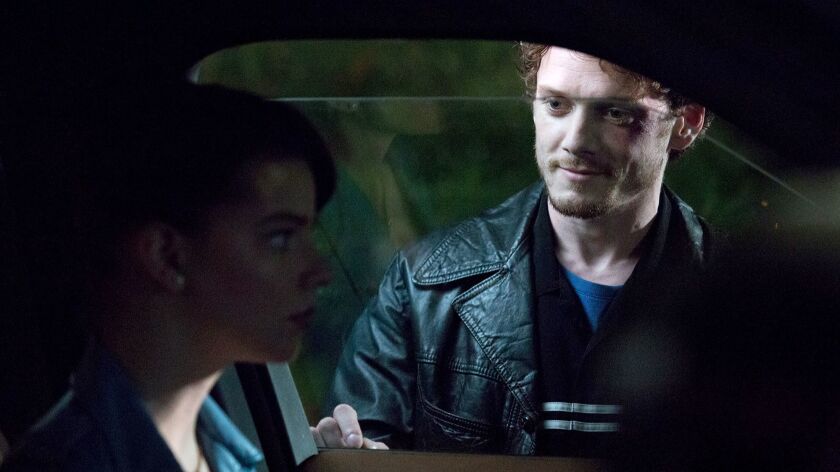 "Thoroughbreds" is among the final performances for Yelchin, who died in June 2016 shortly after the film finished shooting. Finley, Taylor-Joy and Cooke all fondly remember him for his curiosity and generosity, noting that he often stayed on set even when he wasn't shooting.
"I just feel super grateful to have had the chance to have worked with him and super grateful to be a part of the incredible line of filmmakers he worked with over the course of his career," said Finley. "He approached everything he did with such a seriousness of purpose but such a playfulness of execution. We were all just big fans and were all excited for him to show up on set. It was a wonderful experience making the movie with him."
When the film premiered at Sundance last year, the world was a much different place, with the very beginning of a new presidential administration and months before the popular conversation around gender equality had reached its current cultural volume.
"It is interesting how the political climate and cultural climate the movie is coming into has changed so massively in the two years since we made it," said Finley. "It's interesting for me to keep revisiting it as each horrible thing happens in the news and as the culture shifts around it."
With its dark themes and depictions of bad behavior, "Thoroughbreds" isn't exactly an exemplar of the transformational energies of empowerment that mark the current moment. At its core, it's a chamber drama about obsession and self-possession, but the film nevertheless finds two young women making big decisions with weighty consequences.
"I will say that I don't necessarily see it as not empowering, it's just not necessarily empowering in that way that people would like it to be," said Taylor-Joy. "It's a very dark thing to say, but Lily would hate me if I didn't slip this in — in some of the last scenes of the movie, I felt this huge surge that she had come into a place of intense power. Not in a commendable way, but ... the girl gets what she wants and no one is going to repress her ever again."
SIGN UP for the free Indie Focus movies newsletter »
Follow on Twitter: @IndieFocus
---
The complete guide to home viewing
Get Screen Gab for weekly recommendations, analysis, interviews and irreverent discussion of the TV and streaming movies everyone's talking about.
You may occasionally receive promotional content from the Los Angeles Times.