Indie Focus: Going places in 'Three Billboards Outside Ebbing, Missouri' and 'It Happened in L.A.'
Hello! I'm Mark Olsen. Welcome to another edition of your regular field guide to a world of Only Good Movies.
This weekend saw the academy's Governors Awards, which besides being an event where honorary Oscars are given has become a key moment for awards campaigning. It's a whirlwind weekend of press events, Q&As, parties and the like.
This year there were four honorees, Charles Burnett, Agnès Varda, Owen Roizman and Donald Sutherland.
Josh Rottenberg talked to Sutherland, who has astonishingly never been nominated for an Academy Award.
"I never expected to be nominated – ever," Sutherland said. "I've been an actor for as long as I can remember. The idea that I was making movies was beyond my expectation."
Josh also talked to Roizman, cinematographer on such films as "The French Connection, "The Exorcist" and "Tootsie." A five-time Oscar nominee, Roizman said, "The thing I'm probably the most proud of in my career is the fact that my five nominations were all for different genres."
Tre'vell Anderson talked to Burnett, the filmmaker behind "Killer of Sheep," "To Sleep With Anger" and "The Glass Shield," who had this simple advice for young filmmakers, "learn your craft, and try to say something."
Justin Chang spoke to French filmmaker Agnès Varda, who wondered aloud about how an honorary Oscar is different from a regular Oscar, asking "Do they give four little Oscars? Or are they the same size?"
Justin also surveyed some of the best selections from the AFI Fest, which is happening now. It is one of the best annual film events in the city and well worth checking out.
On Monday we've got a very exciting screening of this year's Cannes Palme D'Or winner "The Square," followed by a Q&A with the film's star Claes Bang. For updates on future events, or go to events.latimes.com.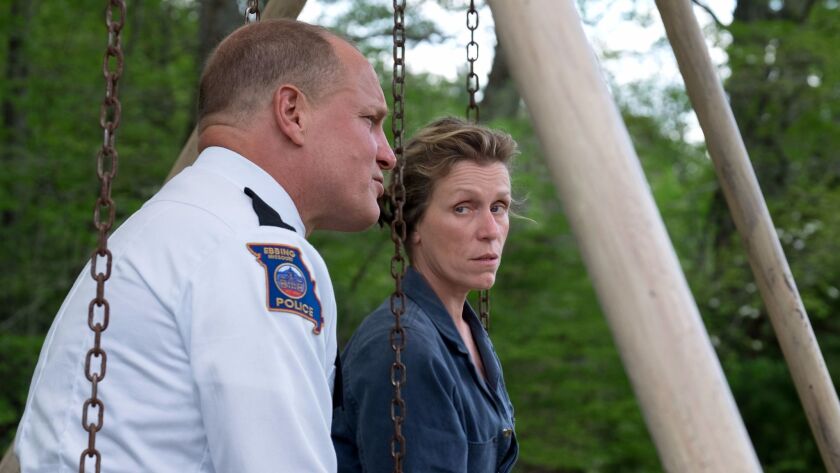 'Three Billboards Outside Ebbing, Missouri'
Writer-director Martin McDonagh crafts a bold, funny, deeply moving meditation on the elemental emotions of grief, rage, regret and revenge with his new "Three Billboards Outside Ebbing, Missouri."
In the film Frances McDormand gives a towering performance as Mildred Hayes, a divorced mother who rents three billboards near her house to needle the local police over the fact they have arrested no one for the rape and murder of her teenage daughter seven months earlier. Woody Harrelson plays the local sheriff, while Sam Rockwell plays a difficult deputy.
In his review of the film, Kenneth Turan said "bleak humor notwithstanding, 'Three Billboards,' concerned as it is with grief, revenge, the nature of violence and the pervasiveness of despair, has serious issues on its mind. But if you're expecting anything close to pious moralizing, you are very much in the wrong place.
I spoke to McDonagh and Rockwell during the Toronto International Film Festival. You can watch the video here.
Amy Kaufman also interviewed Rockwell, who said, "It was just a great part. The journey this guy takes is just amazing, you know? Barney Fife into Travis Bickle."
Manohla Dargis reviewed the film for the New York Times, writing of McDormand and her performance, "In this movie, she makes pain so palpably all-encompassing that you see it in her character's every glance and gesture: It squares Mildred's jaw, hardens her mouth and turns her face to stone, as if she were further fortifying her defenses. But pain also makes her ugly, maybe irredeemable, which also makes her joltingly, excitingly human."
'It Happened In L.A.'
The debut as feature writer and director for Michelle Morgan, who also stars in the movie, "It Happened In L.A." is a look at the romantic lives of a group of young people in the creative enclaves of Los Angeles that has drawn comparisons to Woody Allen and Whit Stillman. The movie also stars Kentucker Audley, Jorma Taccone, Dree Hemingway, Margarita Levieva and an extended supporting cast.
In her review for The Times, Katie Walsh took note of the characters' "weaponized disdain" and added "Ultimately, the grumpy young folks of 'It Happened in L.A.' discover that misery does love company, and they all might as well be miserable together. For these characters, that's as close as a happy ending as they can muster."
I interviewed Morgan back when the film premiered at Sundance (and was called "LA Times"). As she said then, "Nothing in the movie is particularly autobiographical. I mean, is the character me? Every character that you write as a writer is a little bit of you. I think that if you're going to make a movie and you're going to star in it, you should poke fun at yourself, and I tried to do that."
Reviewing the film for the New York Times, Andy Webster noted that "glimmers of promises abound" in the film, and that "as a screenwriter, Ms. Morgan is nimble with glib conversation, and she is fearless at playing an often unlikable character … You sense that Ms. Morgan can deliver harder punches. Maybe someday she will."
Email me if you have questions, comments or suggestions, and follow me on Twitter @IndieFocus
---
Inside the business of entertainment
The Wide Shot brings you news, analysis and insights on everything from streaming wars to production — and what it all means for the future.
You may occasionally receive promotional content from the Los Angeles Times.