Q&A: From 'MASH' to 'The Hunger Games,' 2017 honorary Oscar recipient Donald Sutherland looks back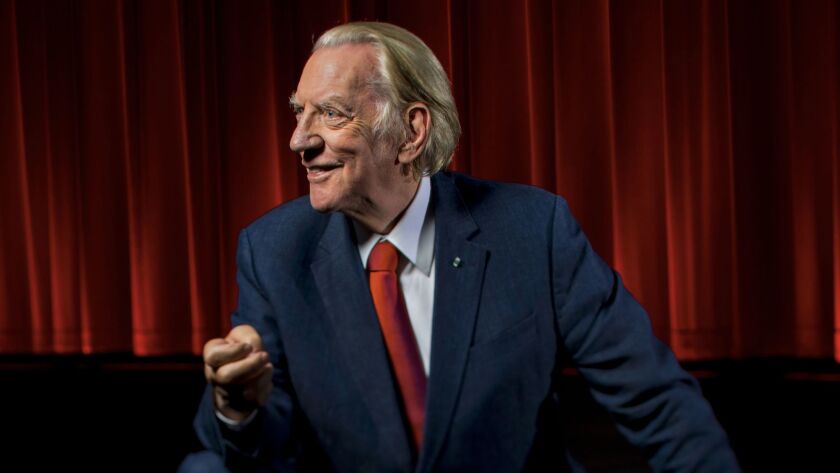 At 82, Donald Sutherland still maintains a busy schedule that would drain some people half his age. On a recent afternoon, he sat in the Beverly Hills headquarters of the Academy of Motion Picture Arts and Sciences, having recently flown in from Europe, where he was working on two upcoming projects, the sci-fi thriller "Ad Astra" and the FX series "Trust," in which he will play billionaire industrialist John Paul Getty.
"I was really tired last night," the actor said, sipping a cup of tea. "I had to go to the dentist and I fell asleep when he was drilling my tooth. So it is fatiguing."
In more than half a century of acting, that work ethic has yielded countless great performances, from 1970s classics like "MASH," "Klute," "Don't Look Now" and "Invasion of the Body Snatchers" all the way up to the recent blockbuster "Hunger Games" trilogy, in which he played the villainous leader President Coriolanus Snow. Yet throughout it all, shockingly, Sutherland has never received a single Academy Award nomination.
Now, in recognition of his entire career, the Canadian actor will be honored with a lifetime achievement Oscar at the academy's Governors Awards on Saturday. Speaking with The Times, Sutherland reflected on the whole long, unexpected journey.
What was your reaction when you learned you would be receiving a Governors Award?
I was, to be truthful, numb. I was waiting for my wife [actress Francine Racette] to say something, but she was numb too. It's not something that's ever been anywhere near the parameters of my existence. It might be in the area of wishful thinking or something, but that's outside reality. It was stunning.
You've often been listed as one of the best actors to never receive an Oscar nomination, so you could argue this is just finally righting a wrong.
I never expected to be nominated – ever. I've been an actor for as long as I can remember. The idea that I was making movies was beyond my expectation. The reality was working and doing the work as well as you could and avoiding reading reviews and getting to the heart of the truth of something with the director. And if the director was pleased and we had that connection then that was wonderful.
You were in your mid-30s and had been doing small roles in movies for years when you finally broke through to stardom in "MASH." Had you ever had a plan B?
I never thought about it. I didn't think of myself as a failure or a success. It was just all about working. Actors work. And it's true what they say: There are no small parts. For me, they're people, and their life becomes an intimate, integral part of my life.
Throughout your career, you've straddled the line between leading man and character actor. Did you just never buy into that dichotomy?
In 1962, I went for the first film audition I ever went to. I never thought I'd work in film, but I did it and I thought I had done really well. The next morning, the director, the writer and the producer all called, and the producer said, "We loved you and we all wanted to call together to explain why we aren't casting you. We've always thought of this character as a kind of guy-next-door sort of fellow. And, to be absolutely truthful, we don't think you look like you've ever lived next door to anybody."
So that's the foundation of how you have to approach life when you're me.
Did you ever turn down any roles that you regretted?
That's hard. [Director] John Boorman wanted me to do "Deliverance" and I just said, "No, I can't. I will not do a violent film." I also turned down Sam Peckinpah's "Straw Dogs." I thought I was going to be part of a revolution that was going to change movies and its influence on people.
If I had done "Deliverance," it probably would have changed the arc of the way things went. I would not have gone to Canada and done [the 1974 western] "Alien Thunder" for one of the truly wretched directors of the world. But I would not have met my wife, and we've been together for nearly 46 years now.
You have always seemed to work nonstop, sometimes doing four movies in a year. What drives you to work so much?
Well, why not? I love to be a part of these men that I play.
People say, how can you play this bad guy? I'm sorry, he's not bad. You might think he's bad, but he doesn't think he's bad and I am invested in him. I kept thinking Coriolanus Snow [in the "Hunger Games" trilogy] kept admirably justifying himself. The reality was he had a country to run. At least he was running it, which is more than you can say for some people.
It was funny, at the beginning with "The Hunger Games," to walk through an airport and suddenly you feel this tug and you look down and it's some young person — always a girl, never a boy. And her mother is standing there and they say, "Could you take a photograph with my daughter?" And we'd be standing beside each other and I'd be looking at the camera and the girl would say, "Could you look mean?"
It must be gratifying to get that kind of appreciation from younger people after all these years.
[Pauses, holding back emotion] I have to be careful because just the thought of it unlocks some visceral weeping. So I have to be aware of that. But yes, I can't think of anything lovelier. And more than that, my wife is very pleased. And my children, gosh, they're so happy.
Has the idea of retiring ever entered your mind?
Yeah, of course. But you have to understand that retiring is being dead, and I think about death a lot. So in that sense it has entered my mind. I will not be able to make any more movies when I am dead. But up until then, I'm going to be making movies.
Already a subscriber? Thank you for your support. If you are not, please consider subscribing today. Get full access to our signature journalism for just 99 cents for the first four weeks.
---
From the Emmys to the Oscars.
Get our revamped Envelope newsletter, sent twice a week, for exclusive awards season coverage, behind-the-scenes insights and columnist Glenn Whipp's commentary.
You may occasionally receive promotional content from the Los Angeles Times.