After speaking out against Harvey Weinstein, two actresses join forces to protect others in Hollywood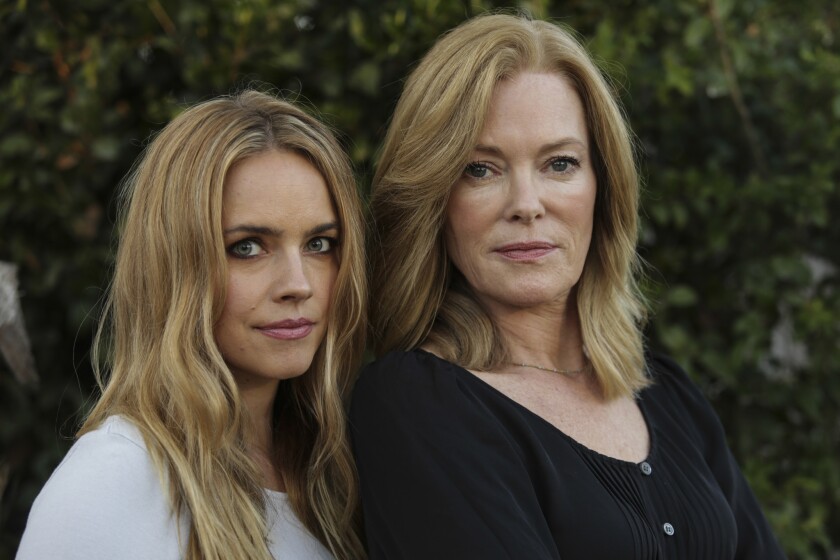 In the year since Jessica Barth and Caitlin Dulany came forward with separate stories of alleged sexual harassment by film mogul Harvey Weinstein, the actresses have formed a bond.
"Talking to other survivors, there's no shame," says Barth, 38. "And that's freeing, because it's difficult for me to talk to my closest friends and family about it."
"There's a side to this past year that's been very heavy. It's a little bit like being re-traumatized," adds Dulany, 51. "I'll feel shut down or angry, and I get lifted up talking to other survivors."
Almost immediately after the two met in December as part of the "Frontline" documentary "Weinstein," they began discussing ways in which they could lend their voices to the #MeToo movement and help make the entertainment industry safer. Since they hadn't been invited to participate in any of the early gatherings for Time's Up, an industry support group formed by Hollywood celebrities, they decided to form their own organization.
Voices in Action, their Los-Angeles-based group, aims to empower those who have experienced sexual misconduct by connecting them with fellow survivors and advocating for legislative change and public education.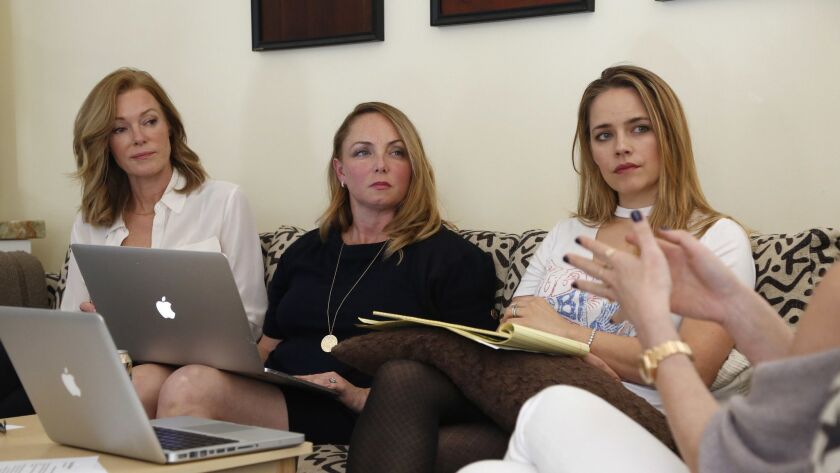 The group, which plans to unveil its website Monday, will focus on providing information to survivors who want to publicly tell their stories and facilitating the process of coming forward. The centerpiece of Voices in Action's website is an online reporting system. It is the brainchild of Barth, who last year created the Twitter hashtag #WhoIsYourHarvey to encourage people to name their alleged abusers. The actress — best known for her role in the "Ted" movie franchise — also opened an email account that allowed people to share their stories with her.
That service will now be embedded within Voices in Action. Those who wish to report alleged sexual misconduct can fill out a detailed intake form on the website that asks for the user's recollection of the alleged incident and alleged assailant. Once they have completed the form, the user will receive a time-stamped receipt — excluding the alleged assailant's name — that can then be provided as a form of documentation to attorneys or police.
Neither of the co-founders will have access to the submissions — only a "trauma-trained moderator whose identity will be kept private," Barth says.
After submitting their information, users will be alerted if there are any other reports on the website about their alleged assailant, but they won't be put in contact for legal reasons. "If they talk to each other, then their stories may potentially be influenced before they go to the police or a lawyer," says Dulany. Instead, she adds, the matching system is meant to encourage "people to have the confidence to come forward and tell their story."
"For years, no one came out against Weinstein, but when people started saying, 'It happened to me,' the movement took off," Barth says. "When you know you're not the only person to come forward, there's strength and safety in numbers."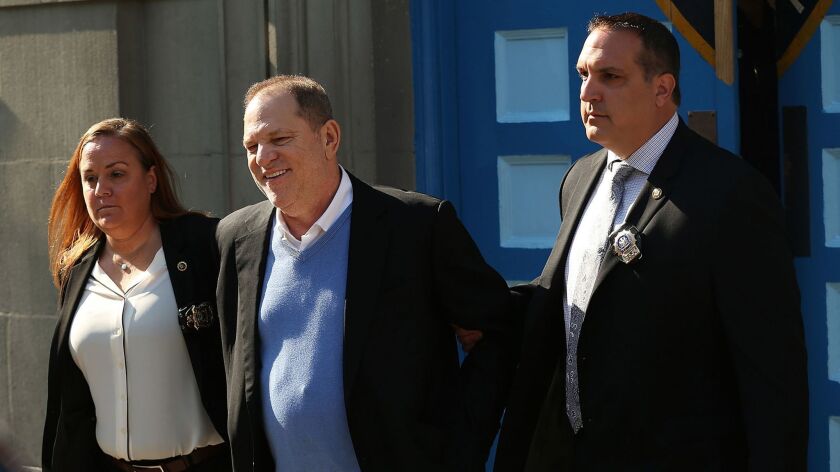 This isn't about outing the bad guys. This is about supporting victims and letting them know they're not alone.
— Jessica Barth
The actresses say they do not see a similarity between Voices in Action's reporting process and a crowdsourced Google spreadsheet created last fall that compiled accusations against more than 70 males in the media industry. (Moira Donegan, the creator of the spreadsheet, was sued this month by one of the men on the list, writer Stephen Elliott, who is seeking $1.5 million in damages. Donegan is being represented by attorney Robbie Kaplan, one of the co-founders of the Time's Up Legal Defense Fund.)
"We're not publicizing this data," Barth says. "This isn't about outing the bad guys. This is about supporting victims and letting them know they're not alone — and hopefully arming them with information to come forward to seek justice and accountability."
Alex Little, who serves as the pro bono counsel for Voices in Action, says the organization is using "best in class" systems to ensure that the virtually transmitted data is kept secure. Those users who opt into the matching system will be required to verify their identity so it is clear they are a "bona-fide individual," says Little, who represented pop singer Kesha in a civil lawsuit against music producer Lukasz "Dr. Luke" Gottwald.
"No, there's not going to be an investigative staff working to figure out whether the reports are true," Little acknowledges, "but there will some accountability."
Actress Sarah Scott reported sexual misconduct on a Hollywood set and found a difficult path to a resolution »
In the year since the #MeToo movement rose to global recognition, a handful of organizations, task forces and commissions have formed to combat sexual harassment. Time's Up has raised more than $22 million for its Legal Defense Fund, while the Commission on Sexual Harassment and Advancing Equality in the Workplace, which is headed by Anita Hill (who became a public figure when she accused then-Supreme Court nominee Clarence Thomas of harassment), has asked industry guilds for hundreds of thousands of dollars.
Voices in Action, meanwhile, has yet to secure financial backing. Barth is personally funding the organization's website, which will link to a GoFundMe page.
"We're working toward the goal of connecting victims to representation, and those legal representatives may have contact with other people who have been victimized by the same perpetrator," Little says. The group's other goals include launching sexual safety seminars for those in the industry and helping to create a stamp of on-set sexual safety.
Ahead of the launch of Voices in Action, several people working in the entertainment industry signed on as group ambassadors, among them Mira Sorvino, Terry Crews, Johnathon Schaech and Harold and Brittany Perrineau.
We really believe that the answers to change and solutions, they lie with the people who were traumatized.
— Jessica Barth
Schaech, who in January claimed he was molested by director Franco Zeffirelli at age 22, says Barth and Dulany were some of the only ones in the industry to support him after he shared his story with People magazine. (Zeffirelli, who is 94 and in poor health, did not respond directly to the accusations, but the director's son, Pippo, put out a statement saying Schaech's story was "not credible and cannot be proved.")
"No one has reached out to me. I'm an oddity — a white straight male in this world of sexual harassment," Schaech says. "Guy friends will reach out to say they're proud of me, but they don't want to get further than that with it. My male friends didn't know what to do with me. Going to the gym was odd. I felt like Serpico."
As survivors of similar alleged sexual misconduct, Barth and Dulany argue they're more highly motivated to create change.
"To have people that are already in these positions of power establishing these commissions and organizations is great, but we really believe that the answers to change and solutions, they lie with the people who were traumatized," Barth says.
But she and Dulany admit that in wake of Christine Blasey Ford's testimony against Brett M. Kavanaugh during a Supreme Court nomination hearing before the Senate Judiciary Committee last month, they sense victims may be discouraged about coming forward. Still, they remain hopeful that their reporting system will offer renewed encouragement.
"I think this is a really great way to take your power back and be able to say, 'Look, this isn't happening anymore,'" Barth says. "We're doing our part to make sure this stops now. And we did it. We just worked solid for a year on it. There were definitely bumps in the road, and we'd get discouraged, but we did it."
Times staff writer Daniel Miller contributed to this report.
ALSO
Actress Sarah Scott reported sexual misconduct on a Hollywood set and found a difficult path to a resolution
At 21, Bella Thorne has 4 movies out, 18 million Instagram followers, 19 cats and the will to survive
How did Donald Trump become president? A slew of new documentaries tackle the question
Follow me on Twitter @AmyKinLA
---
The complete guide to home viewing
Get Screen Gab for weekly recommendations, analysis, interviews and irreverent discussion of the TV and streaming movies everyone's talking about.
You may occasionally receive promotional content from the Los Angeles Times.