John Cho takes the lead, for once, in 'Columbus'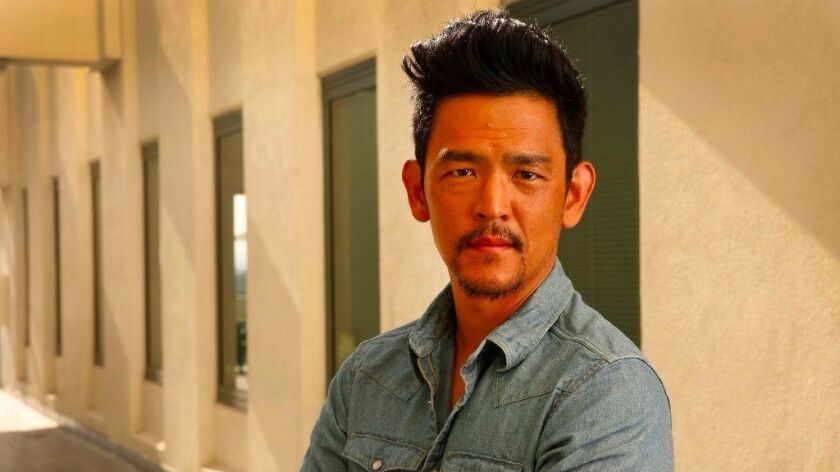 John Cho has close to 100 acting credits on the Internet Movie Database, but only a handful of those are lead roles. Despite his association with two successful franchises (as Harold in the "Harold & Kumar" stoner comedies, and Sulu in the ongoing "Star Trek" saga), and despite his effortless charm, good looks and innate likability, Cho is rarely considered a genuine movie star.
That's one reason his turn at the center of the indie drama "Columbus," which premiered at Sundance to strong reviews earlier this year and is now playing in limited release, feels so overdue. Whether Hollywood wants to recognize it or not, Cho is indeed a genuine movie star.
"It felt like a little bit of a dream," Cho said during a recent interview in Los Angeles. "Projects this small and this unusual are hard to make real, but it happened. All of a sudden we got the call and I was in Columbus."
Shot in 18 days with a budget just under $1 million, "Columbus" is a meditative drama about Jin (Cho), a man who returns to the U.S. from Korea to tend to his hospitalized father, an architecture expert who was visiting the Midcentury Modernist hub of Columbus, Indiana, for a lecture when he suddenly collapsed. In this most unexpected of places, Jin forms a unique connection with a college-age local, Casey (Haley Lu Richardson), who forces him to confront thorny feelings about family, relationships and architecture.
"It was such an unusual story," the 45-year-old Cho said of his initial reaction to the script. "The tone was so delicate, everything about it is unconventional. When I closed it I thought, 'Who the hell could execute these pages in the way that it demands?' The names that came to my mind were famous auteurs — Richard Linklater or something."
But rather than an established master, "Columbus" is the work of first-time feature filmmaker Kogonada. The single-monikered visual artist is best known for his video essays dissecting the work of famed auteurs like Linklater (as well as Ingmar Bergman, Stanley Kubrick and Alfred Hitchcock, among many others).
Although Kogonada — who, like Cho, is Korean American — wrote the character of Jin as Korean American, he admitted his leading man wasn't initially on his radar for the role.
"The challenge in American cinema is you have these really wonderful Asian American actors but there's not a lot of opportunity for these actors to show their range," Kogonada said. "Before I was introduced to John Cho, I didn't know he had studied theater. I didn't know his whole background."
It was only at the urging of filmmaker and "Columbus" producer Chris Weitz, a frequent collaborator who first worked with Cho early in both of their careers on 1999's "American Pie," that Kogonada agreed to send the script to Cho.
"Jin is in some ways a rather self-absorbed and cynical character, and John has a way about him as an actor that allows you to embrace even those aspects," Weitz said via email. "He's a canny actor, he knows how to make moments, he knows how to do a lot by doing very little."
Cho wasn't sure he could convince Kogonada to give him the chance. "I'm sure he had his trepidations about me," Cho recalled of their first meeting, and referenced the "American Pie" role that circuitously led to the job: "I'm 'MILF Guy #2.'" But the pair immediately hit it off, bonding over shared experiences as immigrants and serious film buffs.
"What was exciting to me in talking to Kogonada was I was just very convinced that he was a very real and pure artist," Cho said. "He was so uninterested in the commercial game. Sometimes I feel indie directors are in the game so they can make a film to get hired to do a big film — that we're all doing this person's reel. This is not that guy."
Landing Cho also meant Kogonada had one of the few Asian American actors working today with a resume full of hit movies. However, finding someone to back the project was still an uphill battle.
"We went through so many financiers who essentially said, 'There's no market value in an Asian male lead,' and really dismissed it regardless of who it was," Kogonada recalled. "For me, and maybe for people who have been in the industry long enough, that was no surprise at all. We did have to go through that until we found this incredible partner in Danielle Renfrew Behrens and Superlative Films."
For the many riveting discussions Jin and Casey engage in on screen, punctuated by equally riveting silences and beautiful imagery captured by Kogonada's keen eye, their relationship remains something just shy of a true love affair. And yet "Columbus" is so attuned to its characters' emotional lives, it gives Cho the opportunity to tap into his potential as not just a leading man but a romantic figure as well.
That's something fans of the actor's criminally short-lived ABC comedy series "Selfie," which paired him opposite "Doctor Who" alumna Karen Gillan, know he's especially adept at playing.
"That's a huge part of being a human being, looking for love and finding a partner in this world. When you constantly play characters who don't have that life, it feels incomplete and not totally human," Cho said.
"That really is the Asian American conundrum, being thought of as not human. Sometimes you're superhuman like a computer, 'Oh, you're so smart,' or subhuman in the sense, 'I'd never touch you with a 10-foot pole.' Neither of those is right. It's not real. The thing is not so much to play romance or to get the girl but to play human. To go as deep as you can go with your heart and feel as much as you feel in real life. To achieve equal status in the humanity department."
And while the interactions in "Columbus" are more intellectual than erotic, the film also afforded Cho an experience that he didn't expect: his first nude scene.
"I wasn't aware we were doing that, I would've prepped longer," he said with a laugh. "Kogonada came to me and said he and Elisha [Christian], our DP, were making a shot list and they felt like the shower [in Jin's hotel room] was so unusual. They wanted to put the camera back to capture the whole thing, but obviously that would mean a butt shot.
"To be honest, at that point I trusted [Kogonada] so much I said, 'If you feel like it's gonna be great then let's do it.' The other thing was I said, 'I'm not sure there has been an Asian American male [butt] in American cinema.' I couldn't think of one. This is modest history that we're making."
Cho recalled his wife was surprised when he told her what he'd be filming the next day, but ultimately gave her blessing. "I think my lawyer is the one who called me to say, 'You didn't sign a nudity clause, man.' I said, 'It's alright, it's alright.'"
Regardless of whether "Columbus" changes Cho's career in any way, he's already lined up a series of projects. He plays a detective in the neo-noir indie "Gemini," which premiered at this year's SXSW fest and hits theaters next year, and has a recurring role as Billy Eichner's love interest on the upcoming third season of Hulu comedy series "Difficult People."
He's currently filming a lead role for the second season of Fox's "The Exorcist," a 10-episode arc he said allows him to break more ground.
"Even though there's a lot of horror from Asia in the American cinematic tradition, I hadn't seen Asians at the center of it. ['The Exorcist'] trafficked in this imagery of America that I thought would be fun to shake up a little bit with my face."
ALSO
Column: 'Meth and modernism': The understated 'Columbus' offers a complex portrait of small-town America
Discovering 'Columbus': New movie puts Midcentury architecture in the spotlight
---
Inside the business of entertainment
The Wide Shot brings you news, analysis and insights on everything from streaming wars to production — and what it all means for the future.
You may occasionally receive promotional content from the Los Angeles Times.