Discovering 'Columbus': New movie puts Midcentury architecture in the spotlight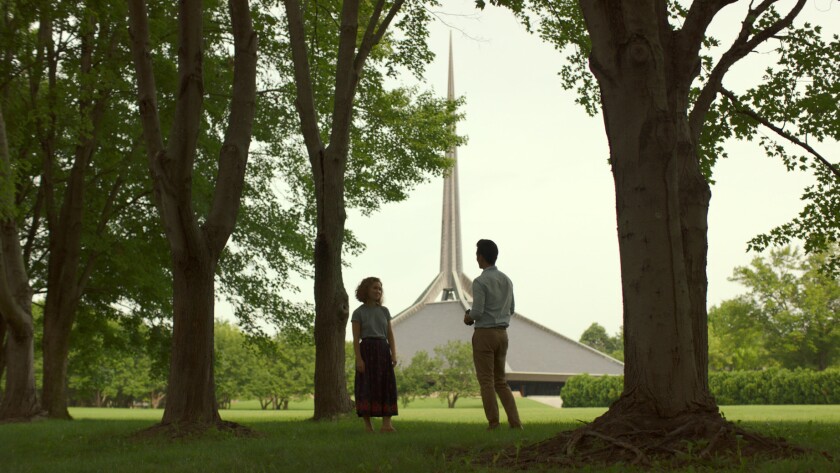 Architecture geeks rejoice. Indie director Kogonada's new movie, "Columbus," is a celebration of Midcentury modernist design with a gently unfolding story of family and themes of responsibility thrown in for good measure.
A master class in architectural style with an emphasis on brutalism and international Modernist design, the film headlines actors John Cho and Haley Lu Richardson, but it is the work of Midcentury architectural rock stars that steals the show.
Moody, emotional cinematography casts a long, loving lens on the small Midwestern town where the film is set — Columbus, Indiana, which is ranked sixth in the nation for architectural innovation and design by the American Institute of Architects, coming right behind Chicago, New York, San Francisco, Boston and Washington, D.C.
A surprising distinction owing to visionary businessman and community leader J. Irwin Miller, who ushered in a passion for architectural excellence in the 1960s by underwriting building projects that met his design-conscious criteria.
Look for cameos by Henry Moore's "Large Arch" sculpture, architect Eero Saarinen's geometrically elegant Miller House, the 192-foot spire of his North Christian Church and the radical, open concept floor plan of the Irwin Union Bank he also designed.
The Cleo Rogers Memorial Library by I.M. Pei and Eliel Saarinen's asymmetrical First Christian Church also take star turns, as does the more recently built (2006) floating "light box" of the Irwin Union Bank building by Deborah Berke.
Columbus will open in theaters Aug. 4.
Bonnie McCarthy contributes to the Los Angeles Times as a home and lifestyle design writer. She enjoys scouting for directional trends and reporting on what's new and next. Follow her on Twitter @ThsAmericanHome
ALSO
You've never seen a kitchen island sink like this
Is it time for America to embrace smart toilets and bidets?
---