Judy Garland remains an enduring legend 50 years after her death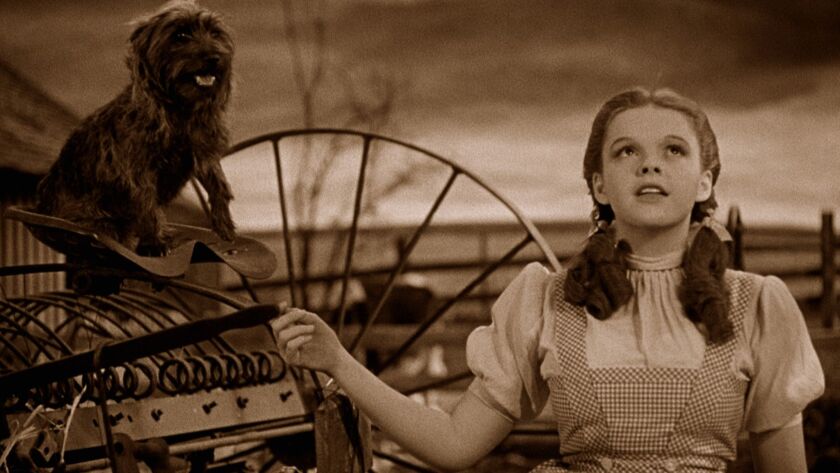 She was only 47.
On June 22, 1969, Judy Garland died of an accidental drug overdose in London. The death of the "Wizard of Oz" and "A Star Is Born" actress and singer 50 years ago stunned the world, although her troubled personal life had made headlines for decades.
Garland's legacy has endured, including her iconic performance of "Somewhere Over the Rainbow" in the 1939 classic "Oz," and her Oscar-nominated role in the 1954 version of "A Star Is Born."
From the Archives: Judy Garland Dies in London at 47; Tragedy Haunted Star »
Her tragic journey from beloved teenage star to physically and mentally ravaged addict is the stuff of legend. The Judy Garland Museum in her hometown of Grand Rapids, Minn. Is offering a Judy Garland Festival to commemorate the 50th anniversary of her death. And in September, Renée Zellweger will play Garland in the final months of her life in "Judy."
Locally, fans can visit the Judy Garland Pavilion at the Hollywood Forever Cemetery. (Garland's family moved her from a cemetery in New York to Hollywood Forever two years ago).Pavilion will also be the resting place of her children Liza Minnelli and Lorna and Joey Luft and grandchildren.
So why has Garland endured?
We talked to people who worked with her, musicians and historians about why people still love and identify with her. (The interviews have been edited for clarity and brevity).
Michael Feinstein
The Grammy-nominated singer/conductor is the founder of the Great American Songbook Foundation. He also conducts and performs at the Pasadena Pops and recently opened the club Feinstein's at Vitello's.
"When Judy Garland sang a song, she lived it. She approached her songs with an intensity that was unusual in her time because many singers who were vocal soloists were band singers who did more homogenized presentations of songs, sometimes by order from the bandleader and keeping with conventions of the time.
She had a fight with Hugh Martin over the interpretation of 'The Man That Got Away.' Hugh had written three songs for ["Meet Me in St. Louis"] — 'The Trolley Song,' 'The Boy Next Door' and 'Have Yourself a Merry Little Christmas' — and was vocal arranger for 'A Star Is Born. He wanted her to sing it in a lower key with less histrionics, and she fought him on it, and they reached an impasse. She had him fired because she had this vision of how she wanted to do it.
"We have our annual Songbook Academy next month. We have high school kids from all 50 states. I want to have a Judy Garland workshop as part of the way to examine what it is that made her so great, so these young people will understand what went into her art and why she's timeless."
In 'Judy' trailer, Renée Zellweger makes Garland's rainbow her own »
Richard Glazier
A noted Great American Songbook pianist/historian and host of three PBS specials, Glazer will take part in the Judy Garland Museum's festivities
"Her music and her legacy are multi-generational. It speaks to us all. When she sings, even when you watch her in the movies or on television, you feel like she's singing to you personally. That she feels your pain, that she reaches down into your heart and touches you in a very personal way.
"I was very close to Hugh Martin. I spent many, many hours with Hugh and he told me many stories. It was just so fascinating to hear these things about how disciplined she really was.
"Hugh and myself as well — we like the younger Judy Garland. We liked her as Betsy Booth [in the "Andy Hardy" comedies] and in the backyard musicals. I felt that as she got older, she became less disciplined and more grandiose, if you will. But when you listen to her sing 'But Not for Me' in 'Girl Crazy,' it's one of the most poignant, beautiful things you'll ever want to hear."
George Schlatter
The veteran producer of "Rowan & Martin's Laugh-In," produced the first five episodes of Garland's troubled 1963-64 CBS musical-variety series "The Judy Garland Show." Schlatter had produced the popular NBC "The Dinah Shore Chevy Show"; CBS wanted Schlatter to turn Garland into a similar girl-next-door type
"I said you can't do that. She wasn't just a singer. She wasn't just an actor. She was an event. I wanted to do the show very badly, right? I didn't want to meet her until I had signed to do the show because I didn't know how to audition."
After he signed to do the show and was in New York meeting with CBS, he encountered Garland in an executive's office.
"I didn't know what to say because I'd never met her. So, I said, 'Miss Garland, I don't know what you may think, but there's no proof to the rumor I'm difficult.' She said 'You're difficult? Let's go out and have some wine.' From then on, we had a ball. She loved to laugh.
"There was a little coil inside of her when she got ready to go on. So, when she came on stage, it was an explosion. What we would do is make her laugh. It broke that tension and she went out and just performed. It was a delightful experience."
Paul Sand
The Tony-winning actor was a young performer when he toured the West Coast with Garland in the 1960s performing her famed "We're a Couple of Swells " number she had introduced with Fred Astaire in 1948's "Easter Parade."
"It was my first professional job. I did learn a lot. What I didn't understand was that she was really friendly to me every other day and then every other day she didn't address me.
"She was so hypersensitive. She always looked like she was on the edge because she was on the edge. All that energy was focused on the song and the emotions of that song. She did have a big laugh. A real laugh, not a big fake laugh."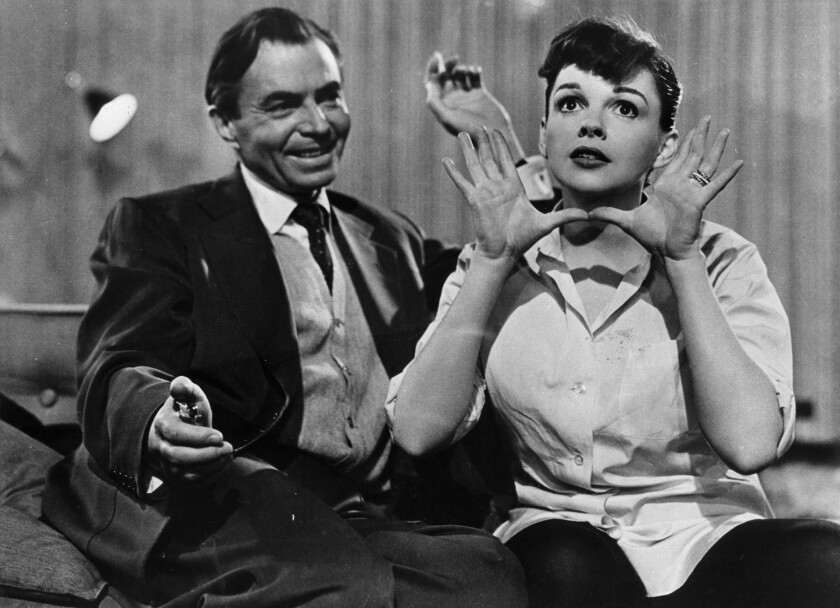 Richard Barrios
Movie musical historian and author of "A Song in the Dark: The Birth of Musical Film" talks about seeing "The Wizard of Oz" on TV for the first time when he was 5.
"I started crying at the end, which I still do. My mother [thought] I was crying because it would be a whole year before I got to see it again. She didn't understand how much the sentiment of that got to me — whatever home is, whatever the thing is that you belong to called home, it's the thing that matters the most. Of course, without Garland's sincerity — that's the word I think of most with her — that wouldn't have counted for anything.
"Director Victor Fleming was the one who really helped her by reminding her what the situations were and not to play it in a stylized way, but as a real girl who left home. And then talk about wanting to protect this this sweet child who has witches and flying monkeys after her. You just want to protect her and take care of her."
Mary Mallory
Film historian and author
"She's contemporary. I love classic movies, but there are certain people that just don't carry over. I don't know if it's their manner or they were of their time. Because she's so self-deprecating, she just seems like she's one of us.
"With her, it's like emotion is coming through in that moment. You can identify with it, the vulnerabilities that you have, you just connect with it. She's expressing what we all feel both in singing and acting. 'The Man Who Got Away' in a way could be her life story in certain ways. She probably realized it at that time. So many of her roles have these autobiographical touches."
Karie Bible
Film historian and author who has operated the Hollywood Forever Walking Tour for 17 years.
"I think Judy has brought a whole other level of significance to the cemetery. She is without question the greatest entertainer who ever lived. It feels like a homecoming having her here at Hollywood Forever because Adrian, who designed the ruby slippers, is at the cemetery, Harold Rosson, the cinematographer of 'The Wizard of Oz,' is at the cemetery and Victor Fleming who directed 'The Wizard of Oz' is not too far over from Judy. Her frequent co-star in many movies, Mickey Rooney, is here.
"I have had people walk in [to the Judy Garland Pavilion], even young people who weren't remotely alive when she was, start crying. I think Judy just moves them so much. 'The Wizard of Oz' means so much to so many people. I had one guy walk in and just start singing 'Over the Rainbow" at the top of his lungs. So, I think the emotional reaction that she gets from people is truly incredible. Judy reached out across every race, every demographic. She reached out to everybody and touched everybody. She's for all time."
---
Inside the business of entertainment
The Wide Shot brings you news, analysis and insights on everything from streaming wars to production — and what it all means for the future.
You may occasionally receive promotional content from the Los Angeles Times.