The movies changed 'Jurassic World: Fallen Kingdom' director J.A. Bayona's life, and now he hopes to pass it on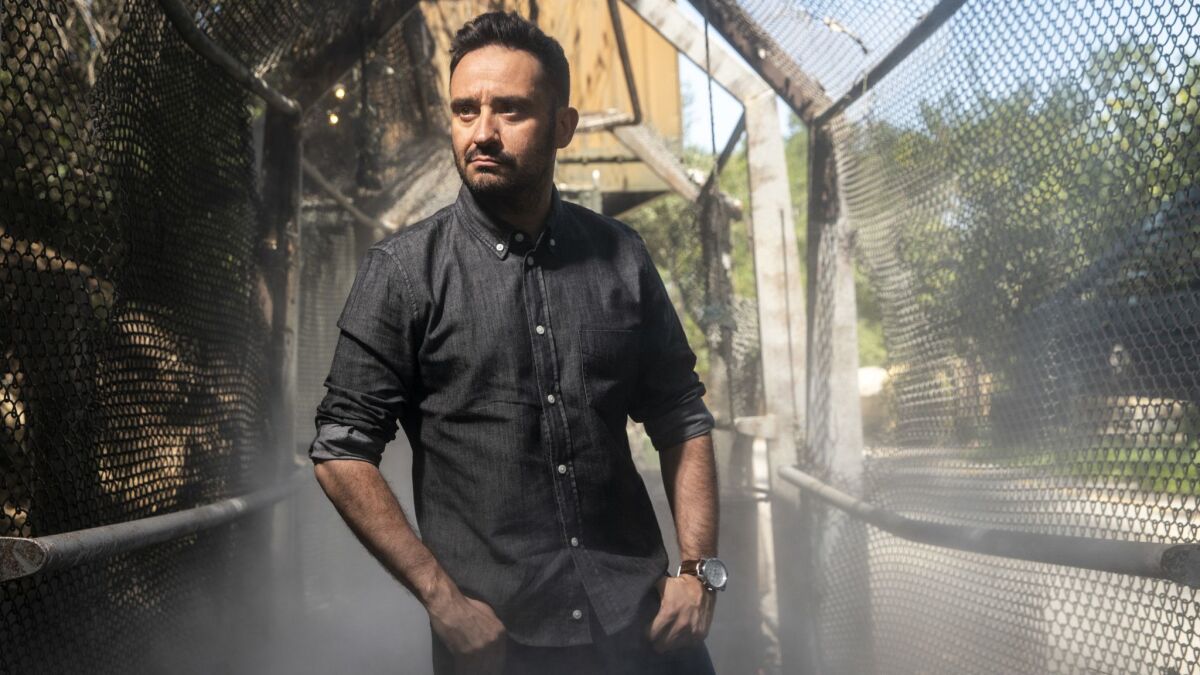 Filmmaker J.A. Bayona remembers the first time a movie changed his life.
The year was 1978. The movie was "Superman," from director Richard Donner. Bayona was 3 years old. One image in particular etched itself into his young consciousness by bringing the impossible so vividly to life.
"My first memory is a shot from a movie: It's the first time you see Christopher Reeve flying in 'Superman,"' says Bayona, 43, now the director of "Jurassic World: Fallen Kingdom," the fifth installment in Universal Pictures' dinosaur-themed mega-franchise and follow-up to 2015's $1.6-billion-grossing hit "Jurassic World."
Initially, he remembers, he wanted to be Superman. Later he realized he'd rather emulate the real-life magician who put the Kryptonian hero up there in the sky, soaring across the screen to save the world. "I found out there was a guy named Richard Donner and I said, 'I want to be that,'" Bayona says, smiling. "I want to be the guy who makes 'Superman.'"
It's a warm Los Angeles day and we are winding our way through the Universal Studios backlot, the early-summer sun shining down on dozens of film sets preserved in time, just north of the 101. Wide-eyed tourists ride by in guided trams, ogling the animatronic "Jaws" attraction and snapping selfies in the shadow of the "Back to the Future" clock tower.
Wandering the lot in a golf cart, accompanied by Bayona's twin brother, Carlos, who's joining him on this leg of his global "Jurassic" press tour, we zoom past a Western town, a vintage gas station and — appropriately — head up Steven Spielberg Drive.
"Look at that!" Bayona marvels as we cross New York Street, with its high-rise facades, then watch a doomed diver tempt fate off the waters of Amity Island. "This is why I love movies."
It's a place he'd always dreamed of seeing, growing up a movie-obsessive with a penchant for the fantastic. Hollywood seemed a world away from Barcelona, where he was born, raised and still lives. That didn't stop him from forging a career in movies.
By age 5 the future filmmaker had figured out that he could re-create the magic of movies at home with a lamp and a piece of paper, flipping the light on and off to make a hand-drawn Superman soar at his command. At 13, he finally got a video camera.
As he grew older, Bayona's love for cinema further crystallized as he devoured classic films from foreign auteurs that played on Spain's few television channels: Hitchcock, Truffaut, Polanski, Spielberg.
In his teens he met Guillermo del Toro at Spain's genre-focused Sitges Film Festival and the filmmaker became a mentor and, later, executive produced Bayona's feature debut, the Spanish ghost tale "The Orphanage." And on the eve of entering film school, Bayona saw another movie that, like "Superman," would leave a lasting impression.
"Nothing prepared me for the moment of seeing a dinosaur for the first time — and seeing a dinosaur created with CGI," Bayona says of Spielberg's original "Jurassic Park," released in 1993. "I was in shock. This was different. And it was going to be a game-changer from that moment on."
READ MORE: How 'Jurassic World' used the DNA of a beloved franchise to build a bold new universe »
Twenty-five years after Michael Crichton's novel found a way onto the big screen, Bayona directs a script by Colin Trevorrow (who also helmed the first "Jurassic World") and Derek Connolly that sees humanity struggling to accept responsibility for the scientific fiasco that brought prehistoric creatures out of obsolescence to roam the earth once more.
Three years have passed since rampaging dinosaurs brought the bustling corporate-owned Jurassic World theme park to ruin. The remaining dinos now face extinction — again — as a massive volcano eruption threatens to eradicate all life on the remote island of Isla Nublar, and world governments and citizens alike debate whether to intervene.
Returning heroes Claire Dearing (Bryce Dallas Howard) and Owen Grady (Chris Pratt) are joined by new dino-sympathizers and antagonists. Bayona balances the old with the new dinosaurs, too, giving the "Jurassic Park" T. rex a cameo, introducing a sociopathic 10-foot-tall "Indoraptor," and investing the audience further into the surprisingly emotional journey of Blue the velociraptor.
And after staging spectacular set pieces on the lush island home of the dinosaurs, Bayona transports "Fallen Kingdom" to his familiar stamping ground — a gothic mansion housing its own sinister secrets, like the one in "The Orphanage" — for a final act that feels at once urgent, intimately scaled and visually dazzling.
Bayona passed on directing the first "Jurassic World" after talking with producers, including Frank Marshall and Spielberg. "At that time there was not much time to develop the project," he says. "The way I work, I didn't have enough time to develop the script. So I said no."
Instead he made 2016's dark family fantasy film "A Monster Calls," about a boy dealing with his mother's terminal illness and a cryptic monster that only he can see.
By the time "Fallen Kingdom" came together a few years later, both Bayona and Trevorrow had seen best-laid studio plans go awry: the latter exiting the helm of "Star Wars: Episode IX," the former departing a "World War Z" sequel. To Bayona, the timing was just right.
"I always do the movies that I feel in the moment; I follow my instinct. So there's not a plan; I just follow my emotions," he explains. "And when I get emotional about a story, I go for it, because I know there's something real there — and it's something that I need to find out what it is."
The challenge of tackling "Fallen Kingdom" brought him back to the feeling he remembered so well watching "Jurassic Park" for the first time. "I was a huge fan of Steven's when I was a kid," he says, gazing appreciatively as we approach the delicately wrought destruction of the "War of the Worlds" set — "one of my favorite Spielberg movies," he notes, "but I have so many."
"J.A. has a great camera eye and a big heart," Spielberg comments via email. "He has made each of these set pieces his own. He really gets the term 'breathtaking.' He gave our fifth 'Jurassic' a most original footprint."
Bayona, who in his youth devoured Crichton's sci-fi novel about the dangers of playing God with dinosaurs, couldn't have anticipated that one day he'd walk into Amblin's offices on the Universal lot and accept a "Jurassic" directing gig from Spielberg himself.
I always do the movies that I feel in the moment; I follow my instinct.
— J.A. Bayona, director of "Jurassic World: Fallen Kingdom"
He grins as we approach the stretch of Universal backlot that stands in for Isla Nublar, complete with jungle flora, dino carcasses and roaring dilophosaurs that spit "venom" at passing trams.
But after spending five months last year surrounded by dino everything on the "Fallen Kingdom" shoot, which filmed extensively at England's Pinewood Studios and on location at the sprawling Kualoa Ranch nature reserve on Oahu, he's far more excited at the prospect of visiting another iconic fixture of the Universal backlot: the "Psycho" house.
"We cannot stop by, right?" he politely inquires of our guide, a most patient studio publicist — who answers that yes, in fact, we can.
"Oh my God, yes!" he exclaims, eyes lighting up. "I want a Norman Bates picture!" Hitchcock, he explains, is another cinematic hero — so much so that he named his Barcelona-based production company Suspense in his honor.
"I discovered Hitchcock movies as a kid, and I loved them. I loved the craft, how he somehow establishes the whole story with a frame, and how the frame says it all," says Bayona, who then spends five excited minutes in front of the "Psycho" house meticulously re-creating a famous promotional image of Anthony Perkins standing in the shadows of the ominous Bates home.
We cool off from the blistering midday sun next to the Bates Motel, where Bayona watches in delight as an actor playing Norman Bates emerges from a motel room right on cue as the next tram approaches, menacing giggling tourists as they continue to their next stop.
Norman Bates, to his credit, is so fully committed to character that he chases us off too. Bayona may be on the brink of opening a Universal blockbuster projected to make $130 million to $140 million in its domestic opening weekend, but he's scaring away the customers. We wander to nearby Whoville, where the Grinch stole Christmas, and Bayona considers the cinematic DNA he sees in the fabric of his "Fallen Kingdom."
"If you look at 'The Lost World,' the scene with the truck hanging from the cliff, Steven [Spielberg] is able to concentrate the whole movie in one single shot when you see this glass cracking," he says of the scene, in which the only thing standing between Julianne Moore and a gruesome death is a pane of glass that is slowly and excruciatingly splintering beneath her.
"So it's about this massive, big scale — you have two T. rexes attacking at the same time, you have a truck hanging from a cliff — but in the end it's that detail. The small detail says it all, and that's what I love. I thought, 'Instead of going bigger, I want to go smaller.'"
REVIEW: 'Jurassic World: Fallen Kingdom' is an improvement, which doesn't make it necessary »
In Bayona's "Fallen Kingdom," small details leap off the screen and create new empathy for the creatures that may represent horrific abuses of science but are living beings nonetheless. One of Bayona's most gut-wrenching images is that of a lone brachiosaurus and the erupting volcano that threatens to engulf it.
"I give a big nod to Bayona for how he realized that visually," said Trevorrow, who also produced "Fallen Kingdom" and will return to helm the third chapter of the "Jurassic World" trilogy. "You can write moments like that, but to be able to make it as effective and emotional as it is in the film you need a filmmaker on that level."
Even before "Jurassic World: Fallen Kingdom" opens stateside, Bayona is a part of Universal history. The movie is officially a hit overseas, where it's pocketed more than $450 million through its first two weeks of release. Critics, however, have been split on the sequel's creative merits, and Bayona's reaction to negative American reviews — which largely applaud his direction while taking aim at the script — is surprisingly chill.
"I've read reviews since I was a kid," he explains. "First of all, it's a privilege that someone writes a review about something that you do. I think that's great. Second, sometimes you can learn from it." He pauses. "It's interesting, the ways critics are judging this film. If you look at France, they are very different; I'm getting the best reviews ever with this movie.
"When I did this movie it was about the experience, the fun," he adds as the sounds of the "Psycho" strings pierce the air from another tram full of screaming tourists. "The joy of watching a dinosaur. Here, [critics] are more about the story, and I think it's a balance. I think all of them are right. In the end the opinion that for me matters the most is my opinion, and the opinions of every single member of the audience."
It's the greater seeds of thought planted beneath the surface that he hopes audiences will carry with them after they leave the theater. "It's not about creating dinosaurs anymore; it's about what is going to be our relation towards these creatures," says Bayona, who plans to follow "Fallen Kingdom" with a much smaller film back home in Spain with his producer, Belén Atienza.
Two years ago he was invited to join the Academy of Motion Picture Arts & Sciences in a push to add more diverse talent to its ranks, "and I think it's important. I think we have a great opportunity to make things different. We must, especially seeing the world the way that it is right now.
"This is one of the things I like about 'Fallen Kingdom,'" he continues. "It talks about accepting what we don't understand. We are talking about dinosaurs, but at the end of the film it talks about us. I like how I see Owen at the beginning of the movie trying to escape to his own desert island and Claire tells him, 'You need to be involved.' It's a global thing now; you cannot escape anymore.
"The biggest problems nowadays in the world are going to affect you, no matter how far you run from it," he adds. "So you need to take part. And this movie is about that — taking part in a very complex decision and accepting what ultimately is about you. You think it's about dinosaurs … it's not about dinosaurs anymore. It's about us."
---
Get our L.A. Goes Out newsletter, with the week's best events, to help you explore and experience our city.
You may occasionally receive promotional content from the Los Angeles Times.