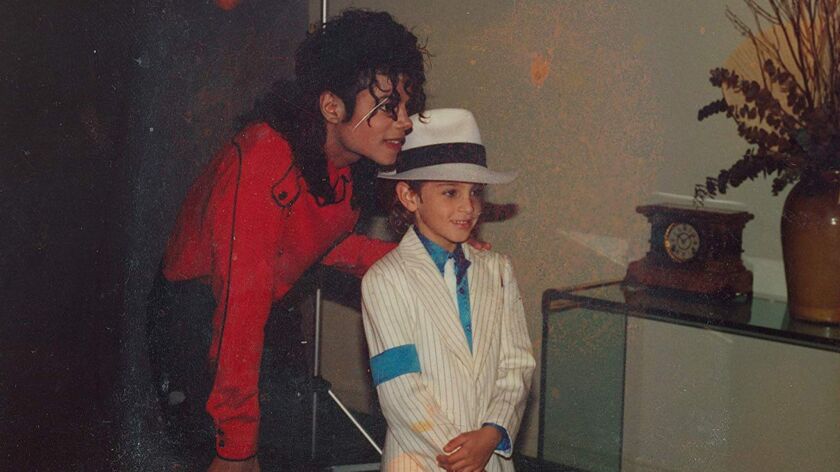 HBO aired the first half of its two-part, four-hour-long Michael Jackson documentary "Leaving Neverland" Sunday with viewer reaction divided among mortification, denial and rage.
The film, told through the perspective of accusers Wade Robson and James Safechuck, who were young boys when Jackson befriended them, offers never-before-told accounts of their friendship with the singer and the alleged decades-long sexual molestation that followed.
Twitter users quickly began to call Robson's credibility into question, pointing out that Robson initially testified at Jackson's trial that the singer had never abused him before reversing his position in 2013. The online defense of the singer follows a similar response when the film premiered at the Sundance Film Festival in January. Ardent fans, most of whom had yet to see the film, disparaged it on websites and social media. Much of the criticism reflected the stance of the Jackson estate, which sued HBO in February, alleging that the cable channel violated prior non-disparagement agreements.
Michael Jackson documentary 'Leaving Neverland' full coverage »
Wade is 11 in this video & suppossedly had been continually molested for 4 years by then. Note that he uderstands what MJ is being accussed of, and the emphatic denial with emphasis at the end and fully congruent body language. Sorry, doesn't add up. #LeavingNeverland pic.twitter.com/s4La30E1AI

— Troy (@MrTroy_) February 26, 2019
In a deposition from #LeavingNeverLand accuser Wade Robson's failed lawsuit, it was uncovered how he'd emailed himself a link to a blog post about himself and MJ on an anti-Jackson website. What real victim has to research his own abuse on sites decided to smearing his "abuser?" pic.twitter.com/pbkfZru3tI

— PHOENIX (@PhoenixLaNegra) March 4, 2019
While the majority of people tweeting seemed skeptical of the documentary, a handful of stars including Michael Rapaport, Judd Apatow and Amber Tamblyn were among the voices tweeting in disgust of the acts described.
It takes days to recover from this documentary. Five minutes in you will think to yourself "oh my God, every word they are saying is true." https://t.co/JMoA6Y0dEo

— Judd Apatow (@JuddApatow) March 2, 2019
As a former child actress, I can't help but watch this documentary and think about how wrong it is for children to be put in the position of performing for the soul purpose of pleasing adults. It's such a slippery, dangerous, often abusive slope. #LeavingNeverland

— Amber Tamblyn (@ambertamblyn) March 4, 2019
Many Twitter users took to commenting under the hashtag #MJInnocent, disparaging the few sources included and mentioning the more than a decade's worth of investigations leading to the 2005 trial where Jackson was found not guilty of 14 related charges.
michael jackson was investigated for 10+ years (phones tapped, computers tapped, etc) and they found absolutely NOTHING. ask yourself, would law enforcement allow a black man to get away with such heinous crimes? #LeavingNeverland #MJInnocent

— izzy❣️ (@peacelovemjj) March 4, 2019
follow me on twitter @sonaiyak
---