With 'Lemon,' Janicza Bravo and Brett Gelman squeeze privilege and failure into an unusual comedy
Few recent films have elicited the wild rotisserie of responses of confusion, delight, anxiety and introspection as "Lemon." How to most succinctly describe the singular film can even be a point of contention.
Janicza Bravo, director and co-writer of the film, recently noted that she has alternately used phrases like sad comedy, dark comedy or even stressful comedy. "I've described it as surreal, absurd, experimental, stressful, sour, I think those words feel more in line with the thing that it is," she said. "I've also said it's a comedy about failure, it's a comedy about a plateau."
Now playing in Los Angeles and available on VOD platforms, the movie marks the feature directing debut for Bravo, a theater director and former stylist who made a series of acclaimed short films and also directed the popular "Juneteenth" episode of the TV show "Atlanta." She co-wrote "Lemon" with her husband, actor and comedian Brett Gelman, who also stars.
"We wanted to make a movie that was a comment on privilege and mediocrity and fragility and this kind of comedy archetype, this character who is usually sort of sympathetic and flopping around," Bravo said. "We wanted to take some of the tropes of that world, the relationship, the family, the career, and then each would end in failure. Failure was what we were most interested in."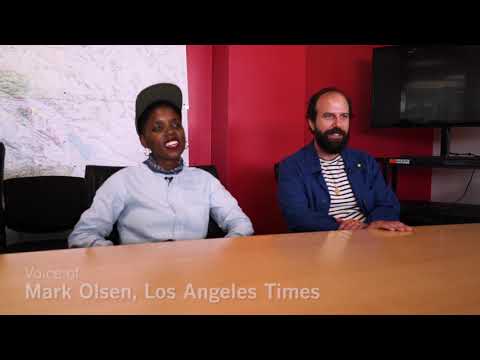 Director Janicza Bravo and star Brett Gelman talk about their movie "Lemon," which the real-life couple wrote togther.
"Lemon" begins with a tense scene between Isaac Lachmann (Gelman) and his blind girlfriend, played by Judy Greer, as she is in the process of breaking up with him. Characters played by Michael Cera and Gillian Jacobs perform Chekov in an acting class overseen by Isaac. There is an awkward get-together with Isaac's family, lifted by a showstopping living room performance of the obscure song "A Million Matzoh Balls" by characters played by Rhea Perlman, Fred Melamed, David Paymer, Martin Starr, Shiri Appleby and others.
Isaac meets a woman, Cleo, played by Nia Long, while performing in a PSA for Hepatitis C that leads to two dates and a casual afternoon barbecue with her family, including an aunt played by Marla Gibbs.
When the film premiered earlier this year at the Sundance Film Festival, with its impressive cast, hip pedigree and cryptic program note, it was met with a general air of befuddled head-scratching by audiences looking for the next feel-good hit. The film's stinging, self-lacerating examination of privilege and mediocrity doesn't have the immediacy of many festival faves, as it is purposefully odd in the moment.
"Obviously we wrote it and I directed and we've spent a great deal of time with the movie, so to me it feels pretty fine," Bravo said. "So when people say that it's stressful or they were concerned or it made them uncomfortable, it sometimes takes me a second to understand that. I've just spent so much time with it, so the stress of it feels pretty normal to me."
"We wanted to make a movie that was a comment on privilege and mediocrity and fragility. ... Failure was what we were most interested in.
— Janicza Bravo, director and co-writer of 'Lemon'
Bravo, 36, was born in New York but spent her childhood and early teen years in Panama before returning to the United States. She and Gelman, 40, first met about eight years ago, when Bravo was working on a commercial in which Gelman appeared. (The moment is given homage in the film.)
The "Lemon" project began some six years ago, when they wrote a first draft in only five days after Bravo promised to show someone a screenplay that did not actually exist. After that they continued to hone and shape the story and characters, drawing from their individual experiences as well as certain shared feelings.
"Isaac is just as much her as he is me. He is her," said Gelman. "Sometimes you talk to people and they think she is Nia's character and it's like no, no, no, she is Isaac. I am Isaac."
Bravo added that the patient presence of Cleo, Long's character, "is the farthest thing away from me actually. There's an aspect of me in all of the characters, but I think Isaac is very much me. I'm obviously not living as a white male, but his feelings and his discontent and this plateau that he's in was very much what I thought I was in. All of his feelings are mine."
Once the film was in production, Gelman said he realized how he became an extension of Bravo on-set, setting an example of tone for the other actors who might be there for only a brief while.
"I was very much her dancer. She's the choreographer," he said. "Sometimes when you're stepping on the set of a comedy, everyone is like, hey, alright, it's loose and fun. And this was set, this was focused and I almost was an extension of her focus and her intent a lot of the time. Which I think was really important, it was clear from our joint attitude."
The two have an easy, relaxed rapport, a playful current running between them. Gelman, recently seen in the British series "Fleabag" and David Lynch's "Twin Peaks: The Return," is warmer and more open than his often difficult screen personas might suggest.
Just watching the couple order breakfast one morning in a fashionably low-key bistro not far from their home in Los Angeles becomes something of a collaborative inquiry into accepted contemporary restaurant practices. The pronunciation of several menu items is batted about and after enquiring of a server as to whether the eggs in a dish could be cooked medium, Bravo said to no one in particular, "Soft eggs make me want to barf."
Stepping outside herself for a moment she added, "Do you like me sharing that much?"
She then pondered whether it was difficult to alter the preparation for something, while also considering the demands of the notoriously specific eaters of L.A.'s finer boîtes. Snapping the dreamy conversation into sharper focus, she added, "I don't think people's whims should be addressed all the time."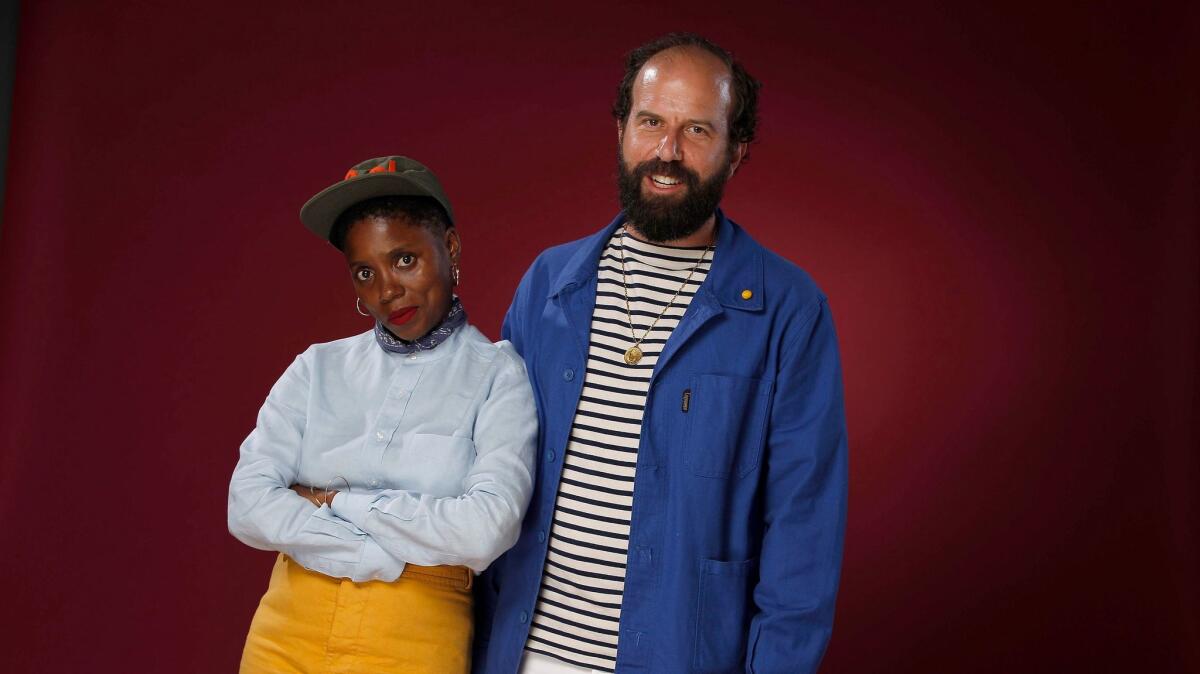 "Lemon" will never be accused of pandering or making things easy for an audience, its built-in inscrutability being part of the appeal as the movie patiently reveals itself. Working with editor Joi McMillon, recently nominated for an Oscar for "Moonlight," Bravo found an unusual rhythm for the film, at once languid and dynamic.
Bravo and Gelman have been traveling with the film steadily since Sundance, including stops at the International Film Festival Rotterdam in the Netherlands, South By Southwest Film Festival, in Austin, Texas, BAMcinemaFest in New York and the Next Fest in Los Angeles. Every time the response has been a bit different, each audience and viewer finding their own way into the movie to grapple with its oddball sensibility.
From Sundance forward, Bravo has seen the film become something of an inkblot test for audiences.
"I didn't want to say, look, this is a black woman's dissection of white privilege and white mediocrity and then people would be like, 'what can I say about that, am I going to tell you you're wrong?'" she said. "So I didn't want to lead with that, I felt a little nervous about it. I also thought writers or journalists would see it. At the end of the movie I come out, I look like me, what do you think I'm talking about? Right, it's so obvious. And then it's not obvious, actually."
SIGN UP for the free Indie Focus movies newsletter »
Follow on Twitter: @IndieFocus
Also
Janicza Bravo's oddball 'Lemon' is tart and sweet
Sundance Next Fest shakes up the film festival world with a little mischief
Aubrey Plaza takes charge by losing control in 'Ingrid Goes West'
Get our L.A. Goes Out newsletter, with the week's best events, to help you explore and experience our city.
You may occasionally receive promotional content from the Los Angeles Times.