Aubrey Plaza takes charge by losing control in 'Ingrid Goes West'
When director Matt Spicer was casting the title role of his dark tale of obsession and identity "Ingrid Goes West," he wasn't sure if Aubrey Plaza would be the right fit.
"My only question was does she see this as a comedy?" he recalled thinking. "Or is she going to be able to do some of the more dramatic stuff we're going to need her to be able to do?"
Consider those questions asked and answered. With her current run of work, Plaza has emerged as a performer of surprising depth and range, and a creative force to be reckoned with behind the camera too.
In addition to serving as both star and producer for "Ingrid Goes West," opening Friday, Plaza produced "The Little Hours," a randy medieval comedy that opened earlier this summer. The back-to-back indies arrive in the wake of some of the best critical notices of Plaza's career for her performance on TV's "Legion."
In "Ingrid Goes West," Plaza plays the title character, a young woman who moves to Los Angeles hoping for a fresh start after the death of her mother. First via Instagram and then in the real world, she stalks a woman (Elizabeth Olsen) who seems to have it all – the right clothes, the right boyfriend, the right lunch, the right life.
As Ingrid, Plaza gives a performance that is a finely tuned balance between unhinged comedy and delicate vulnerability, anchoring the movie's unlikely blend of savage contemporary satire and fine-tuned character study.
Although the movie's use of Instagram — as well as references to avocado toast, Joan Didion, Clare V. clutch bags and a host of other on-point, au courant L.A. signifiers — gives it a sense of being very much about right now, the deep well of isolation it draws from conjures feelings that are more eternal. It was those deeper feelings that drove Plaza to become involved in "Ingrid" as a producer, as a way to help bring out the movie she thought it could be.
"For 'Ingrid,' that movie is really a character piece, at least that's how I saw it. I wanted to have as much control and I wanted my opinion to matter as much as I could," she said during a recent interview in Los Angeles. "I saw the movie in my mind when I read it. I was, like, 'I know what this can be and as a producer I can help it get to that place.' As an actor, I can only give my opinion and hope that someone cares."
Plaza's committed performance in "Ingrid" also moves the 33-year-old even further from the caustic, disaffected screen persona of earlier roles in movies such as "Funny People" and "Safety Not Guaranteed," and most especially her seven seasons on TV in "Parks and Recreation."
As "The Little Hours" writer-director Jeff Baena (also Plaza's longtime boyfriend) was quick to note, "she's a lot more than that."
Spicer co-wrote the "Ingrid Goes West" script with David Branson Smith, which won the screenplay prize when it premiered earlier this year at the Sundance Film Festival. The pair did not write the role with Plaza in mind, but she was nevertheless a top choice as the project began to come together. Once Spicer and Plaza met in person, any of his initial uncertainty faded away.
"Literally the first meeting, the films she was referencing were all the films that Dave and I had talked about when we were writing it," he said. "I was so impressed with her, how thoughtful she was and how she wanted to approach it. We were totally on the same page. It was pretty clear from the start, this is Ingrid."
The pair talked about movies such as "The King of Comedy," "Chuck & Buck," "To Die For," "The Talented Mr. Ripley" and the TV show "Enlightened," which all feature a mix of light and dark tones, a catch-in-your-throat sense of humor and a certain play with identity.
"The idea that someone kind of doesn't have an identity unless they are mirroring someone else was something I really relate to," Plaza said.
"I don't know if it's being an actor or being a person that's insecure in the world — I don't know what it was — I felt like I understood the idea of someone that wanted someone to like them so bad," she said, "and someone that would want to do things that weren't really OK, but you felt bad for her anyway because her motivations are really pure. Her motivations are coming from a place of loneliness."
Plaza noted that she often has trouble shaking off her roles after a production ends. But "Ingrid" was something else, in particular because of the the amount of screen time she had. So much of the shoot was spent with a phone in her hand, allowing herself to indulge in Ingrid's toxic behavior, that it only highlighted her own ambivalence toward social media.
"My relationship with [social media] is so complicated because I don't like doing it and it makes me feel bad most of the time. I have a hard time with it. But it's also such a way to communicate with people now, so it's hard to dismiss," Plaza said. "You're not going to see me doing a bunch of selfies and stuff like that. That's not part of my life. I can't. The idea of that is just, no."
One of the most immediate ways in which Plaza's behind-the-scenes influence was felt was in the casting of O'Shea Jackson Jr. for the role of Dan Pinto, a Batman-obsessed aspiring screenwriter who befriends Ingrid.
Plaza had only a passing exchange with the "Straight Outta Compton" star when they were both presenting at an awards show, but they later communicated via direct messages on Twitter, then texts, and soon arranged to meet. It turned out Jackson is himself fixated on Batman, making him even more of a perfect fit for the role.
"One of the things Spicer and I talked about when we first met was that I wanted the movie to not feel like another quirky Silver Lake indie," Plaza said. "I wanted it to have weight and I wanted it to feel big."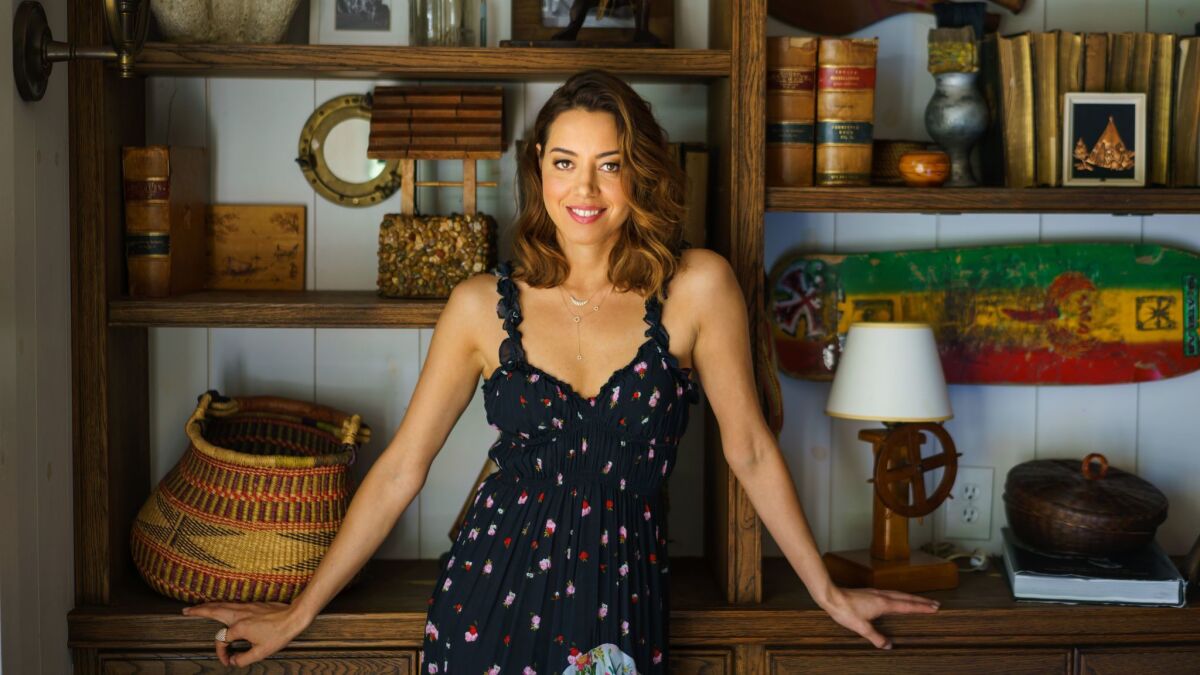 Earlier this year, Plaza received rave notices for her work on "Legion," a psychedelic treatise on identity and mental illness set within the world of Marvel's "X-Men." She plays a character who inhabits a complex tangle of multiple identities and personalities and exists within alternate planes of reality, sometimes within a single scene. Plaza also performed a brassy solo dance number set to a remix of Nina Simone's "Feeling Good."
The role was originally written as a middle-aged man, but show creator Noah Hawley saw something in Plaza that he thought could animate the part in unexpected ways.
"If it wasn't Aubrey I don't think I would have opened it up," Hawley said. "She is such a surprising performer in general. From one take to the next, she's always really alive.
"If you're looking for range, if you're looking for true exploration of the character," he added, "if you're looking for someone who is really just trying to be in the moment, there is really no one who is more alive on camera, because she never wants to feel rote or predictable. She doesn't want to get bored."
That restless sense of exploration can be found even in her committed, boundary-busting performances in mainstream comedies like "Mike and Dave Need Wedding Dates" or "Dirty Grandpa," somehow fitting right alongside her work in headier films such as Hal Hartley's "Ned Rifle." There are even her unlikely appearances on the TV procedural drama "Criminal Minds."
"I think because she's been really smart with her choices — she doesn't just do everything — it to some extent limited her exposure early on," said Baena. "Instead of catapulting to fame by just selling out and doing some big, stupid comedy and not caring about it, she actually does care. I think by managing her career in that way, it's paying off now because she's able to do it on her terms. She's not relying on some kind of formula. Her trajectory is super her own."
At a time when actors enjoy increasing freedom to move between film and television, Plaza recently completed a guest role on Joe Swanberg's Netflix anthology series "Easy" and will also appear in the next film from "The Greasy Strangler" director Jim Hosking. She begins shooting the second season of "Legion" soon.
Spicer and Baena both say they expect Plaza to direct something herself sooner rather than later, heading further in the direction of greater creative control pointed to by her move to producer. Plaza sees directing in her future too, though she doesn't have anything specific in mind just yet and expressed reluctance to step away from where acting has taken her — "I'm having too much fun," she said.
Although "The Little Hours," "Legion" and "Ingrid Goes West" don't have much in common, together they suggest Plaza has turned a corner into a new phase of her career.
"There's a place for me, but I'm always fighting," she said. "It's not an obvious place for me. People don't know it until you show them."
SIGN UP for the free Indie Focus movies newsletter »
Follow on Twitter: @IndieFocus
Also
'Brigsby Bear' celebrates friendship, creativity, weird kids' TV. Meet the childhood friends who made it
Creating a bold world for the Cold War thriller 'Atomic Blonde'
On sisters and snacks with Jenny Slate and the team behind 'Landline'
---
Get our L.A. Goes Out newsletter, with the week's best events, to help you explore and experience our city.
You may occasionally receive promotional content from the Los Angeles Times.